Jim Kelly, Advertising Sales, 434-987-3542,  jim@piedmontpub.com.
Cindy McBride, Advertising Sales, 540-229-6038 or cindy@piedmontpub.com
The Piedmont Virginian is a quality quarterly journal of information and appreciation of nature, place, people and ways of life.
We are inspired, and aim to inspire others, by giving voice to this special — even magical — place that is the northern Piedmont region of Virginia. Steeped in history, the beauty of open spaces, with a deep agricultural heritage complementing a rich and diverse culture in arts, food & wine, and so much more — this is a place appreciated and celebrated by those who live here and those who visit. It is the real life. It is the good life. And it is what we, at The Piedmont Virginian, are all about.
Our staff of writers and team members are passionate about our mission, and strive to illuminate and encourage our readers to experience the Piedmonts businesses & lifestyles like never before.
The magazine's editorial platform therefore promotes:
Open Spaces
The Sporting Life
Food & Drink
Country Lifestyle
Travel & Adventure
Wildlife & Nature
Artisans, Music, & Entertainment
Events & Happenings
The Piedmont Virginian is designed for readers and businesses sharing these goals. Affinities, not simply geography, create the Piedmont's unique regional identity.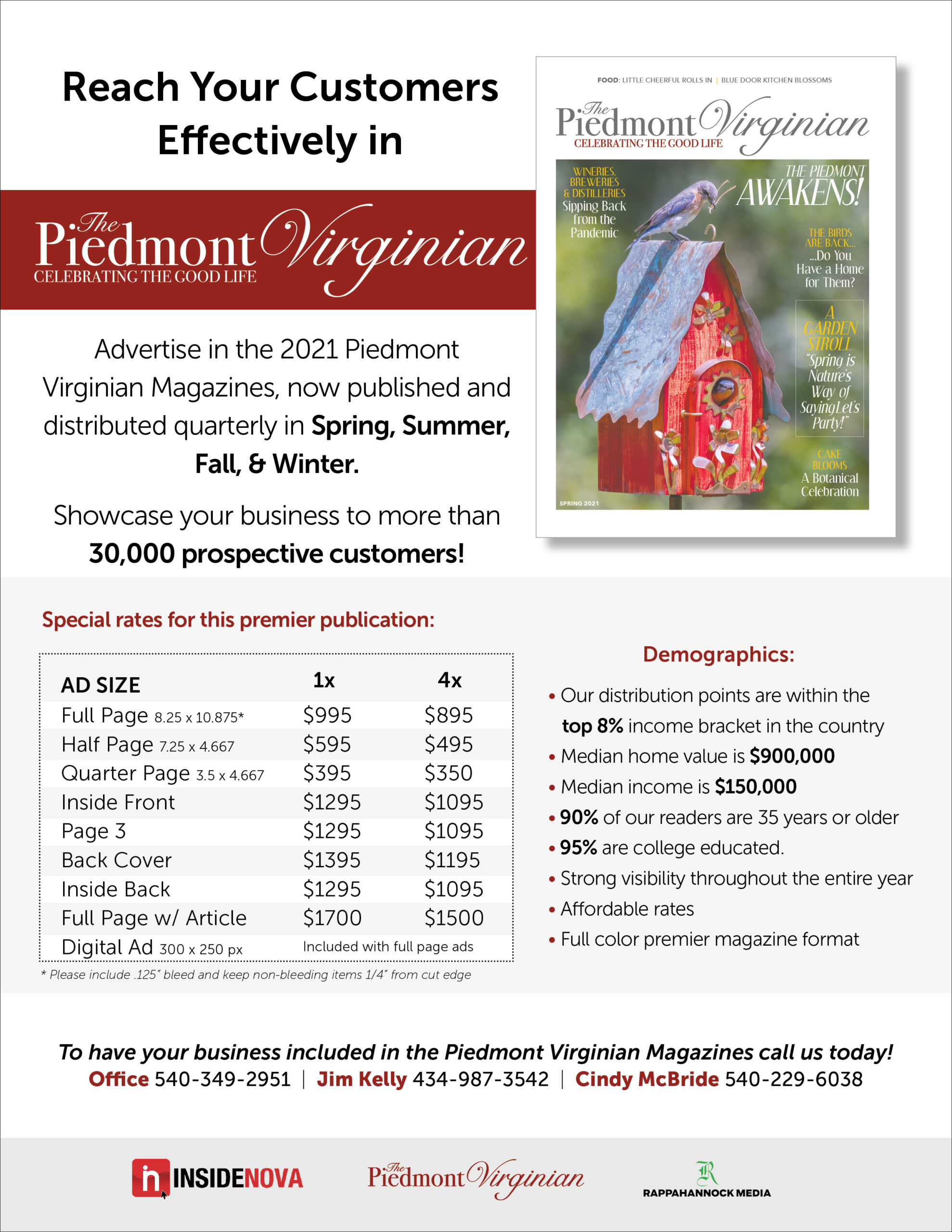 • Reach the 30,000+ people that matter with The Piedmont Virginian,
the magazine specifically designed to get the attention of those people most likely to purchase quality services and products in the region.
• For select advertisers, The Piedmont Virginian offers the very best editorial environment and quality audience.
• We celebrate the wine, food, art, land, heritage
and all the best our beautiful Piedmont region has to offer.
• The readership of The Piedmont Virginian includes those in all areas of the country that truly appreciate & value the Piedmont area. These include the affluent of our region and surrounding areas, both residents and second-home owners, and visitors.
Click on the Media Kit at right for more details. For more information, including our editorial calendar, please contact our Advertising Department:
Jim Kelly, Advertising Sales, 434-987-3542,  jim@piedmontpub.com.
Cindy McBride, Advertising Sales, 540-229-6038 or cindy@piedmontpub.com