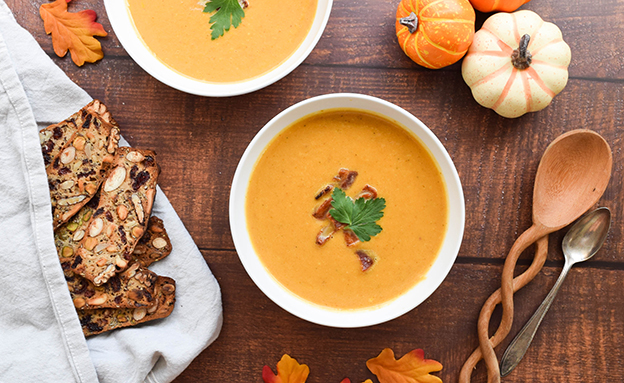 Story, Recipe, and Photos by Kaitlin Hill  
As the poster produce of the fall season, pumpkins are most commonly used for Halloween decor, autumnal pie baking, and everyone's favorite spiced latte. But more than jack-o-lantern material, this member of the Cucurbitaceae family is a versatile ingredient that adds flavor, texture, and its vibrant orange color to an array of culinary applications from savory to sweet. Even better, it's good for you too. Pumpkin is loaded with vitamin A for healthy eyes and a strong immune system and has a good dose of fiber for a balanced diet. Some studies show that consuming pumpkin may even help slow the development of wrinkles because of the plant's high beta-carotene content. 
This season, put your pumpkins to good use with my recipe for Pumpkin Bisque paired with Cranberry Harvest Crackers. Canned pumpkin is transformed into a rich and velvety soup with the addition of chicken stock, bacon, spices, and a splash of cream. And my homemade harvest crackers are ideal for dunking. The cranberries make the crisps slightly sweet while the combination of nuts and whole flax seeds adds a crave-worthy crunch. You can make the crackers a few days ahead and whip up the soup in under 30 minutes for those chilly fall nights that require quick and cozy dinners.