Fighting to save Virginia's flora from unwanted invaders
By James Wilkinson
Sometimes they frame days at a distance, the ancient ridges a backdrop for busy lives. Coming closer opens up worlds within worlds—stands of red oak and cove hardwood forest weaving across hillsides, native eastern brook trout schooling in sheltered stream valleys, views from rocky outcrops that stretch to the horizon.
As much as it is a wild place, it is a human landscape as well, home to farms, scenic byways, woodland, pastureland, and state and national parks. Virginia's Blue Ridge Mountains are among the most beautiful parts of America, home to people, communities, 190 species of birds, 50 species of mammals, 50 reptile and amphibian species, 35 species of fish, and 1,400 species of trees and plants.
Today, the region is under threat. The invaders—nonnative vines, trees, grasses and plants—are silent but relentless, overwhelming native trees, plants and wildflowers, damaging wildlife habitat and farmland, endangering the area's historic heritage and natural resources.
A remarkable coalition of landowners, nonprofits, businesses, university faculty, and local, state, and federal agencies has come together to tackle this challenge. The Blue Ridge PRISM (Partnership for Regional Invasive Species Management) is dedicated to reducing the negative impact of nonnative invasive plants on the health of the natural and agricultural environment in Virginia's Blue Ridge Mountains.
"These aggressive plants are a neighborhood issue as well as an economic and an environmental problem—they know no boundaries," said Maggie Walker, one of the group's founders. "A broad community response is vitally important. People's enthusiasm and energy are driving forces in dealing effectively with invasives."
Since 2014, the fast-moving nonprofit has been working on several fronts to build on this community interest and support. Its Area Stewards program recruits neighbors to collaborate and work together across larger and larger areas, creating invasive-free land that protects all participants from reinfestation. Information kits, fact sheets, and volunteer assistance, including property visits, help people understand local invasives and develop strategies to deal with them. Its Early Detection and Rapid Response program prevents newly arrived or uncommon invasive plants from gaining a foothold in the region.
"Our core work is starting dialogues. For us, it started with our neighbors and grew from there, thinking about how to make a difference across the region," said Rod Walker, another of the group's founders. "Every day, we share information with landowners and interested parties to build awareness, and then we listen. Our goal is to help people with plans and resources that make sense for their properties, that are cost effective and good for the environment, and that get the work done."
Back in 2014, the Walkers had been tackling Oriental bittersweet vines that were smothering and strangling their family's timber forest in Albemarle County. After contacting Jake Hughes, an exotic plant management specialist with Shenandoah National Park, one conversation lead to another. More and more people joined the discussion.
Three years later, the Blue Ridge PRISM is the first Cooperative Weed Management Area (CWMA) headquartered in Virginia. It has hosted trainings and information sessions for almost 200 government staff, contractors, and landowners and shared more than 4,000 fact sheets on leading invasives. Its 30-member advisory group includes nine working groups focused on expanding existing services and pursuing new initiatives.
Most recently, the organization announced an invasive-species removal funding opportunity with the USDA's Natural Resources Conservation Service and the Shenandoah National Park Trust. Regional Conservation Partnership Program's funding provided eligible landowners with awards to develop conservation plans and implement best practices covering brush management, herbaceous weed control, and forest stand improvement. Within several weeks of the announcement late last year, the funding had been fully allocated. About 100 area landowners and 3,750 acres of land are participating in the program. The Blue Ridge PRISM has applied to support additional rounds of award funding in coming years.
"In the short term, we are building on and broadening our program offerings," said Program Director Ashton Stinson. "We're talking with teachers, schools, and organizations like the 4-H programs to learn about their interests and needs. We would like to reach young people as well as adults."
Up next for the organization is a series of community education seminars this summer. Over time, Rod and Maggie Walker note, the organization is aiming to reach as many people as possible, including the more than 50,000 landowners in the region.
Given the scale of the challenge, the Blue Ridge PRISM is also hoping to foster statewide interest in stopping the spread of invasives across Virginia. "We aspire to help other CWMAs get started," said Ashton Stinson. "The more people who are aware, the more people who are involved, the better job we'll all be doing to get ahead of the problem. Making a difference is the result of a thousand small steps, all building on each other."
Today and tomorrow, those steps are leading to results that everyone can see: healthy forests and farmland, thriving wetlands and wildlife habitat, and vibrant parks and recreation areas. It is a future worth working for.
---
The "Terrible Twelve"
The Blue Ridge PRISM is concentrating on controlling the worst invasives in the Blue Ridge Region.
Ailanthus (tree of heaven)
Autumn olive
Bush honeysuckle
Chinese privet
Garlic mustard
Japanese honeysuckle
Japanese stiltgrass
Kudzu
Mile-a-minute
Multiflora rose
Oriental bittersweet
Porcelainberry
The organization is also coordinating an Early Detection Rapid Response effort targeting wavyleaf basketgrass (Oplismenus hirtellus ssp. undulatifolius), an emerging invasive in the Commonwealth.
Species intentionally or accidentally introduced by human activity into a region in which they did not evolve and cause harm to natural resources, economic activity or humans.
---
Tackling Invasives: Blue Ridge PRISM Tips
Each season presents different opportunities. In the fall and winter, for example, many native plants go dormant. However, invasives such as Japanese honeysuckle and garlic mustard remain visible and therefore easier to spot, access, and remove.
Focus on the invasives that cause the most damage and are hardest for natural areas to recover from. Vines such as Oriental bittersweet and kudzu, for example, kill mature trees and destroy the forest canopy. Restoration of the forest canopy can take decades.
---
Blue Ridge PRISM Services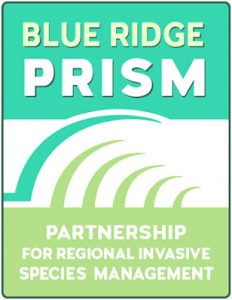 Free consultations with landowners to identify invasives on their properties and explain how to control them and how to restore the land.
Information resources about how others have treated invasives on their properties and referrals to professional contractors who can do the work.
Financial assistance and referrals for other grants and cost-sharing programs.
Online resources highlighting the most important invasives in area communities and how to control them.
Alerts about new invasive plants so they can be eradicated through an early-detection-rapid-response process.
Community education and outreach programs to increase public awareness.
Volunteer opportunities for people to join invasive eradication efforts on public and private land, to act as area stewards, and to participate in education and outreach efforts.
---
Blue Ridge PRISM Stakeholders
Chesapeake Bay Foundation
Ivy Creek Foundation
Piedmont Environmental Council
Private landowners
Shenandoah National Park
Shenandoah National Park Trust
Smithsonian Conservation Biology Institute
The 500 Year Forest Foundation
The Nature Conservancy
University of Virginia
Virginia Department of Conservation & Recreation
Virginia Department of Forestry
Virginia Department of Transportation
Virginia Master Gardeners
Virginia Master Naturalists
Virginia Natural Resources Conservation Service
Virginia Native Plant Society