Life at Moutoux Orchard is all about feeding family and community.
story and photography By Lise Metzger
According to farmer Mo Moutoux, of Moutoux Orchard in Purcellville, being a farmer "feels like the most honest thing you can do. Feeding yourself and your family and your community is life at its most basic. Everyone has to eat, and being in a position to allow people to eat well feels like the most honest job you can have."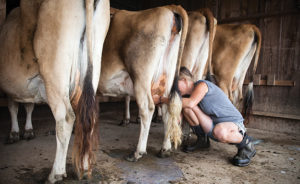 So how did Mo, who grew up a meat-and-potatoes kind of girl in Cleveland,  know she wanted to be a farmer, and not the cultural anthropologist she was studying to be? She had learned a lot about food rituals and how people grow food, and the theory became reality during a study-abroad experience in Brazil, where she lived with farmers and learned about small-scale farming. She lived with farmers and grew cacao and black pepper, and "I just got hooked."
She came to Washington, D.C., on a teacher's fellowship and finished her master's degree at George Washington University in 2010. Even though she liked the challenge of academia, she had discovered that she enjoyed farming and being outside more. She made the decision not to go for her Ph.D, but to dive into farming.
She worked at two local farms before crossing paths with Michael Babin, a restauranteur committed to changing the food system in D.C. He wanted to start a nonprofit farm that would sell produce to his restaurants, and he needed a farmer who could also write grants. He and Mo hit it off, and together they started Arcadia Center for Sustainable Food and Agriculture. 
While Mo was running the Arcadia farm, she was asked to be part of Flavor magazine's "Young Farmer" issue (Winter 2011) with other young farmers in the area. At the photo shoot, she met farmer Rob Moutoux. They dated. Rob's family farm is in Purcellville, and Mo was in Alexandria. If you know the traffic in the D.C. area, you can understand how the commute to see each other started to wear thin. So despite the fact that Mo loved her job, it's safe to say she loved Rob more, and she moved out to be with him in 2012. She was excited by the prospect of having the farm be her life.
At the time that they met, Rob was actually looking for a vegetable farmer to help on the farm. He liked growing vegetables, but he didn't like the day-to-day management of vegetable production. How convenient, then, that Mo loves to grow veggies. Not only did he get his farmer, he got his life partner as well. (Now that was a great photo shoot!)
Rob, a third-generation farmer, had joined the family farm in 2002 after graduating from UVa with a degree in environmental engineering. At that time, the farm was a conventional peach orchard, and it was doing well. But Rob was motivated to offer more variety and to transition the farm away from pesticide use. He wanted to create a healthy, mineral-rich, microbially active soil. Over time he added vegetables, laying hens, grains, lambs, dairy cows, pigs, and broiler chickens.
That's what the 60-acre farm looked like when Mo joined Rob in 2012, with some endeavors being stopped (growing their own grains) and some added (growing their own hay for their animals).
The Whole-Diet CSA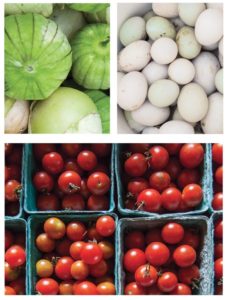 Mo and Rob are among a small number of farmers nationwide who offer what's known as a whole-diet CSA. Their mission is to serve as the grocery store for their members and provide almost everything they need, year round. In addition to whatever fruits and vegetables are in season, they offer a variety of meat cuts, including chicken, pork, and beef. They have eggs (both chicken and duck), and milk and yogurt from their dairy herd. They also partner with other local farms to be the pickup point for those farms' goods (goat cheese, kombucha, sauerkraut, grains, for example).
When members come on pickup day, nothing is pre-boxed. Mo explains that the arrangement is like a service agreement. She and Rob agree to grow food for the community, and members take what they need. The biggest complaint of the traditional CSA model is that people get things they don't want, or don't know how to use, and oftentimes you hear that it's too much food. With the open model at Moutoux Orchard, members have a lot of ownership over what they are taking and cooking. "If they only need one onion that week, then they'll only take one onion and not feel guilty about wasting food," Mo says. If something is abundant, like tomatoes or cucumbers for example, and you want to take home enough to can, you are welcome to take them. The CSA members feel like they are getting what they need, and they are invested in the farm and want to see it do well. In the past the waiting list to join has been longer than the number of members. But for 2018, Mo and Rob have decided to expand the CSA to 95 members. Sign-up began March 1, and the season runs June–June (moutouxorchard.com.
Quality of Life
A year-round, weekly operation on the scale that the farm offers requires a lot of work, and running a dairy really weds you to the farm. Vegetables can survive without you, but dairy cows can't. A lot of dairies milk twice a day for production sake, but Mo said they don't push their 30 cows to produce, and they are milked only once a day. "Our cows are smaller and don't need twice-a-day milking. Milking once a day gets us less milk, but our quality of life is better and our cows are happier."
Mo and Rob work hard to maintain a healthy work-life balance, now even more so since the birth of their son Wesley in 2016. They talk a lot about what they call "martyr farmers," those who love to complain, "Oh, woe is me…farming is too hard, and too much rain and it's too hot…"
Says Mo, "For us it's like, 'If you don't love it, don't do it.' At a certain point you have to leave the farm at the farm and have a life. I think that's our biggest challenge—to figure out how to do that successfully. Because with what we do, it's impossible. So having staff that we trust and want to be around has saved our lives." One reason they are expanding the CSA membership is so they can afford to have a full-time, salaried employee. The farm has four staff members in addition to Mo and Rob, but workers are seasonal.
Certainly adding a child has made farm work more challenging. "Having a child becomes your whole world," Mo says. "I remember how easy it used to be to go do something. That was the hardest thing to get used to, because we're so get-up-and-go. And we've got a bad sleeper, so we're not getting a lot of sleep. It's definitely added a whole level of complexity to our lives, but we're also really lucky because we both technically work from home, so he can be with us for most things. I wasn't raised on a farm, but I think it's a really awesome way to grow up. Wesley's favorite food right now is sauerkraut, and his juice is kombucha." She also has Rob's parents next door, her mom not far away, and a close-knit community of other farmers nearby.
---



"We want to instill in Wesley a love for hard work and an appreciation for nature and good food. He already loves helping with farm tasks and feeding the animals, and I can tell he is developing empathy and understanding about the animals and world around him.
I don't know if we have trained him or it is innate, but Wes loves the animals. HIs first words have been 'moo-moo,' 'meh-meh' (goats), and 'go-go' (tractor). He loves giving the baby calves hay, and he helps feed the dogs and cats every day. He would be outside all day, every day, if we would let him, and he is starting to explore the textural world of rocks, dirt, sand, flowers, sticks — it is amazing to watch as he discovers new things. We are so lucky that Rob's parents still live on the farm, and Wesley loves riding around the farm with Poppa (Grandpa Charles Moutoux). When asked what his favorite thing is, it is always 'Poppa'." 
---
Awesome for the Farmer, Too
In addition to it being the most honest thing to do, what else does Mo like about her farm life? "I love growing vegetables, so the dead of winter can be tough for me. I do love hoop house production, so there's at least something green. We try to do lettuce and greens every week. And I love being in the greenhouse; greenhouse production is one of my favorite parts of growing vegetables. So the dead, dead of winter I get a little antsy to get growing again. So, yeah, that's when I sit and read my seed catalogues—my farm porn.
"My favorite time of day is first thing in the morning: sunrise on the farm with a cup of coffee, when everything is still dewy and looks really beautiful and the cows and all the animals are just waking up. It's a magical time of day. Everything is really peaceful, and I just love it.
"I also love when we cook a really delicious dinner and we comment that we grew every single thing that we are eating. We are lucky that that's a common occurrence for us. That's a really good feeling. Even down to the little things, like we sautéed the vegetables in our lard from our pigs, or I made custard for dessert from our yolks and our milk. That's a really great feeling.
"We also really like the CSA pickup days, particularly when the kids come to pick up. We've had some pregnant moms come, and now their kids are walking. It's a cool feeling to see kids grow up on food you've grown."  
---
About the Author:
Northern Virginia photographer Lise Metzger is writer/photographer of the Grounded Women project.  As a site host for a CSA, she connects people to their food sources. When not on assignment or or writing about women farmers, she cooks seasonal meals for herself and friends. You can see her work at www.lisemetzger.com and www.groundedwomen.com.