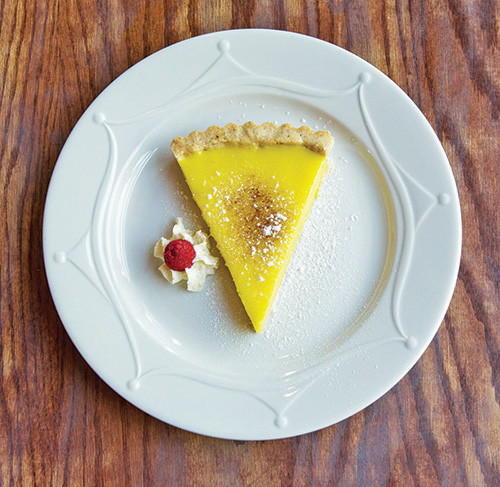 French Hound Brasserie in Leesburg is both a departure from and offspring of its forebear, the intimate, creaky-floored bistro that overlooked Middleburg's side street for a decade.
The menu is diverse in both its flavor palette and the size of plates. Petite starter plates such as radishes with sea salt, house-marinated olives, and pâté with figs, pistachio, and celery root highlight the chef's provincial background. Traditionally French dishes are infused with global flavors, such as the Thai-inspired mussels steamed in a green curry and coconut-lime broth with basil and cilantro. A menu as varied and delicious as French Hound Brasserie's affords guests myriad dining experiences. "Cup of French onion soup? Got it! A relaxed beer and one of our small pizzas? Easy and affordable. Dressed-up fine dining with a filet mignon and memorable bottle of wine? Absolutely!" says Owner Marny Birkitt.
The perfect lemon tart—and French Hound Brasserie's is certainly a contender—is teeming with that scintillating citrus flavor that adds a sparkling finish to any meal. Decadent yet light, this tart is as easy to make is it is fun to eat.
Tart Shell:
1/3 Cup           powdered sugar
¼ Cup             sugar
¾ Cup             softened butter
¼ Cup             ground almonds
½ tsp.              vanilla extract
½ tsp.              almond extract
3½ Cups         all purpose flour
Lemon Curd:
3 ea.                 eggs
5 ea.                 yolks
½ Cup             sugar
4 pinches        lemon zest
6                       juiced lemons
7 oz.                 softened butter
Method:
Lemon Curd:
Over double boiler, whip eggs, yolks, and sugar until the sugar dissolves
Add zest and juice; whisk until combined.
Put back over double boiler, constantly whisking until thick. Cook it a little more than you think. Tou are looking for "thick pudding" consistency.
Take off the heat and add in soft butter. Whip until combined.  Pour curd through a mesh sieve into a non-aluminum bowl.
Pour strained cured into prepped tart shells. Let chill for 4 hours.
Tart Shell:
Preheat Oven to 350°.
Mix all ingredients in a mixer fully incorporated (i.e. blended homogeneously).
Spray pie pan with non-stick spray.
Pull out combined ingredients and spread into pie pan to leave about a ½ inch of room.
Place a sheet of parchment paper on top of the dough and fill it with dried beans. This is to keep the dough from rising.  You may also cook the dough and when you pull it out of the oven you can "tamp" it down using a flat bottomed measuring cup.
Cook for 20-25 minutes, or until the tart is starting to brown.
Let it cool before placing the lemon curd into the tart shell.