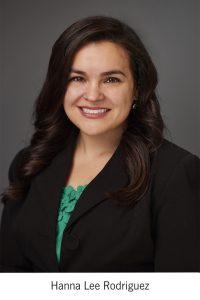 Walker Jones, PC is pleased to announce that Hanna Lee Rodriguez is a partner with the firm.  An attorney with Walker Jones since 2003, Ms. Rodriguez specializes in estate planning, estate and trust administration, and guardianships and conservatorships.  She continues to expand the elder law component of her practice.
Dedicated to contributing to the community, Ms. Rodriguez currently serves as the vice president of the Mental Health Association of Fauquier County and Grants Committee member with the PATH Foundation.  Previously Ms. Rodriguez served as secretary of the Fauquier Free Clinic.
In addition to her community service positions, she currently serves on the Board of Directors of Oak View National Bank and is an active member of the Virginia State Bar Trust & Estates Section, National Academy of Elder Law Attorneys, and the Virginia Academy of Elder Law Attorneys.  Formerly she served as president of the Fauquier County Bar Association and Players Committee representative with the Piedmont Symphony Orchestra.
Admitted to the Virginia Bar in 2002, Ms. Rodriguez earned her J.D. degree from Regent University School of Law and a bachelor of arts in pre-law from Pensacola Christian College.
Ms. Rodriguez plays violin with the Piedmont Symphony Orchestra and enjoys activities with family and friends.
She can be reached at hrodriguez@walkerjoneslaw.comor 540.347.9223.