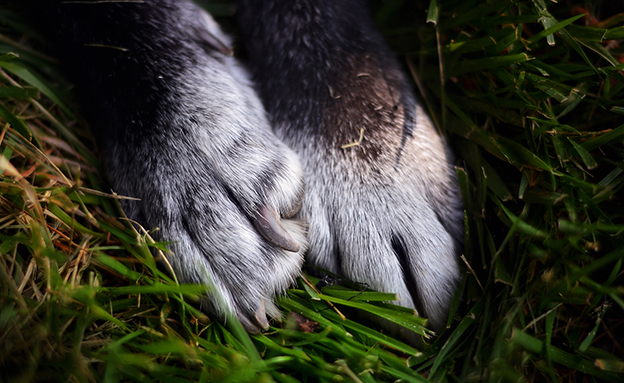 By Ed Felker
I recently attended the Virginia Gold Cup for the first time, on assignment for Piedmont Virginian Magazine. Tasked with photographing the day, I was given a few specific subjects but mostly I spent my time just looking for interesting captures in the crowd of 50,000 people.
Gold Cup, if you've never been, is an elegant affair steeped in history. And those in attendance dress the part. Around the prestigious Member's Hill, men wear sportcoats and ties, and women wear spring dresses and, of course, hats. Hats are a big part of the day, and there is a competition for the best in several categories. During Gold Cup, Great Meadow becomes a sea of beauty and style punctuated with eye-catching hats everywhere, from glamorous to creative to outrageous and funny.
Rain had threatened all day, and I was standing in the winner's circle during the hat competition as it finally began to fall. I noticed a woman across the circle from me. Her skin was fair, her hair blonde, and she wore deep red lipstick on what I could only describe as a fragile smile. Her eyes were a mystery, glimpsed only through the delicate, black fascinator hat tilted down across her face. Even in that sea of beauty and style, she stood out.
I found her in the viewfinder of my camera and snapped the shutter, somewhere in the middle of 800 other snaps of the shutter that day. I thought if my lens wasn't fogged from being tucked into my jacket away from the rain I was going to love that photo, so when I saw her later I approached her to give her my card.
I told her I was fairly sure I got a lovely photo of her, and to email me because I wanted her to have it. She smiled, took my card and said she would contact me.
Eight hundred shots that day and it's the only card I gave out.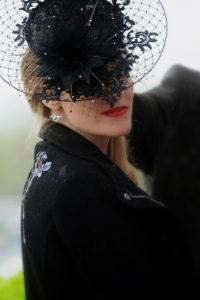 When I saw the photos on the computer, hers was one of my very favorites of the day. I hoped she would contact me, but days passed with no email.
She did write me, though, and I learned her name is Julie. She said she had taken some time looking through the photography on my site. "You are quite a splendid photographer," her note said. "I shall have to find some time in the near future to read through some of your work as well."
I wrote back and suggested to her, as I often do when directing someone to my writing samples, that she start with my favorite, my dog essays. I attached the photo of her and sent it.
Again, days passed. I was beginning to fret that she didn't like the photo as much as I did. You can never really be sure when it comes to photos of someone, which ones they'll love or which they feel capture their essence.
But a few days later she wrote back, and in her email she detailed a long tale of tragedy and pain. I won't share personal details but it was the story of a woman, her son, of illness, of a mother and a horrifying, devastating accident. And it was the story of a dying dog.
It was all so much to process. I couldn't imagine the series of events and circumstances happening to this woman. I couldn't imagine many lifetimes worth of bad things happening to one family in such a very short span of time. And, for the life of me, I couldn't imagine why on earth she was sharing it all with me.
Then at the end of her note it all became clear. "Could I please hire you to photograph my mother's dog," she asked.
Her mother was nearly lost in an accident months ago and is beginning a long, painful recovery. And just when they felt they couldn't take another blow for fear of shattering, the family's beloved dog Max fell gravely ill. Now this chance meeting, a single photograph, a business card, a story, have all combined to bring us together.
I am not a professional pet photographer. I have taken some lovely photos of my dogs, but if you take ten thousand photographs of something and throw away the worst 9,950 of them, you're going to end up with some nice shots. So I wasn't sure I was the best person for the task, but it all felt like it was meant to be. I took the assignment (but not the money).
"Of course I will photograph your beloved Max," I told her.
She shared the dog's diagnosis and prognosis, which to be honest added a bit of urgency to the assignment. I scouted potential locations in search of appealing natural settings with a minimum of effort to access. We juggled schedules and canceled due to rain, then rescheduled and canceled again due to doctor's appointments, vet appointments, and rain. So much rain.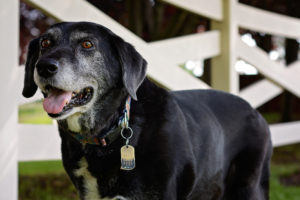 Ultimately I chose a nicely landscaped entrance to a development halfway between the two of us that wouldn't involve much walking for Max to reach it, and we arranged to meet on a Saturday morning to beat the forecasted rain.
Julie's father drove them and dropped her and Max out along the side of the road where I waited, then continued on to park the car nearby. There on the curb we met for the second and first time, Julie in a dress and another beautiful hat, Max in a Scooby Doo collar. He struggled to get out of the car, and was even less mobile than I expected. Further, Max had reached that point in his life where you simply didn't give him direction of any kind. Oh, you could make suggestions like, "Do you want to come over here by the flowers?" And he may take you up on it. But probably he will answer, "Nope. It's shady over there. You do what you want, but I'm going in the shade."
So we sat on the grass in the shade in a spot that Max chose on a hot, muggy morning, talking and taking photos whenever Max looked my way. But before long, Max was done with the heat and wanted to go home. As we helped Max up and followed him back to the car, Julie shook her head, overwhelmed by the last months, and fought back tears. "All I can do is make lemonade," she said. Then a pause, maybe as she wondered who she was trying to convince. "It's tart," she added, finally. "But it's good." And that beautiful, fragile smile returned.
As for the photographs, I wish we had more time, more flexibility, better weather and a more mobile subject. But Julie tells me her Mom loves them, and that's all that matters.
While Julie's family has a long and difficult road ahead, Max's journey, sadly, has ended. The pain of his loss an excruciating new wound to a family already rubbed raw. But he lives on, as they all do, in the hearts of those who love him. In the memories of all those who met him along the way. And in a handful of photographs taken on a shady hillside by a new friend.