Do you receive our free, weekly newsletter? If not, you're missing out on awesome events, local fests, and much more! Our #PiedmontWeekendPicks is a gorgeous, curated email updating you on the latest happenings and articles on our blog. Signing up is quick and easy. We know you're busy, that's why we send only one email per week! Help us help you by signing up via our form and together let's celebrate The Good Life. Just click here and fill out the form!
---
Saturday, September 8
Great Grapes! Wine & Food Festival
Village at Leesburg, 1602 Village Market Blvd SE, Leesburg, VA | 11am – 6pm
With 150+ wines from 15 different wineries to choose from, live music, great eats, artisanal vendors, and a play area for the little ones, there's something for everyone at this festival! Now at the Village at Leesburg for the past 2 years, take your souvenir tasting glass and stroll from tent to tent and table to table, tasting and sampling the rich heritage of Virginia vines. As you sip and savor throughout the afternoon, relax in the beautiful setting of the Village at Leesburg. Bring the family, bring your friends and take a day to "Uncork the Fun"!
Adult Admission: $30 Advance, $35 Onsite. Includes a souvenir wine glass and unlimited wine samples, and all performances. Kids admission and Parking are FREE. Guests are welcome to bring lawn chairs and blankets. Tickets and info can be found here. Share the FB Event here!
---
Saturday, September 8
Sanctuaries Exhibit at The Byrne Gallery
The Byrne Gallery, 7 West Washington St., Middleburg, VA | 5 – 8pm
The Byrne Gallery is proud to present Sanctuaries, an exhibition of expressive landscape paintings by Jacquelyn Jouvenal. Jacquelyn Jouvenal is a well-known professional artist, artist in Residence, and a faculty teacher at the Foxcroft School, as well as the founder of the Silver Moth Studio in Middleburg. Her work is in public and private collections across the U.S. She uses water and nature as constant subjects in her artwork, which consists of mostly oil and pastel paintings. She demonstrates her subjects through plein-air painting, where she can observe the intriguing nuances of nature and create a spiritual connection with her environment. The exhibition will run throughout the month of September. A reception for the artist will take place September 8th and is open to the public. Please call ahead to say you will attend at (540) 687-6986.
Gallery hours are Monday and Tuesday by appointment only, Wednesday through Saturday 11am – 5pm, and Sunday noon – 5pm. For more background information about the Gallery, artist, or contact info, click here.
---
Saturday, September 8
8th Annual Bands, Brews, & BBQ Festival
Manassas Museum Lawn, 9101 Prince William Street, Manassas, VA | 12 – 6pm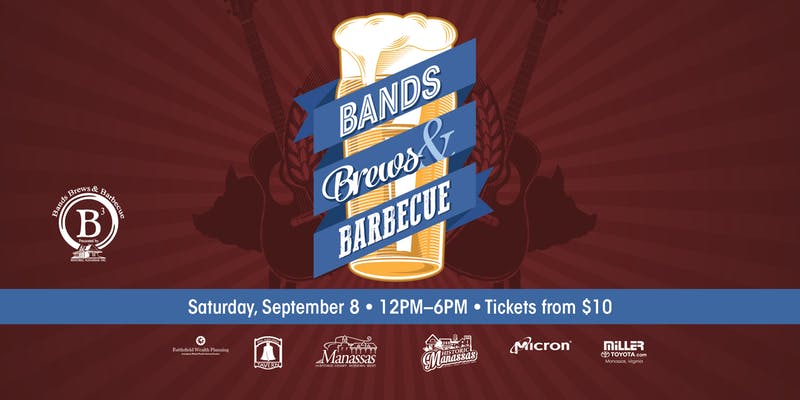 Stop by Historic Downtown Manassas this weekend for its 8th Annual Bands, Brews, and Barbecue Festival! This event features award-winning craft beers & distilled spirits for sampling, some of Northern Virginia's best barbecue, and a full afternoon of live music. Featured Virginia-native breweries include 2 Silos Brewing Co., Adventure Brewing Co., Alewerks Brewing Company, Starr Hill, and Bold Rock Hard Cider to name just a few. There will be a free cornhole tournament on-site, so bring your own partner and compete for bragging rights and prizes (awarded to the top three teams)!
More info on vendors and the festival schedule can be found here. $35 for Tasters, $10 for Non-Tasters. Ticket prices will increase the day of the event, so get them ahead of time here! Tournament sign-up begins at Noon, tournament begins at 1:30 pm, pre-register here.
---
Saturday, September 8
6th Annual Firnew Farm Artists' Circle Show
Woodberry Forest School (Walker Fine Arts Center, Baker Gallery), Woodberry Forest, VA | 5:30 – 7:30pm
Firnew Farm Artists' Circle, in its 15th year of artistic exploration, is "Coming Together" with their artists and community to host this show from August 27 through October 27. The opening reception will take place on September 8th. The show will feature over 80 pieces of art from 35 local and regional artists from Virginia, working in varied mediums; oil, photography, watercolor, jewelry and mixed media. Richard Wyvill, the featured artist, will exhibit several large oil paintings and the Firnew artists have come together to create a large composite piece made up of 36 12" x 12" unique canvases. A People's Choice Award will be announced at the end of exhibit. Visitors are encouraged to cast a vote for their favorite piece of artwork.
For more info on the show, click here. Share the FB Event here!
---
Sunday, September 9
Cory Henry and The Funk Apostles
The Southern Café and Music Hall, 103 1st St S, Charlottesville, VA | Doors 6pm, Show 8pm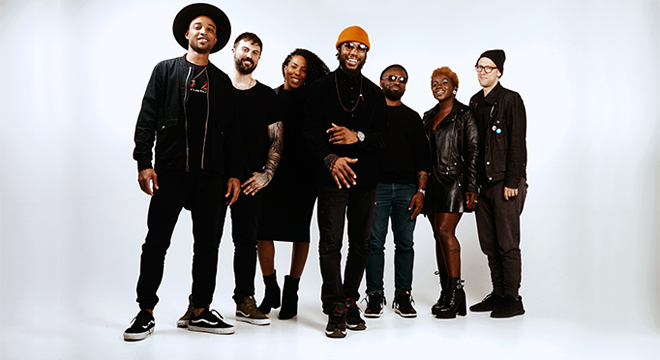 Cory Henry, a Brooklyn native, is a two-time GRAMMY Award-winning keyboardist with musical roots in gospel, jazz and soul. His instrument of choice is the Hammond B-3 organ and his improvisational performances range in style from old gospel to Stevie Wonder. Cory Henry and The Funk Apostles is his newest passion and project, comprised of five of the world's best musicians, hand picked to bring his musical concepts to life. They have been featured on "The Tonight Show with Jimmy Fallon," BBC's Proms Quincy Jones Tribute, NPR, and The New York Times Facebook Live with Erykah Badu. Their newly released "Art of Love" album exhibits his vocal talents and emphasizes the new sound and vibes he wants to bring to the world so they can sing-along.
Tickets: $20 General Admission, $79 Masterclass + Meet & Greet Experience, click here.