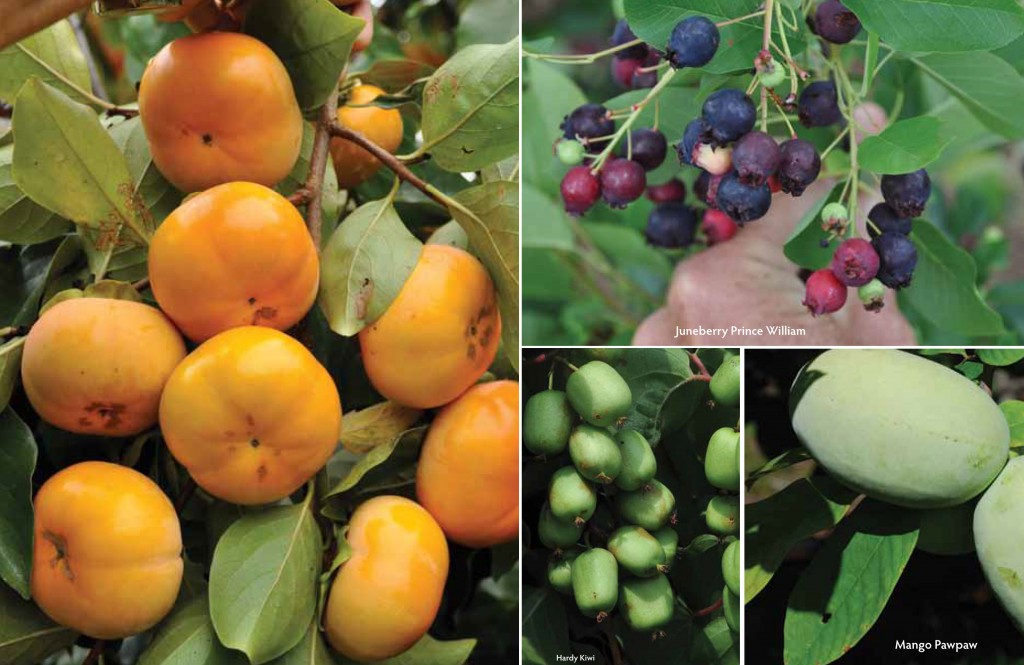 Here are a local expert's seven favorite fruits for edible landscaping
By Margene Whitler Hucek
Photos by Michael McConkey
If you haven't reached up to pick a peach from a tree and eaten it, you haven't really tasted a peach. There is just no comparison between a tree-ripened peach and one you purchase at a grocery store," notes Michael McConkey, owner of Edible Landscaping, a retail and mail-order nursery located at the base of Afton Mountain in Nelson County.
McConkey, who only selects plants and trees that are disease-resistant and easy-to-grow, has spent years growing, grafting, and testing the over 400 varieties of fruiting plants and trees that he sells. Many, such as juneberries, Chickasaw plum, and elderberries, are natives, but exotic fruits like the Asian pear, Russian pomegranate, and Oriental persimmon are also grown. "I'm always seeking new cultivars to try," observes McConkey. "I look for plants and trees that have tasty fruit and look good in the landscape. If a variety doesn't live up to its promise, I'll discard it and try another."
McConkey's goal is to have homeowners incorporate fruiting plants and trees into their landscape, rather than thinking they need an orchard. "With some planning," adds McConkey, "you can have fresh fruit from spring through a killing frost and many of the fruits that you can grow would not be available from any other source."
Michael McConkey's Seven Favorite Fruits

Zones are used to provide guidance to gardeners for plants that will thrive best in their areas. Most of Virginia is within zone 6 and 7.
Pawpaw (Asimina triloba)
George Washington was also a fan of this native, American fruit, enjoying them chilled as a late summer dessert. It is the only custard apple found outside the tropics and its taste has been described as a blend of banana, pineapple and mango. A favorite fruit of the American Midwestern Indians, it is sometimes referred to as "Indian Banana." Lewis and Clark ate the fruit during their expedition to the Northwest. Two trees are needed for pollination. The tree can reach 35 feet, but can be pruned for smaller spaces. Zones 5-8.
Oriental Persimmon  (Diospyros kaki)
"The oriental persimmon is a handsome tree," notes McConkey. "It has large magnolia-like leaves and its fruit is delicious." Tree sizes range from l5 to 25 feet at maturity. The semi-dwarf Ichi Ki Kei Jiro (one type of oriental persimmon) would be a good choice for a small yard as it tops out at 10 feet and is an exceptional bearer of large non-astringent fruit. The fruit of all oriental persimmons are larger than our native persimmon (D. virginiana) with many cultivars producing fruits the size of a peach, while native varieties tend to have fruit that is plum-sized. Zones ranging from 6-10, depending on the cultivar.
Blueberries (Vaccinium)
Long-lived and hardy this native shrub is attractive year round with white flowers in the spring, glossy bay-like leaves and blue berries in the summer, brilliant red fall color, and colorful winter twigs. Favored by American Indians and colonists, it wasn't until the mid-l930's that cultivated varieties of blueberries were available through nurseries. Blueberries prefer an acidic soil (between 4.0 to 4.5) rich in organic matter and full sun. While blueberries are self-pollinating, they produce more fruit if another cultivar is planted for cross-pollination. 'Duke', a heavy bearer of large, sweet berries, will grow to 6 feet with an upright growth habit. Known as a southern blueberry 'Tifblue', does well in warm climates and grows to 10 feet. Blueberries are rich in antioxidants. Zones 4-9, depending on the cultivar.
Mulberries (Morus rubra)
Mulberries produce a prolific amount of fruit over a long 2-month growing season. Fruit, which resembles an elongated blackberry, is tangy-sweet. Mulberries were cultivated in biblical times for the raising of silkworms. Site this large, fast-growing tree (species reach 60 feet and cultivars range from 15 feet to 60 feet) well away from your house, drive or pathways as the dark juice of its berries is notorious for staining. Birds love mulberries and its blooms will also attract butterflies. "One of my favorite trees for kids is the weeping mulberry," remarks McConkey. "They love to hide under its branches and get their fill of the ripe berries." Dwarf Weeping Mulberry (Morus alba) is a good choice if space is limited as it tops out at l2 feet with an equal width. Zones 3-9, depending on the cultivar.
Figs (Ficus caprica)
McConkey shares a love of figs with Thomas Jefferson and more specifically the cultivar 'Marseilles' (Latturula) which Jefferson described as "incomparably superior to any fig I have ever seen." Jefferson grew 'Marseilles' figs at Monticello, his mountaintop farm near Charlottesville, Virginia, against the southwest garden wall to give them protection from early and late frosts. Figs grow on large tropical-like bushes or small trees that grow from 2 to 16 feet. Figs typically ripen in August and September. Zones 6-9, depending on the cultivar.
Juneberries (Amelanchier)
A favorite of birds, McConkey has seen as many as 40 cedar waxwings feasting on juneberries at his nursery. Juneberries are slightly smaller than blueberries but resemble them in both color and taste. They grow in clusters, making them easy to pick and eat by the handful. Grown either as a small tree (reaching 25 feet) or bush (four to six feet) this American native is noted for its brilliant fall color and silvery winter bark. Juneberries thrive in moist fertile soil and full sun, but will do well in average soil and partial sun. However, they are intolerant of dry alkaline soil. Zones 3-8.
Hardy Kiwi (Actinidia arguta)
"We were the first nursery to offer hardy kiwi vines," notes McConkey. "It is just a very prolific and flavorful fruit that is easy to grow." The fruit—which is somewhat larger than a grape—ripens in late summer. Hardy kiwi is sweeter than the fuzzy kiwi and because its skin is smooth there is no need to peel the fruit. Provide support for this fast-growing, woody vine that can grow up to 20 feet. Except for the cultivar 'Issai', which is self-pollinating, you will need to provide a male plant for pollination. One male can pollinate up to eight females if they are planted within 100 feet of each other. Kiwis thrive in full sun to partial shade, and prefer moist, well-drained soil. Zones 5-9, depending on the cultivar.
About the Author:
Margene Whitler Hucek, a freelance writer living in Charlottesville, writes about gardening and other topics for national and regional magazines including Blue Ridge Country, Better Homes and Gardens, Country Gardens, and The American Gardener. Her children's book, Lilacs for Grandma, is published by the Centering Corporation. For more information about edible landscaping, visit http://ediblelandscaping.com/.