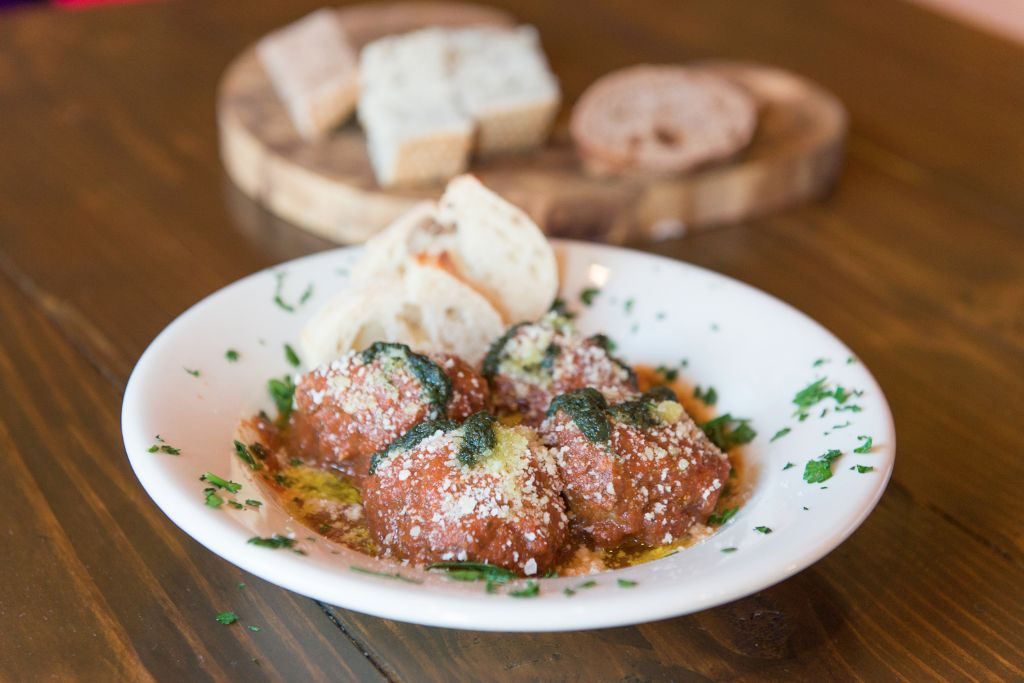 Though Grass Rootes Kitchen and Cocktail opened only a year ago, a timelessness permeates the New American restaurant's menu, ambiance, and architecture. The fixtures blend past, present, and future: a wrought-iron lattice alludes to the building's stint as a Civil War prison; fine art photographs imbue the dining space with a "jazzy, cool, a little funky, and relaxed vibe," in the words of the owner, Andrew Ferlazzo; and metallic, abstract, hypercube chandeliers by local artist Roque Castro lend the space a futuristic quality. The menu similarly blends concepts old and new, at once epitomizing and eschewing trendy labels like "farm-to-table" and "comfort foods." Rather than flaunt these latest culinary buzzwords, Executive Chef Kevin Scott keeps it simple: "Fresh and local," he says when asked what separates a "good" dish from a "great" dish. Menu items such as seared salmon, fried catfish, and bison sliders showcase Scott's formal training—he is a graduate of L'Academie de Cuisine in Gaithersburg, Maryland—as well as his childhood spent in Kansas cooking alongside his grandmother. An industry veteran with 30 years' experience, Ferlazzo partners with local farms such as Seminole Farm and Flora in Culpeper and Berezan Family Farm in Hartwood, exchanging business for the the coveted first pick of all seasonal vegetables. These recipes, like the dishes at Grass Rootes, are unadorned and simple to prepare, yet they boast a wonderful, intriguing palette of flavors. When sourcing your ingredients, be sure to heed Chef Scott's philosophy and purchase the freshest local products you possibly can. As Chef Scott would say, "There's no faking flavor."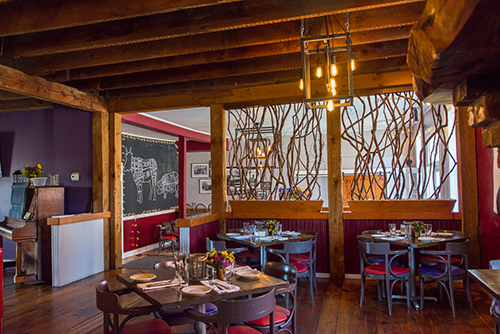 Grass Rootes' "Fresh & Local" Pork & Beef Meatballs
Serves: 8 (~20 meatballs)
Ingredients
½ lb. organic ground beef
½ lb. organic ground pork
1 Anaheim pepper (add more to increase the spiciness)
½ yellow onion, diced
½ red onion, diced
½ cup Parmesan, grated
1 garlic clove
1 tsp. Italian parsley, finely chopped
1 tsp. oregano
½ tsp. red chili flakes
salt, pepper, and granulated garlic to taste
Method
Preheat oven to 400°. Spray a large baking sheet with baking spray. Set aside.
Combine beef and pork in a large bowl. Add peppers, diced onions, Parmesan, garlic, herbs, and spices. Work together into a homogenous mixture.
Shape into 1" meatballs and place on the cookie sheet.
Bake for 15–20 minutes, or until cooked through. When finished, the meatballs should have a golden-brown crust.
Serve in a bowl with sliced and toasted baguette. Top with Italian parsley, and enjoy!