Photographs copyright John White, Virginia Herpetological Society 
While hiking along the Appalachian Trail, I was pleasantly lost in the sounds of nature—songbirds, a nearby stream, the coursing of wind through canopies, and those comforting sounds you hear in any forest, though especially so in the Piedmont—locked into my stride, ascending the mountain at a brisk but not unpleasant speed, when, it seemed, a root skirted across my path.
I halted. Gasped. Said a word I don't say in polite company. Gasped, again. As suddenly as I was launched into sheer terror I was, once again, blissfully resigned to La La Land, daydreaming and trudging upwards.
And why would I worry? It was only a black snake. I knew what to look for and I knew it wouldn't harm me.
This episode got me thinking. I love being outdoors (I'd contend there's no better way to truly experience the Piedmont) and hate being terrified. So why not do a little research and dispense some knowledge that'll help you enjoy the serenity of summer?
There are snakes in the Piedmont, some that might bite you, and some whose bite would be a rather unpleasant (i.e. potentially fatal) experience. So arm yourself with the proper knowledge. After all, there's a QUIZ at the end.
Step 1: Identify
These, to put it mildly, are the two snakes that live in the Piedmont that can kill you.
Yep, only two. A common misconception is that the eastern water moccasin resides here. Nope. Not its cup of tea. That bad boy prefers Virginia's southeastern real estate.
That leaves the northern copperhead and the timber rattlesnake. Rather than memorize all of the 20 innocuous snakes who dwell in the Piedmont and actually help us by controlling rodent populations and mind their own beeswax, let's instead look at the two that you should be, well, looking out for.
There are a couple rules of thumb to make the proper identification easier in a tense, frightening situation. Most venomous snakes have triangular heads to accommodate their poison-producing glands whereas non-venomous snakes typically have rounded heads. Similarly, poisonous snakes have elliptical pupils, while their nontoxic brethren have round pupils. Look for these traits and remember that round features = harmless creatures.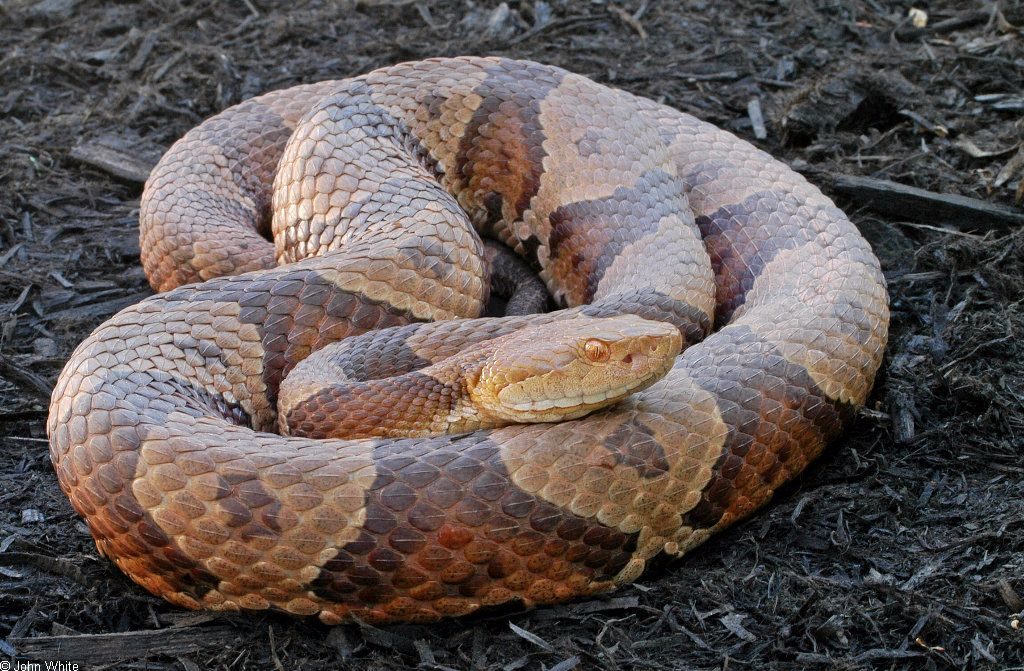 The northern copperhead (Agkistrodon contortrix mokasen, but don't worry, that won't be on the quiz), who sometimes uses the aliases "copper hadder," "thunder snake," and—probably coined by some snake-fearing bully— "dumb rattlesnake," is copper-red with a horizontal hourglass pattern. They're sluggish, largely nocturnal, and prefer the company of rocks, logs, and stumps though they wander into grassy, weedy fields on occasion. You're likely to find them coiled, their head at a 45° angle, ready to strike if they're stepped on, though they're a placid creature most of the time.
Your best bet? Don't step on them. Be alert, always scanning your trail ahead of you, and know what to look for.
Next up we have the timber rattlesnake (a.k.a. Crotalus horridus, "common rattlesnake," and "pit viper"). As you may have guessed, these serpents have their namesake rattle on their tail. They measure between one and six feet (an aophiophobic's nightmare), so be extra alert. Identifying timber rattlers is a little trickier than other snakes as this species goes through two color phases. The yellow morph is, according to the Virginia Herpetological Society, "characterized by a yellow or tan ground color with dark brown or gray bands. There is occasionally a dorsal rust-colored band and a yellow or tan head. The belly is yellowish cream in color and the tail is a uniform black."
During the summer months, these snakes are foraging. Whereas in the colder seasons they're coiled in crevices, this time of year you're likely to see them (if you see them at all) basking on rocks or resting near logs, stumps, branches, and other places rodents frequent. Again, the first line of defense is being aware of your surroundings. If you don't see any snakes, then you'll cultivate a sense of mindfulness that's all the rage these days.
Worst Case Scenario
Okay. Maybe you got a little lost in the splendor of the Piedmont (it's all right, happens to us all the time!) and stumbled upon an unhappy rattler who decided that your ankle looked like a scrumptious rodent (no offense…).
Question: What do you do now?
Answer: The exact opposite of every Hollywood Western you've ever seen. Whatever you do, don't pull a John Wayne and try to suck the venom out, which can only exacerbate damage to tissues. If possible, identify to medical personnel the type of snake that bit you as this may affect your treatment; that being said, don't try to catch the snake as it could lead to further bites. Similarly, avoid physical activity after being bitten. Don't apply a tourniquet as that causes the toxin to concentrate in a localized area. Do allow the wound to bleed freely for 15–30 minutes, which means removing any rings or constricting items of clothing.
Above all else, don't panic. There are approximately 8,000 venomous bites each year and only five or six fatalities. That means your odds are .001% of dying from a snake bite. Keeping a calm mind will help you to react accordingly and get yourself to a hospital.
Pop Quiz!
Yeah, school's out for summer, but that doesn't mean we're letting you off the hook that easy. We'll keep it brief though. Try your hand at these three questions and check your answers at the end.
Ready?
Set?
Go!
1.Which of the following snakes are venomous and found in the Piedmont?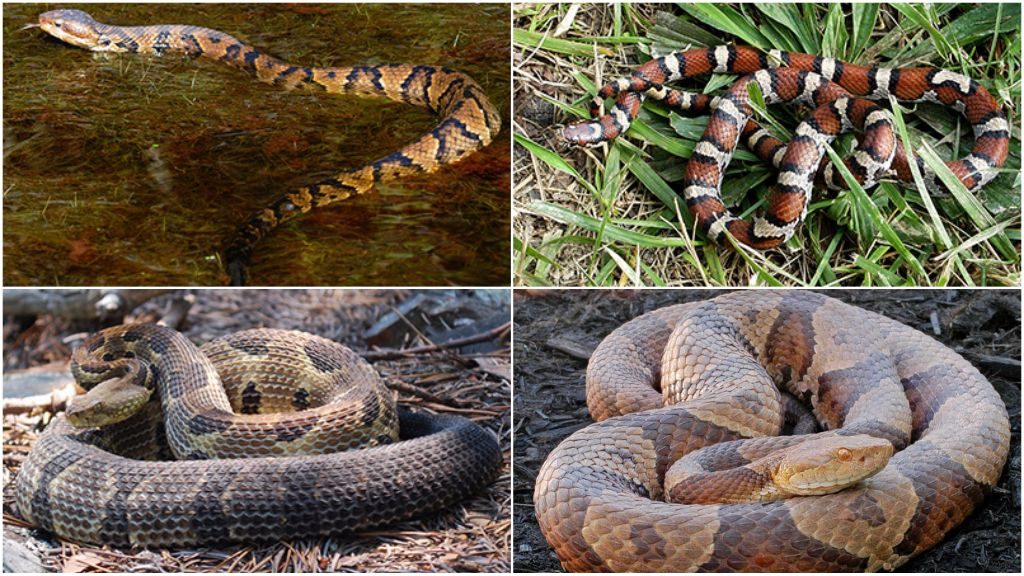 2. What should you do if you are bitten?
a) Cut across the bite to drain the venom.
b) Apply moderate, not severe, suction to the bitemark.
c) Allow the wound to bleed.
d) Catch and kill the snake then head to a hospital.
3. Venomous snakes typically have round pupils. True or False?
a) True.
b) False.
See! That wasn't so bad. Scroll down to see how you did!
.
.
.
.
.
.
.
.
.
.
.
.
.
.
.
.
.
.
.
.
.
.
.
.
.
.
.
.
1) The two on the bottom. The upper-lefthand is a venomous water moccasin, but you aren't going to see them round these parts.
2) C.
3) False.
Let us know how you did by leaving a comment on our Facebook page. Share this article with your friends. Though unlikely, this knowledge could be a literal LIFESAVER!