Curing Calhoun's country hams is an art and and a science
By Pete Pazmino
It's an unusual business owner who admits to talking people out of buying his product, but Tom Calhoun, owner and operator of Calhoun's Country Hams in Culpeper, is proud of doing exactly that. "We talk a lot of people out of ordering hams," he tells me in his comfortable office above his store. At first, I think he's joking. But while Tom is a garrulous storyteller with a deep, rumbling voice who does enjoy a good laugh, he is a man who takes his ham very seriously.
The problem, as he sees it, is that many of his would-be customers, especially those who find him around the holidays, believe they are ordering a classic honey ham. Tom, however, doesn't make honey hams. He makes country hams—and the difference could not be greater. It all comes down to the cure. 
The curing of a honey ham is sugar-based, which causes the ham to retain and actually increase its moisture. It's not unusual for an 18-pound ham to go up to as much as 24 pounds after a sugar cure. With country hams, though, the cure is salt-based. "The salt goes in, the moisture comes out," Tom explains, which means that a country ham can lose up to 20 percent of its starting weight after being cured.
This, the art of curing country ham, is one that Tom learned from his grandfather, who owned a cotton farm in west Tennessee that, as a child, Tom traveled to every summer from his home in Alexandria. "I got a feel for it as a young man," Tom says. "As a kid, really." He goes on to describe how his grandfather used to cure hams by putting them in a wooden box and covering them entirely with salt. But, Tom explains, "Nobody's going to buy a ham like that anymore."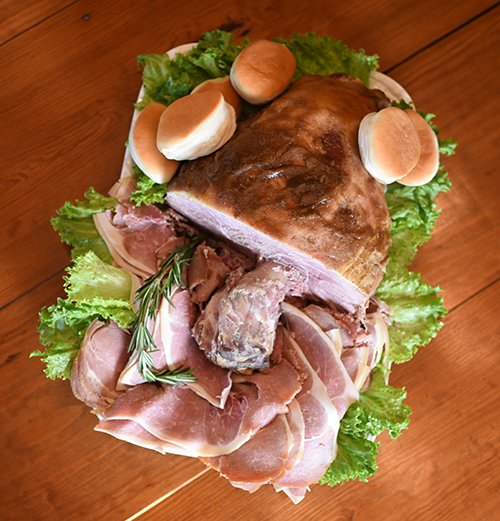 Today, Tom uses his own proprietary cure that he rubs over a ham until it's about a quarter of an inch thick. He likens the process to applying a dry rub before grilling. Afterward, the ham sits on a shelf in a refrigerated room for two weeks. Then, Tom rinses off the cure. Many would stop there, but Tom doesn't. He re-applies the cure, viewing it as a point of pride that all his hams are cured twice. After another four weeks, he explains, the salt will have worked its way down to the bone. Some people smoke their hams at this point, but not Tom. "They look smoked," he says, but for him the final step in the process is to take the re-rinsed hams and hang them from a rafter for between six months and a year, during which the hams sweat out their remaining moisture. "Then you've got yourself a Calhoun country ham," Tom proclaims.
I ask Tom if he can share any information about what's in his cure. "Well," he tells me. "Everybody's cure's got to have certain things in it. There are deviations in how much salt you use, how much sugar you can use, how much time, and when you're aging it and at what temperature you can age. They've all got to meet a certain standard." He goes on to explain that most of the country hams in this region, from the Piedmont on down through eastern Georgia, essentially are cured the same way. Most people use a sugar cure, which is somewhat misleading because while the cure may consist of up to 15 percent brown sugar, which helps keep the ham soft and moist as it ages, it's still salt that does the curing. Tom explains that he does use sugar in his cure, as well as pepper. "For flavoring and aesthetics," he explains. And, of course, he does it all twice. 
Beginnings and Growth
Calhoun's Country Hams opened its doors in 1964. Back then, the store was on East Davis Street, right across from Knakal's Bakery. Tom stayed at that location for about 15 years, a period during which he also became a regular participant in Alexandria's Old Town Farmers Market—an institution in which he still participates. A deli has been part of the store since its opening, and one of their specialties has always been thin-sliced country ham on biscuits baked by Knakal's. Tom actually sold a much wider variety of meats back then, but one day he bought a hundred hams and cured them with the idea of putting them on a special sale, and they were the first things in the store that went. Tom chuckles at the memory. "You don't have to hit me in the head with a brick bat," he says. "If people want these, I know about these hams. So I started buying them." It's been hams ever since.
There have been other businesses over the years, too—a second store in Charlottesville for a few years in the seventies, then a sit-down deli in Staunton that his wife ran for two years. Through it all, though, the core business has always remained family-owned and run. "We only have one employee that's not family out of seven," Tom says proudly, although he's quick to add that since one of his granddaughters just took her bar exam, he'll likely be losing her soon. "I don't know how I'm going to replace her," he says. "I've got sons, but the sons aren't interested." 
Today, Tom estimates that he goes through about 5,000 hams a year. While that's a miniscule number compared to larger operations, Tom is quick to point out that he doesn't wholesale. "Nobody gets a special price," he declares. "Everybody pays the same." And, for Tom, "everybody" includes quite the A-list of clients. He regularly provides his hams to numerous local restaurants, including The Inn at Little Washington, which has been a customer of his since beginning their operations, and to Red Truck Bakery in Marshall and Warrenton. His hams have also made regular appearances at the White House. Bill Clinton was his first presidential customer—Clinton's chef requested a ham during the administration's first year. "They're from Arkansas," Tom says. "Arkansas does country ham." 
The deli, too, remains popular, and still serves up country ham on Knakal's biscuits. While he no longer stocks the range of other meats he once did, Tom still carries a small amount of other offerings such as hamburger patties, pork chops, bacon, and even a handful of other sundries such as local peanuts, honey, jams, and jellies. All of which can be arranged in a variety of ham-based gift baskets, which are extremely popular items around the winter holidays.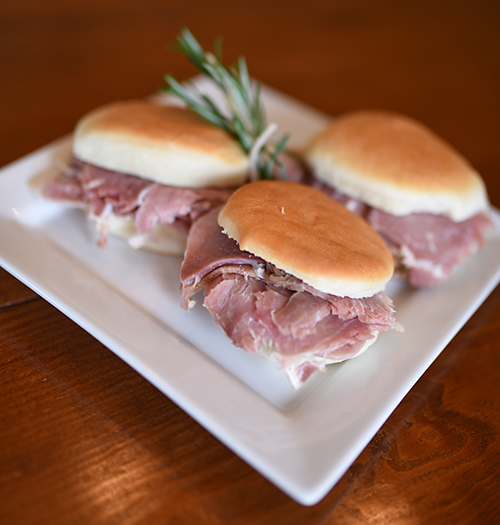 There is a website, but customers who want to order from it must call an 800 number that dials directly to the store. "If you want to buy a country ham, we want to talk to you before you but it," Tom says. And it's not just to ward off the confused seekers of honey hams, either. "You'd be surprised how many people get [country hams] and stick them in the oven, and it comes out tough and salty," he explains. "There's an awful lot of people like my mother used to be, figured she knew how to cook everything, never had to read a recipe."
And if the store isn't open when a customer calls? "You can leave a message and you can leave an order," Tom says. "But be sure and leave a number because we're going to call you back." 
On Cooking, Eating, and the Future
So how do you cook a country ham? The key, Tom explains, is to soak it first. He recommends soaking his hams overnight. You can start them in warm water, but there's no need for the water to stay warm and it certainly shouldn't be hot. After the ham is finished soaking, you should give it a good scrubbing to remove any remaining cure from the skin. 
After scrubbing, it's time to cook. Start by placing the ham in a stovetop-safe pot and covering it with water. Bring the water to a rolling boil, then bring it back down to a simmer and cook for about two and a half hours. The goal, according to the federal government, is for the ham to reach an internal temperature of 160°. Tom, however, is adamant that this temperature is too hot and makes the meat tough. He recommends 140°. 
Once the ham is cooked, it should be removed from the water and cooled to room temperature. It can be trimmed at this point. This is also the point at which some people choose to apply some sort of brown sugar paste or other flavoring to the ham's skin. Others choose to place it in a hot oven for another 10 or 15 minutes to get a good sear on the skin. Tom dismisses those practices as mere "prettying up," cosmetic attempts to make the ham look good for a dinner table. "The taste is all there," he says. No such prettying is required.
If all of this sounds like too much trouble, no worries—Tom does sell pre-cooked hams in the store. If you give him about 15 minutes when you order, he'll even slice it for you. "Country ham needs to be sliced real thin," he says. "More country ham is not necessarily better." This is especially true, he informs me, when it comes to pairing that ham with good country biscuits. 
Which, of course, raises the next obvious question—what's the best way to reheat country ham for later eating? Tom's brow furrows when I ask him this. "Well," he says. "To start off with, you've got a misnomer there. Country ham should be eaten at room temperature. Not hot." He goes on to explain that while country ham can be stored in a refrigerator, it'll pick up what he describes as "refrigerator taste" after a few days. The best thing to do is figure out what you're likely to eat within a week or so, put that in a sealed Zip-Loc bag, and refrigerate only that portion. For the rest, his advice is simple: "It freezes real well." When you take it out of the freezer, Tom suggests letting it thaw to room temperature. He does not recommend using a microwave to defrost it. "Country ham's just a little bit too lean," he says. "It gets hard."
And where, one might ask, does Calhoun Country go from here? To start, Tom has no plans for expansion. His daughter has already informed him that when he finally does retire, she has no interest in running some huge conglomerate—she just wants to run a small business, as he always has. Not that he's planning on quitting anytime soon. "I don't know why they worry about me," he says, chuckling. "I'm only 85. I've got another 15 or 20 years here yet." And, to be sure, he remains hands-on with the business every day. "I don't do very good with that thing," he admits, motioning at the computer on his desk. "But I've got two granddaughters I'm training on it."
Calhoun Country Hams is open six days a week, Monday through Saturday, from 8 a.m. until 4 p.m. The deli closes daily at 3 p.m. The store is located at 211 S. East St., Culpeper, and it's not going anywhere anytime soon. "I'll tell you something," Tom says. "Culpeper's been good to me. It's been good to me and it's been good to my family. And this business has been good to me and good to my family. I wouldn't change a thing."  (www.calhounhams.com),