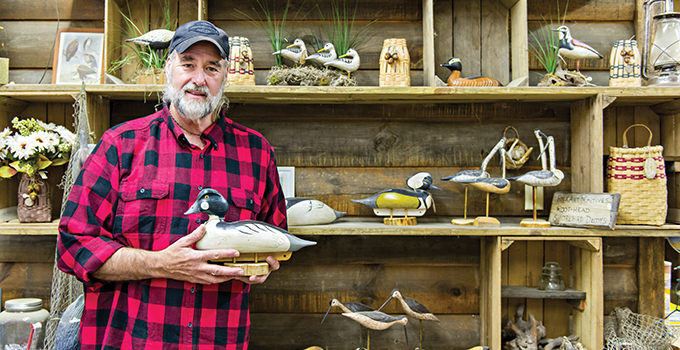 Decoy carver Richard Christy, crafter of "today's creations, tomorrow's heirlooms"
By Morgan Hensley, Photos by Jaclyn Dyrholm
Richard Christy—the founder and master craftsman behind Buck Island Bay Decoys as well as the owner, chef, and proprietor of Rock-n-Creek Cabin—whittles away at a hunk of wood while discussing his artistry, life, and the ways in which the two overlap. Like shed feathers, the shavings fall to the sawdust-strewn floor. He covers his time as a White House chef, his stint as a rural paramedic, and his passion for and efforts to preserve dying art forms. During a punctuated pause, he holds to the light the rounded and tapered sculpture, unmistakably the form of a waterfowl, that only moments ago was merely a block of wood.
Christy's lifetime follows as all great stories do: events are at once surprising and inevitable. His voice bears the signature drawl of Virginia's Tidewater region, and his humility in discussing his mastery of both cuisine and carving, and the transition bridging the two, calls to mind the laconic storytelling of a cowboy. He made a name for himself early on in his culinary career, first as a chef for President Gerald Ford ("He was a real foodie, like me."), and later as the founder of the renowned Black Tie Catering. By then, the rigors and uncertainty of the restaurant industry had begun to set in. "Sixteen-hour days, six days a week, no holidays, no job security, no gold Rolex after thirty years … I needed a hobby outside of the kitchen." One day in 1982, while sculpting an ice centerpiece for a banquet, he noticed his proclivity for carving and realized that he'd discovered an outlet for stress.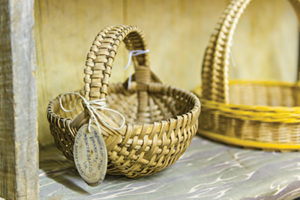 "I thought, 'If I can carve a watermelon into a flower, why not try to do it with wood?' " he says. 
Eager to explore this artistic inkling, he was reminded of his years as a young man spent in Sandbridge, an island a half-mile wide with the Atlantic on one side and the Back Bay, which tapers into the Currituck Sound, on the other. "It's a desolate stretch of beach that runs down to the Outer Banks," he says. "Living there I was surrounded by waterfowl and generations of decoy carvers." One of those carvers was Charlie Seidel, a master decoy carver and instructor at the Virginia Aquarium & Marine Science Center. Christy enrolled in Seidel's workshop and, in doing so, altered the trajectory of his life. 
At the workshop, Seidel imparted the advice of a seasoned guru: "Charlie took a block and told me, 'Take away everything that doesn't look like a duck.' " This sage advice from master craftsman echoes that of Michelangelo. When asked by an acquaintance how he was able to sculpt such beautiful, naturalistic angels, the Renaissance artist responded, "I saw the angel in the marble and carved until I set him free." Although Christy, a Renaissance man in his own right, works with white cedar instead of marble, the great artist's sentiment rings true. 
Before duck decoys garnered the acclaim as quintessential Americana folk art—with some models selling at auction for nearly one million dollars—the wooden sculptures served a pragmatic purpose. Waterfowl overhead possess an instinct for hunters lurking in the reeds or waiting in blinds. By floating a "gunning rig" of decoys, the hunters are able to subdue the fowls' flighty instinct, convincing the birds that the body of water is safe as it is peacefully populated by what appear to be other birds. Once the live fowl pitch and set their wings, the hunters are able to take aim from a closer range. 
Christy exudes a reverence for the origins of the decoy and its application as a tool, not a decoration. "I focus on the traditional side: why decoys were used in the first place. It goes back to poorer folks who would carve decoys out of broken masts and dunnage. They'd gather it up from the shore and chop birds out of it, then rub it with crushed glass wrapped in a rag to 'sand' it." His respect for the history of the decoy is matched only by his admiration for the decoy carvers from whom he inherited the secrets of the craft, often begrudgingly at first. 
"I learned from the old timers, one-on-one. What a wealth of knowledge!" Christy says. "At first I asked them to teach me; they said they didn't want to teach me. I nearly begged the curmudgeons. Finally, I told them, 'I'm not looking to profit from this, I only want to keep this art alive. Once it's gone, it's gone.' It would be such a shame for them to pass away without passing these secrets down. After that, they embraced me with open arms and we grew to be very good friends. I visited and asked if I could just watch them work and spend some time around them. They were willing to do that. That was their way of teaching me. They showed me their old tricks and techniques they would've taken to the grave. Most of them are long gone, but their knowledge lives on." 
This lineage of craftsmanship influenced Christy, though he has developed a wholly unique style over the years. "There's no right or wrong way to carve a decoy," he says, "but there are good decoys and bad ones. I tend to lean towards the southern style—primitive, nostalgic. Up north the decoys are much larger—four times the size, even—very blocky, artificial, with bright colors."
He walks me through his studio and shows me decoys in various states of completion. Driftwood, a white oak basket of sunbleached antlers, oyster shells, birdhouses, Swedish hatchets forged by hand. Sawdust hangs in the air, as does the silence, occasionally broken by the hacks of his axe. The form of a swan emerges from a slab of juniper; in its incompletion, the carving resembles a swan as seen through the haze of dawn. "Swans are flighty and aggressive; they don't like others. So when a bird in flight sees a swan, they're reassured." Aside from an electric band saw, the process of carving is done entirely by hand. The absence of power tools attests to the incredible potential of a simple knife or rasp when wielded by a veteran artist like Christy. 
Though there is no formula for art, Christy does follow a porcess, minutely adapting the steps to accommodate the piece. He begins by sketching the decoy to create a pattern, first on paper, then on the wooden block. From this preliminary drawing he cuts out a blank. "Once the blank is cut, I set it up on a stump and chop it out by hand." After cleaving out the shape, he uses a rasp, drawknife, and other tools for more precise cuts. "I finish with a few more strokes to enhance the carving and add different levels of detail dependent on the decoy's use." 
The finished product is one of a kind. "I could make a hundred, but each is going to have its own personality," he says. "Whether I knocked a chip out by accident or added a dabble of paint somewhere, it's different. They're renditions, not copies or anatomically correct, but, they're not meant to be."
At first, decoy carving was relegated to a hobby while Christy's culinary career progressed. In 1994, Christy was designated a Certified Executive Chef, the second-highest honorific for American chefs. When he opened Squeeler's Diner three years later, Christy's dreams of running his own restaurant had come to fruition. Though he was at the pinnacle of his career, he sensed that he was already being undercut by the next generation of chefs—younger, trendier, less skilled but less costly. Christy was at a crossroads professionally, and so he decided to take an eight-month sabbatical to build a mountain home and meditate on the different paths and outcomes available to him.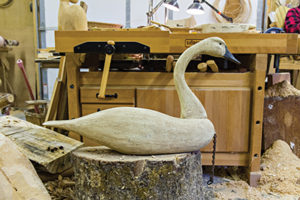 As a Boy Scout, Christy had hiked Crabtree Falls and camped out in Montebello. The nostalgia and fond memories from childhood made the area of the George Washington National Forest an enticing place to ruminate about his future. Christy bought 42 acres in 2001 in hopes of enjoying a simpler life and taking a stab at animal husbandry. It was there that he experienced an epiphany. "I thought, 'Throw in the towel while you're at the top of your game. You're financially secure, you've worked hard, and now you're allowed to enjoy the rest of your life.' So after that I began withdrawing and winding down." 
The transition from the drudgery of the culinary world to the easygoing life of a retiree was difficult for Christy. "I was so routined that it was impossible for me to relax. I felt like I had to be doing something. Five years passed before I felt not guilty sitting in a rocking chair on my porch enjoying life. Now, I'm so used to this that I can't imagine going back to that way of life."
Don't mistake Christy's zen mindfulness for stagnancy though. His curiosity in disappearing arts led him to basketry. "Our ancestors came here from the Old World with nothing, so they had to make things from the land," Christy says. "Carving decoys had started to become routine, not to say I'd mastered it—I haven't and if I had a second lifetime I still wouldn't. But I wanted another lost art and I found Clyde Jenkins, one of the last white-oak basketmakers in the land." Unlike a basketweaver, Christy wanted to be a basketmaker: starting from the beginning by felling white oaks from his land, cutting his own reeds, and riving every split, rib, and weaver from that tree. "To create a handmade white oak basket takes time, patience, knowledge, and strength," he says. "When you are finished, you have created a working piece of tradition, an heirloom." Christy didn't stop there. His prowess with woodwork has seen him venture into treenware, teaspoons, and dough bowls, all hand-hewn with the immense care at the heart of anything Christy creates. 
"Anything I've made with my hands has a part of me in it, and to me that is very intimate. It's an offering, a piece of yourself extending to people you may not know. It's the same principle even when I was working as a chef. There's such a trust there: you make food and people ingest your creation. To create something, whether food or a carving, that someone takes into their home and thinks enough of it to consider it a gift … to me that is remarkable. There's obviously a pleasure in preserving these lost arts, but relinquishing my creation to someone else, that's remarkable." 
Christy's talents extend far beyond his cuisine and carvings. As the proprietor of 2,100-square-foot Rock-n-Creek Cabin, named for a nearby granite outcrop and the headwaters of the Tye River, he fosters a sense of tranquility, of communion with the surrounding landscape. Christy understands the recent trend of "glamping" (a portmanteau of "glamorous" and "camping") and caters to guests who want massages and a rural Ritz Carlton experience. However, a more pastoral aura permeates the cabin. What Christy offers visitors is the serenity and quietude of the region. There are no cell phone towers nearby. No wireless internet. In place of these modern amenities is something permanent and ancient. 
"Out here the stars are so close that you can grab them," he says as the sun starts its descent. "To be out here and experiencing that twilight …" His words trail off, their meaning understood regardless. 
Inside the cabin are rough exposed beams, quilts, porches, decoys, and a coffee table built from a refurbished lobster trap. The design is as luxurious as it is quaint. Perhaps this is the perfect illustration of what makes Christy fascinating and his work remarkable: the obvious talent without any of the pretension. Now it seems he has his aim set on mastering another dying art: relaxation, or rather, the pursuit of serenity while continuing to learn.
"There's no pressure in the sense that I have to do any particular thing at any particular time. If I don't want to carve, I can work on a basket or dough bowl or cooking utensils. That keeps me from getting stagnant and ensures that my hobby will never become a burden, a job. Every day is a Friday, every day is a Monday."