Visitors will travel along the Potomac River to six beautiful estates in Leesburg on this tour that includes access to ve notable homes, some with spectacular river views, and remarkable historic structures. Journey along the old north-south Carolina Road (now Route 15) and enjoy the scenic landscape. Stone, brick and stucco mansions and restored barns provide the backdrop to picturesque gardens. Tour headquarters is located at Morven Park in celebration of Marguerite Westmoreland Davis's centennial membership with Leesburg Garden Club, the hosting club. Explore the Garden Club of Virginia's recent garden restoration project at Oatlands Plantation on the south end of this driving tour.
Oatlands Gardens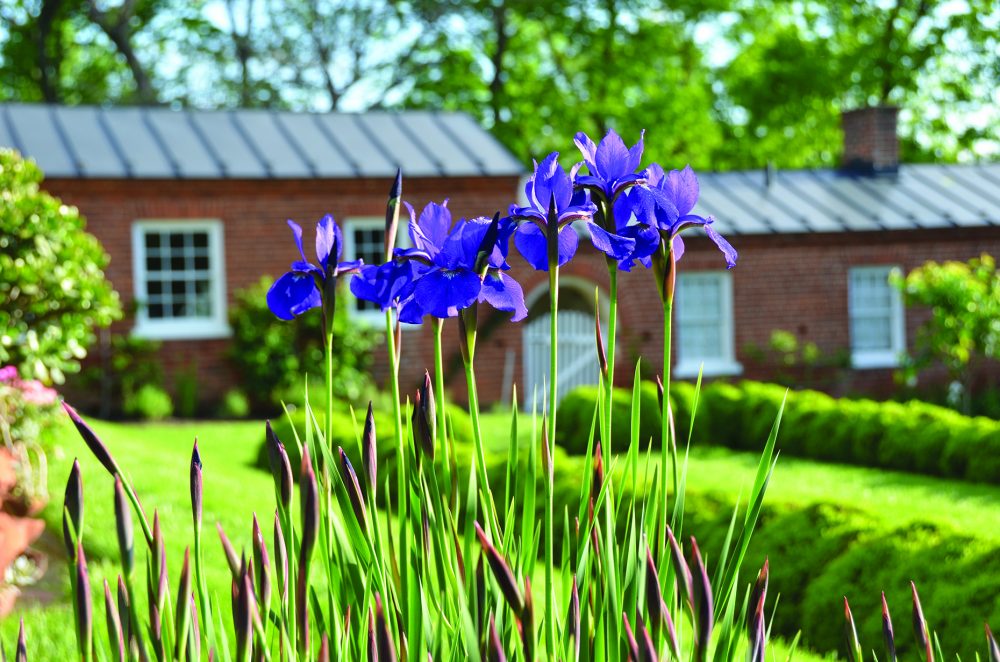 The origins of Oatlands' terraced garden were formed in the early 1800s under the ownership of George Carter. Food crops included cauliflower, asparagus, squash, and eggplant. An English oak and boxwood were added as decorative plantings. In 1903 prominent Washingtonians Edith and William Corcoran Eustis purchased Oatlands as their country home. Mrs. Eustis immediately began restoring "the old beauty," as she described it in the book, Historic Gardens of Virginia. She kept the design and spirit of the four-and-a-half-acre garden while adding flowers and ornamentals, statuary, and a tea house. Mrs. Eustis reflected on the blending of new and old: "It is this atmosphere that gives the garden its charm, and makes it speak a different language from that of the most beautiful gardens of this age." The garden paths have been recently restored with funds from the Garden Club of Virginia and projects will continue in the future. Oatlands Historic House and Garden is a National Trust Historic site. Tours of the mansion are an additional fee. 20850 Oatlands Plantation Lane. 
Murray Hill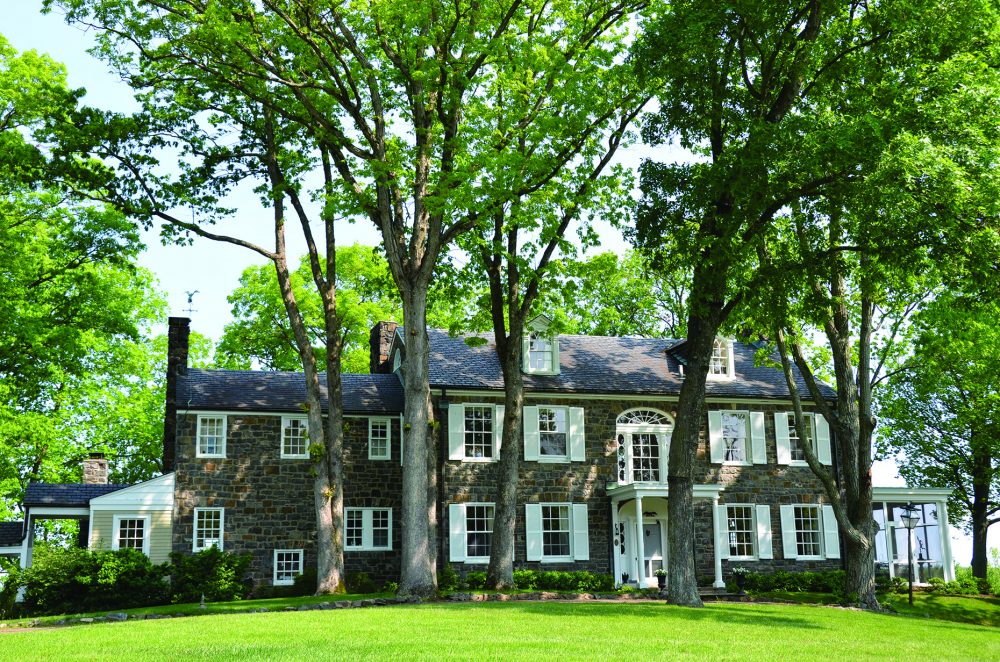 Winding through the entrance to this preserved 57-acre pastured and wooded property, visitors pass a large pond, chicken coop, restored llama barn (now used for wedding receptions), and a secluded pool before reaching the stone residence located on a bluff overlooking the Potomac. Beyond the shade garden and smokehouse is the "sundial garden" with sweeping views of the river, Harrison's Island, and the Maryland countryside. Mature white oaks, gardens, and shrubs enhance the setting.
The current owner's grandfather, S. Murray Rust, was the youngest child of Ida Lee Rust. In 1938 he built Murray Hill using almost identical moldings, mantels, and an upstairs oor plan that existed at Rockland, his childhood home (also on this tour). Inside Murray Hill is a treasure trove of family antiques and memorabilia that lovers of local history will particularly appreciate. Among the numerous furnishings are a 1790 grandfather clock from Hagerstown, Maryland, that plays six melodies, a framed sample of the first run of copper-engraved toile made in the United States from Lowell, Massachusetts, and paintings of family members. Murray Hill is a Virginia Historic Landmark and listed on the National Register of Historic Places. 42910 Edward's Ferry Road 
Morven Park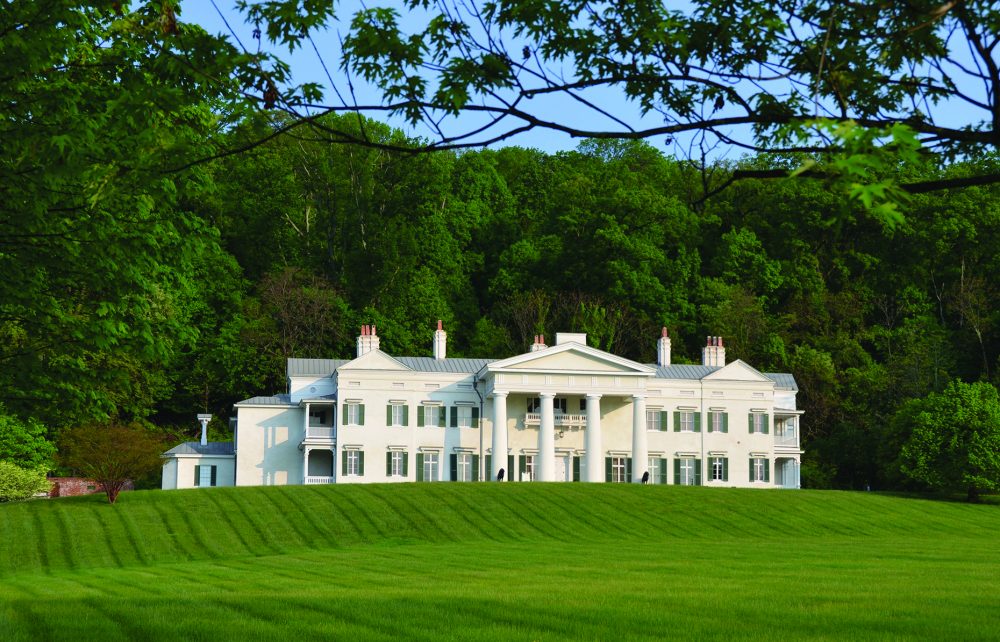 This Greek Revival-style mansion was constructed in several phases over the course of the 19th century, and was the home of World War I-era Virginia Governor Westmoreland Davis and his wife, Marguerite. This year marks the centennial of her joining the Leesburg Garden Club. The expansive interior of the mansion is home to Mrs. Davis's eclectic collection of antique furnishings and artworks gathered from around the globe. Morven Park's 1,000 acres provide a bucolic setting of rolling fields and woodlands. South of the mansion lies the Colonial Revival boxwood garden that was Marguerite Davis's pride and joy. Surrounded by the original four-foot-high brick wall and wrought-iron gates, the gardens contain not only boxwood but also magnolias, hollies, and a variety of towering trees. A reflecting pool and the brick mausoleum, the final resting place of Governor and Mrs. Davis, are tucked within this special garden. Recognized on the National Register of Historic Places and as a Virginia Historic Landmark, the mansion was closed for extensive restoration from 2005–2010. At that time, state-of-the-art climate control and re-suppression systems were installed, protecting this cultural treasure and its collection for generations to come. 17195 Southern Planter Lane
Rockland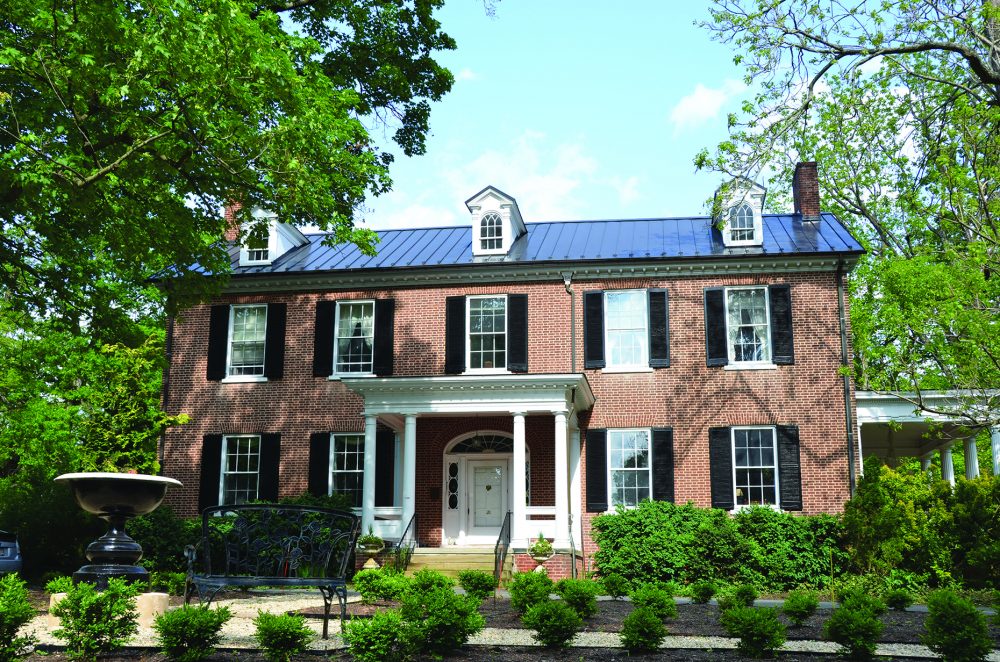 Listed on the National Register of Historic Places, Rockland is a 485-acre tract of land along the Potomac that has been owned by Rust descendants for 200 years. General George Rust, a member of the Virginia House of Delegates and Superintendent of Harper's Ferry Arsenal, bought the property in 1817 and built the Federal front portion of the house using a Flemish-bond brick pattern. Georgian architectural influences were added later. The front porch welcomes visitors with its elliptical fanlight and sidelights where Rust brides and grooms have inscribed their names since 1849. Portraits of Rust ancestors adorn the walls in the living room, parlor, and dining room, including one of the widowed Ida Lee Rust, who raised 14 children at Rockland. Most of the original furnishings and china remain. The historic gardens behind the main house have been studied and extended over the last 30 years by Betsey Brown, widow of Henry Bedinger Rust Brown, who still resides at Rockland with its current owners, Elizabeth Sage Brown Devlin (Libby) and her husband, Nicholas. They are continuing Betsey's efforts, having recently installed the front boxwood garden and brick patio in back. Nick continues the 170-year-old family tradition of curing hams in the white frame smokehouse and Libby has opened up the grounds for use as a wedding venue. 16306 Rockland Lane
River Farm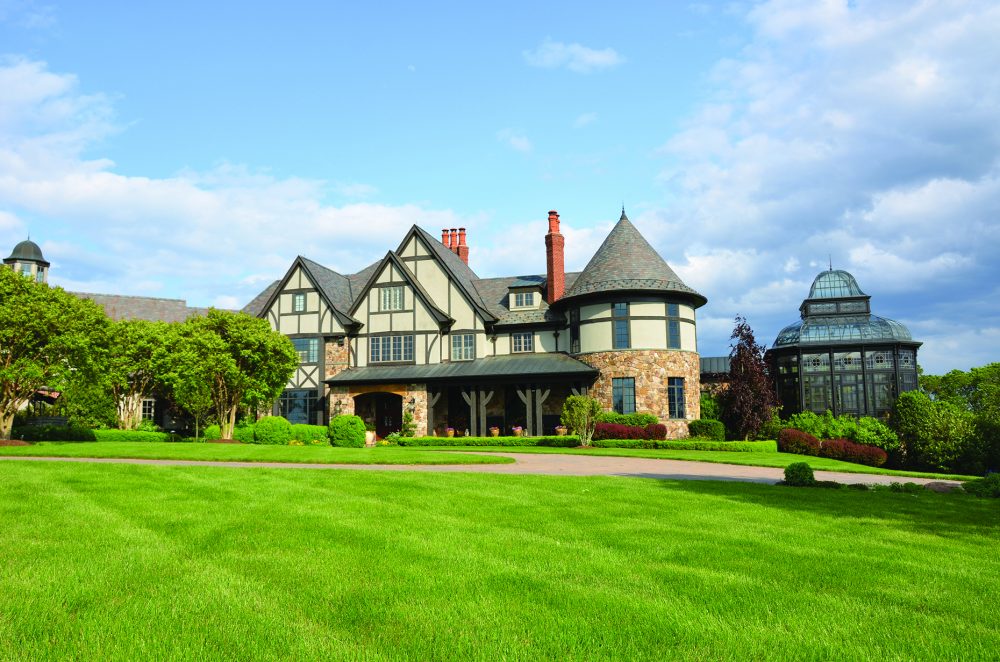 Now transformed after a long period of decline and neglect where dilapidated buildings and abandoned cars littered the once productive farm, this remarkable restoration began with the purchase of the 260-acre property in 2003. The current owners built, renovated, and landscaped the property to what it is today. Projects included the main residence (Longview), another Craftsman-styled family home, state-of-the-art riding stables, a service barn, and roads. The original farmhouse, carriage house, tenant house, and award-winning "party barn" (also on tour) have been beautifully restored. Stacked-stone walls with a stone bridge and curved accents are part of the extensive landscaping linking areas of the farm together. The owners greatly reduced their carbon footprint by installing a large solar field from which all of the farm's energy is generated. A mid-19th-century, Gothic-style French wellhead and carved stone finials add interest to the boxwood parterre garden in front of Longview. Its dominant architectural feature includes a two-story circular library turret and an impressive botanical conservatory. Attention to detail, high quality materials, furnishings imported from around the world, and works by local artists embellish the interior. In the tall trees in the backyard garden is a large bald eagle nest in which the parents raised three eaglets last spring. 16140 River Farm Lane
Riverside on the Potomac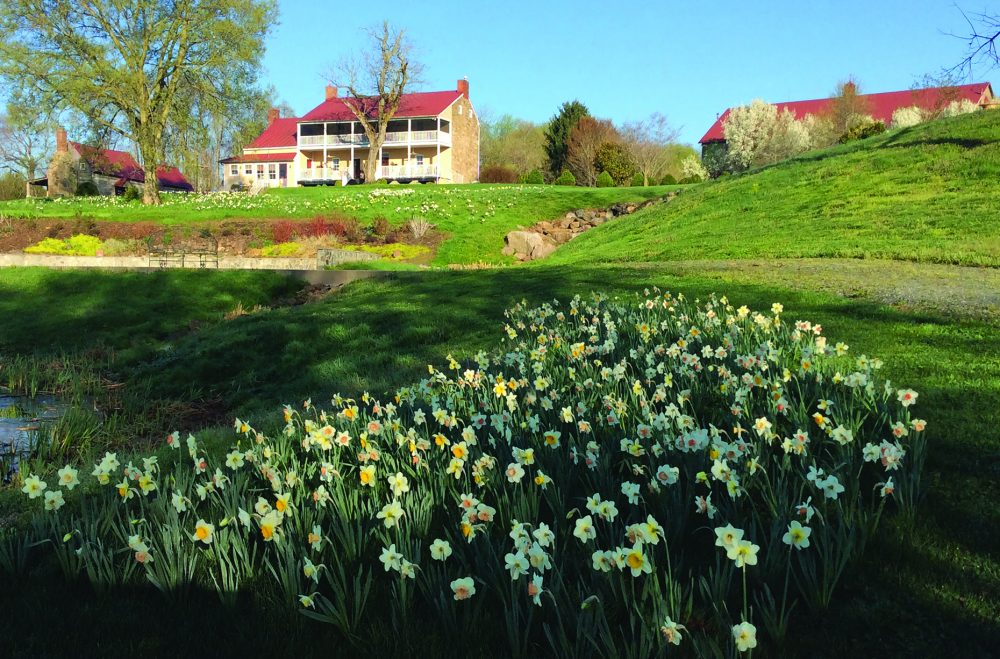 Enjoy views of the Potomac River and Sugarloaf Mountain, manicured lawns, ponds, and seasonal gardens at this Virginia Historic Landmark and National Register property. In 1739 a land grant was issued to Joseph Clapham, a member of the Virginia General Assembly and a friend of George Washington. As an adjunct to farming the land, Mr. Clapham began the first sanctioned ferry operation on the Potomac in 1757. The farm became known as Clapham's Ferry Farm. Descendants later changed the name to Riverside. Upon purchasing the property in 2003, the current owners renamed the farm Riverside on the Potomac. They undertook a total restoration of the original log cabin, smokehouse, bank barn and c.1760 stone house. The barn is the largest restored bank barn in Virginia and is used for weddings and events. Boulders and stones from the original ice house were used to construct a waterfall terrace at its site. Restoration was also done to return the land to its original purpose: hayfields, pastures, and gardens. The renovated home, log house, and barn are furnished with Virginia and Tennessee high country antique furnishings and collections. Antique mantels, molding, and trim in the house are original. 44337 Spinks Farm Road
What Else You Need to Know:
Tour Dates: Sunday, April 23, 1–5 p.m. & Monday, April 24, 10 a.m.–5 p.m.
Tickets: Order by April 17 and pay $35 for admission to all 6 sites; after then, tickets are $45 and available on the organization's website. Single-site tickets are available for $20/site, cash or check only. Credit accepted at Morven Park.
Lunch: Boxed lunches are available for Monday's tour. The cost is $15 and orders must be placed before April 17. Pickup between 10 a.m.–2 p.m. For menu options, call: (919) 270-3007.
Restrooms: Located at Morven Park.