The Richmond-based Underground Kitchen has had the honor of being asked to cook at the James Beard Foundation in New York City in the early summer. This is their biggest event to date! As a lead up to the event, UGK has launched their "UKG: Retrospective" tour which is in the process of crisscrossing the Mid-Atlantic and will include a dining event in Charlottesville on April 27.
Underground Kitchen, the celebrated Richmond-based experiential dining society, is known for hosting high-style, multi-course dinners in secret locations with renowned and up-and-coming chefs across the Mid-Atlantic. UGK was founded in 2013 by design and branding expert Micheal Sparks as a community pop up dinner series. Since then, it has expanded to nearly 30 cities across the Southeast while maintaining its community-driven philosophy. With each event, UGK crafts a distinctive experience that revolves around a unique theme, location, and menu. It has been referred to as "the most exclusive dining ticket in town" by the Richmond Times-Dispatch.
Why is UGK so secretive? Details are limited to heighten the aura of suspense. Before the event, only a few pieces of information are divulged – the date and time of the dinner and the theme. THAT'S IT. The exact menu, chef, and location are kept secret (in most cases) until 48 hours before the event.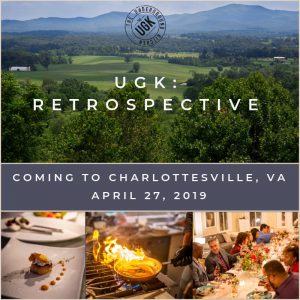 Underground Kitchen has worked with some of the best chefs on the East Coast, including Matthew Tlusty, former executive chef at Julep's in Richmond, Va., Joy Crump, former "Top Chef" contestant and executive chef at FoodE in Fredericksburg, Va., award-winning New York City chef Giovanna Delli Compagni, and chef J. Ponder, an alum of Food Network's "Chopped" and "Cutthroat Kitchen."
Sparks says, "Our goal with the 'UGK: Retrospective' Tour is to bring together the best of the best chefs, designers, farmers, and artisans of the last six years – those who have helped us create a larger movement that builds community, culture, and opportunity through food – and celebrate their creativity and contributions, and to thank each of the cities that supported us along our journey."
As is tradition with each Underground Kitchen event, the exact location for the April 27th dinner in Charlottesville remains a secret, but we can reveal the dinner will be at a landmark cultural locale in the city.
"UGK: Retrospective"
Event Date: Saturday, April 27, 2019
Event Time: 6:30 p.m. cocktails; 7 p.m. dinner
Location: Charlottesville, Va. (exact location TBA)
Chef: TBA
Tickets: theundergroundkitchen.org/event/ugk-retrospective-charlottesville-va