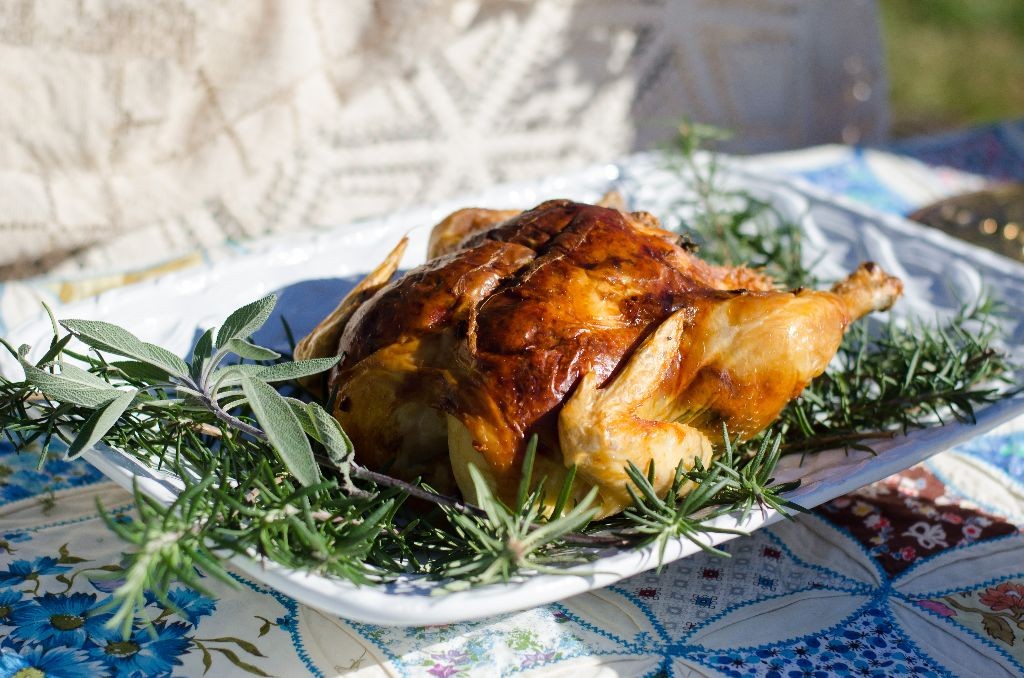 by Brian Lichorowic
One of my most horrific memories from childhood is a black and white portrait of an actor that I discovered in an old magazine. It scared me to even look him in the eye. Upon discovering who the actor was, my fear grew to fascination. It was Mr. Vincent Price, the prolific actor best known for his roles in low-budget horror movies and also as the narrator of the morbid monologue in Michael Jackson's "Thriller."
Vincent Price also was a serious epicurean who authored of several cookbooks. In 1965, his first wife, Mary Price, and the spooktacular star published "Come In our Kitchen" and "A Treasury of Great Recipes." First editions are works of art — bound in leather with gilt spines and high-quality photographs. Let's remember that this was in an age when there were three T.V. channels, no calculators, and cameras had the dimensions of a shoebox.
"A Treasury of Great Recipes" is his best work. As a cookbook, its complexity is astounding. The Prices' comments on certain recipes entice the imagination, encourage improvisation, and shed insight on food and cooking. The two were visionaries, concocting over twenty-five recipes using only an electric blender. For this reason, the book is considered a classic, and signed copies sell at auction for $5,000.
The Prices owned a mobile home, or rather, a transportable kitchen that they would park on movie sets. In its day it was at the peak of culinary ingenuity. The couple welcomed local chefs, celebrities, and friends alike into their travelling kitchen.
You can keep James Beard or Rachel Ray. When I look for a classic, I go to Vincent Price's "A Treasury of Great Recipes." It reads wonderfully, often humorously: "This recipe got its name because it was always made on Friday." That's just unbridled literature providing us with a gentle reminder of the quality of Mr. Price's movies. And the man could cook. We called it "Refrigerator Chicken" because we always had it cold. You can cook a few of these in advance. A seasoned stuffing is placed between the skin and the meat instead of the cavity, giving you an intensely flavorful bird with crispy brown skin and moist tender meat. It looks great carved on a plate and is superb served cold at a tailgate or a picnic.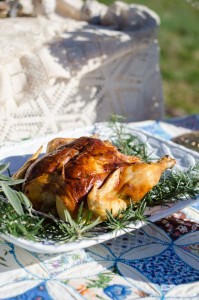 FRIDAY CHICKEN | CLASSIC STUFFED SKIN PICNIC CHICKEN
INGREDIENTS
1 whole Cornish Cross chicken
½ cup sweet cream butter, softened
5 pieces of bread, white or wheat
½ cup water
4 large eggs, lightly beaten
1 small onion, finely chopped
½ cup fresh parsley, chopped
1 sprig fresh thyme
2 leaves fresh sage
sea salt and fresh pepper to taste
METHOD
• Loosen the skin of the chicken by inserting and gently moving your hand around under the skin of the entire chicken. This will carefully tear any connective tissue.
• In a large but shallow bowl, place the slices of bread and add the water, allow the bread to absorb some of the water, and then squeeze out the excess moisture. Add the parsley, eggs, thyme, sage, onion, salt, and pepper. Mix everything together thoroughly.
• Stuff the dressing between the skin and the meat of the chicken, forcing it into the leg pockets and anywhere else you can fit it. In a baking pan place the chicken, breast facing up.
• Massage the soft butter onto the skin of the chicken.
• There are 2 ways to finish this. Mr. Price likes a 400° oven for 45 minutes to start, then finish at 350° for 1 hour, basting every 20 minutes. I have found that by covering it with a piece of tin foil in a 350° oven for about 1.5 hours gives me the same results without having to baste it. You can turn the chicken over for 15 minutes to brown the back if you'd like.
• Take this to your tailgate and make you and your guests very happy.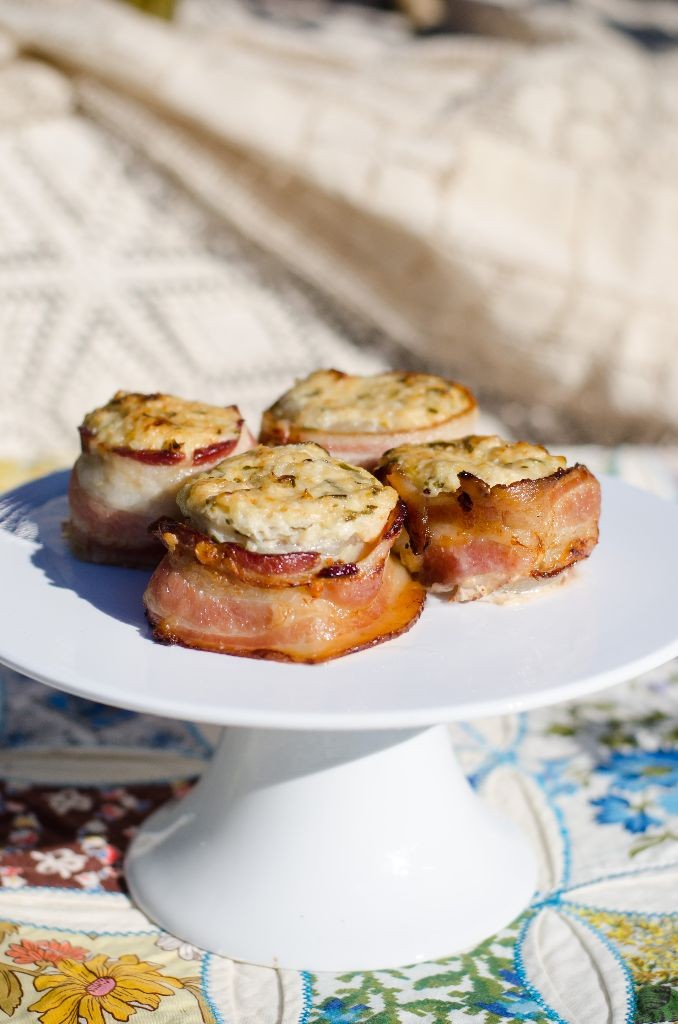 It's a treat to have these tasty stuffed onions at you tailgate because you surely can't have these on a regular basis. Anything that starts with cream and then adds cheese… probably going to go against your doctor's best advice.
But hey, all things in moderation, including moderation.
Pick a decent-sized onion, about the size of a tennis ball, and be aware that the cores, tops, and bottoms you trim off are to be saved for the filling.
"BLOW OUT MY AORTA" STUFFED ONIONS
INGREDIENTS
1 med. white onion, peeled
4 slices pancetta or bacon
2 cloves of garlic, chopped finely
4 twigs fresh rosemary, chopped
8 Tbsps. heavy cream
¼ cup parmesan cheese, grated
2 glugs olive oil
METHOD
• Boil the onion for 15 minutes, remove, and allow to cool. Remove the top inch from each onion, chop the tops, and set aside for later. If need be, trim the stalk end so they sit flat in a roasting pan. • Cut a heaping tablespoon size out of the inside of each onion. Chop and add to the tops set aside.
• Preheat oven to 400°. In a heated saucepan, add a glug of olive oil. Add the chopped onion, garlic, and ¾ of the rosemary. Sauté for a couple minutes until the onion softens a bit. Turn the heat down, add cream, and stir in parmesan cheese. Add salt and pepper to taste.
• Wrap a piece of the pancetta or bacon around the middle of the onion, using a toothpick and a spear of rosemary to hold it, place onions on your roasting pan. Spoon the chopped onion mixture inside each onion. Bake in oven for 25 minutes until they are soft and tender.
---
ABOUT THE AUTHOR
The 4th of six generations of restaurateurs, Brian Lichorowic grew up in a restaurant that seated 1,500 people. He thought it was normal to clean and debone 500 chickens every Wednesday after school. He was the first to leave the family business and took a different road to success as a technology entrepreneur. He can be reached at brian@pullmyfingergourmet.com He has copyrighted this story ©Feed Bag Foods Inc. 2015
---