by Laurie Beth Gills
Rain or shine, another ground-shaking steeplechase season has arrived. Always a good indication that spring has finally sprung. It's a pleasurable Piedmont state of mind that comes sporting fabulous fashion, elaborate hats, bow ties, food (tailgating food, that is), and tons of fun for everyone!
Virginia is home to many steeplechase events and fox hunting clubs, which are all in tune with a refined style of tailgating. Enthused spectators visit from far away to support and take part in this springtime tradition in the Piedmont.
I've had the pleasure to steeplechase-tailgate for several years now, and never grow tired of it. Imagine a beautiful spring day out in the country, where you're finally able to shed off those heavy winter garments and step out in your finest new spring attire. A trip to the races is an all-day splendid event with family and friends, as well as a tradition hailed by those who ride and those who don't.
As a chef, I like to think of these events as an opportunity for "high-style tailgating," with the dishes served continuously throughout the day. As the first race of the day usually begins in the morning, I like to greet my guests with a signature morning cocktail followed by a few brunchy plates to tease them along. Later in the afternoon, as energetic fun and socializing increases appetites, I usually serve hardier dishes. It takes a lot of planning and work to keep them going throughout the day, but if there is one thing that we insatiable tailgaters know, it's that it's all about the grazing!
Here are a few morning jump-race recipes sure to please.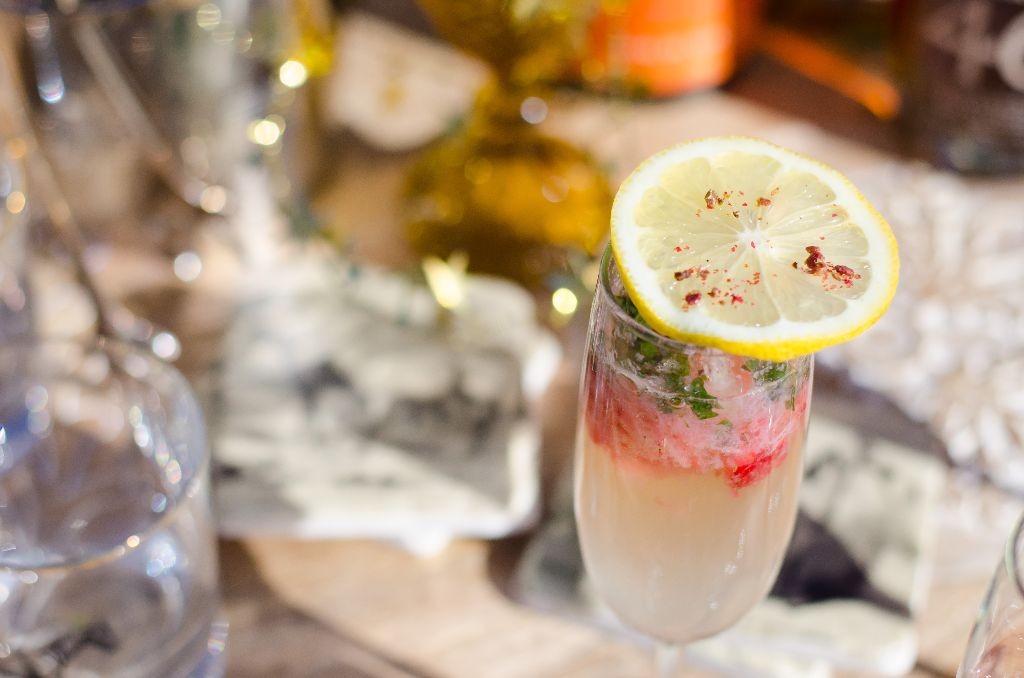 HERB-HURDLE SMASH WITH LOCAL STRAWBERRIES, PINK PEPPERCORNS, AND SPARKLING WINE
Serves: 2
INGREDIENTS:
A few pink peppercorns–slightly crushed
A bunch of fresh herb leaves, such as basil or mint
2 or 3 ripe local strawberries–hulled and chopped
1½  ounces gin
1 ounce fresh lemon juice
1½ ounces simple syrup
2 thin slices of lemon
Chilled sparkling wine, such as Prosecco
METHOD:
• Prepare the simple syrup. It can be made in larger or smaller quantities with the same ratio of water to sugar.
• Heat the water and sugar over a medium heat, and bring to a strong simmer. Stir to dissolve the sugar. Lower heat and continue to simmer for about 2-3 minutes. Remove from burner and cool. • • Pour syrup into a sterile glass container or bottle and refrigerate. (Keeps for up to 2 weeks in the refrigerator, and 3 months in the freezer).
• Using a mortar and pestle, smash the peppercorns separately, then transfer to a small bowl. Next, smash the fresh herbs and strawberries together until the berry pulp and herbs release their amazing spring flavor. Evenly distribute the strawberry-herb smash between two flutes.
• Fill a cocktail shaker with ice. Add the gin, lemon juice, and simple syrup. (If you prefer to serve a cocktail without any pulp, simply add the strawberry-herb smash to the cocktail shaker along with the other ingredients). Shake well, then strain into the flutes. Top with sparkling wine, a very thin slice of lemon, and a pinch of peppercorns.
• For a drink with less alcohol, use sparkling water instead of the sparkling wine.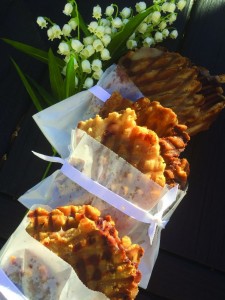 WINNERS CIRCLE: WAFFLE BACON PANINI WITH CHEESE AND CHOCOLATE
Serves: makes about 15 sandwiches
Ingredients:
1½ cups heavy cream
½  tsp vanilla extract
1 ½ cups powdered sugar
1 ½ cups whole wheat pastry flour (e.g. Bob's Organic)
Big pinch of freshly ground nutmeg
1 T cornstarch
4 ounces Fontina cheese–thinly sliced
¾ cup fine chocolate from a block (e.g. Guittard semisweet chocolate), thinly shaved
Fine, flaky sea salt (e.g. Maldon)
8 thin slices of crispy cooked bacon, broken in halves
Method:
• In the bowl of a stand mixer fitted with a whisk attachment, whip the heavy cream with the vanilla on medium-high speed for about 3 minutes, or until it develops a slightly thicker, mousse-like consistency.
• In a separate bowl, sift together the powdered sugar, pastry flour, nutmeg, and cornstarch. Gently stir the cream into the dry mixture until the two are thoroughly blended. Batter should be thick, but manageable like cookie dough. If need be, add more cream.
• Spray panini press with a non-stick spray. Heat to medium-high. Place a heaping tablespoon of batter onto the press. Depending on the size of your press, you may be able to fit 2 or 3 at a time. • • Make sure to leave 2" between each waffle.
• Close the lid and cook for one minute. Lift the lid and using a soft spatula, quickly gather up any loose batter that has slipped away and bring it closer to the center of the waffle. The waffle stays soft throughout cooking, so you can easily shape the batter.
• Flip each waffle once or twice (Like crepes, this takes some practice; don't fret if the first few fall apart, you'll get the hang of it). Cook until golden brown, about 3 minutes total. These don't need to be pretty; often the oddly shaped ones turn out to be the tastiest.
• Remove waffles from the press and set them aside on a cooling rack. Turn off the press and let it cool. Wipe it clean, then apply a fresh coat of non-stick spray.
• Reheat the press. When all waffles are done cooling, begin to build the sandwiches. Top one waffle with cheese (4 or 5 pieces), a tablespoon of chocolate, and a small pinch of salt. Crumble one half of a bacon strip, then top with a second waffle to create a sandwich.
• Place waffle sandwiches back on the heated panini press and gently close the lid. Press for one or two minutes, enough to melt the cheese and chocolate. No need to flip.
Serve warm or at room temperature. For a tailgate, make these a day ahead, carefully pack them, and refrigerate overnight.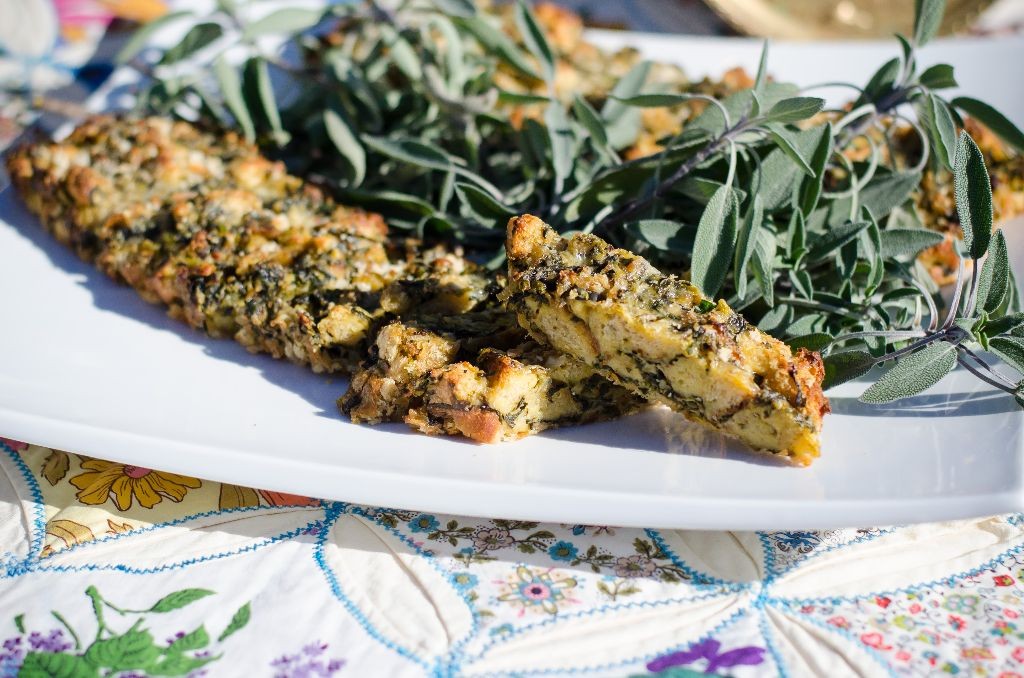 FROM THE TURF: LEEK, LETTUCE AND BREAD QUICHE
Serves:  8
Ingredients:
1 (12 ounce) Italian pane bread (or any good crusty loaf)
2 pounds of mixed Bibb and Romaine lettuce–washed, trimmed, and roughly chopped
¾ cup extra-virgin olive oil
1 T fresh thyme, finely chopped
1 T fresh flat-leaf parsley, finely chopped
2 cups leeks, thinly sliced (about 2 large leeks)
¼ tsp crushed red pepper flakes
2 garlic cloves, minced
7 large organic eggs
½ cup heavy cream
1 cup freshly grated Parmigiano-Reggiano cheese
Fine sea salt (I use Maldon) and freshly ground black pepper
Unsalted butter for greasing pans
Special Equipment:  Two 13" rectangular tart pans with removable bottoms
Method:
• Cut the crust from bread, then pulse the crust in a food processor until finely chopped with some larger pieces and set crust aside. Cut the crustless bread into ¾" cubes and set these aside.
• Wash the lettuce mix in cold water, adding a splash of white vinegar. Chop the leaves and remove the thick ribs and set these aside in the refrigerator.
• For the bread cubes: In a large nonstick skillet, heat 3 tablespoons oil over medium heat. Add enough bread cubes to cover the bottom of the pan. You may need to divide the bread into a few batches. Cook, stirring occasionally for 2 minutes, adding a pinch of salt and part herbs. Stir frequently until the cubes are golden on most sides, about 3 minutes longer. Repeat with remaining bread, and then set aside.
• For the cooked lettuce: In a large, heavy, wide pot with a lid, heat 3 tablespoons oil over medium heat. Add the leeks, red pepper flakes, and a good pinch of salt and pepper. Reduce heat to medium-low, with a partial lid cover. Stir occasionally until softened, about 8 minutes.
• Add garlic, then lettuce (in batches, if necessary). Cover and steam cook, adding small amounts of water (1/4 cup at a time) as needed throughout. Stir occasionally, until lettuce is wilted and very tender, about 20 minutes. Drain the lettuce and let cool slightly.
• Meanwhile, add eggs, cream, half of the cheese, remaining herbs, and salt and pepper to bread cube bowl. Stir together, then rest, allowing bread to absorb most of the egg mixture.
• Transfer slightly-cooled lettuce to a cutting board and do a quick chop once more. Add to the soaking bread cube bowl, and gently stir the filling to combine the ingredients.
• Heat oven to 350°. Grease tart pans with butter. Sprinkle enough dry breadcrumbs into each pan to just cover bottoms (about ¾ cup per pan). Set pans on a baking sheet.
• Divide filling among pans, then sprinkle with remaining cheese. Bake until fill is set, about 30 to 35 minutes. Serve warm or a room temperature.
---
---