Award-winning wine, chocolates, and tropical plants welcome guests to Glass House Winery
After the holidays, the winter months tend to drag and the continued limits on being able to travel are a cold reality. However, for locals in the region who wish for a respite at far-away balmy resorts, tropical Glass House Winery is an oasis in these chilly days.
Glass House Winery in Free Union, just a short drive from Charlottesville, is a 15-acre award-winning vineyard that also makes and markets Glass House Winery chocolates. The vineyard also is home to a self-proclaimed whimsical bed and breakfast. But the draw for tropic-seekers will likely be the gorgeous exotic plant conservatory, the inspiration for the winery's namesake.  Its gorgeous plants in a tropical setting are perfect company for sipping wine and noshing on the winery's house-made chocolates.
While the winery was founded by Jeff and Michelle Sanders in 2010, it is now owned by Jay Smith, who is enthusiastic about the vineyard, its ambience, and the ability to share a venue with local music. After years in the IT industry, Smith decided to seek out a way to be closer to family while also exploring his enjoyment of wine, appreciation of agriculture, and love of music.
"Specifically, what made me buy this winery was multifaceted. First, I wanted to find a winery in the Charlottesville area to be close to my son, daughter-in-law, and daughter who all live in Charlottesville. I looked at a few, but when I found out about Glass House Winery being for sale and visited it, I knew it was the one for me," he says. 
"The combination of fine wines, the conservatory with exotic plants, the delicious custom chocolates, a unique bed and breakfast, the Theater building — for off-site business meetings, training, lectures, and so forth — music from local Charlottesville area musicians, and the beautiful grounds, including a lake, sold me. In fact, had this purchase not worked out with the previous owners, I don't believe I would have bought a winery. Lastly, I could not have bought a winery from a more wonderful couple than Jeff and Michelle. They have been fantastic and supportive beyond my expectations and I am thankful they chose me to carry on with their vision of Glass House Winery."
The enticements to Glass House Winery are many, but certainly the lush and plentiful plants and overall ambience of the tropical conservatory are a draw to visitors any time of year — and certainly in the winter. Smith says that the former owners originated the idea after living in Roatan, an island in Honduras, and owning their own tropical garden there.
"When sitting in the conservatory among exotic tropical plants, it takes you to a much different place than you would experience at a more typical winery. It's like sitting in the middle of the jungle in the mountains of Virginia! It's hard to describe and best explained by a visit! Jeff and Michelle very successfully created something very different and unique," Smith says.
Michelle, a professional chocolatier, crafted the signature chocolates during Sanders' tenure, and Smith, wanting to keep the chocolate tradition, has employed a new chocolatier and trained several staff members in chocolate making since taking ownership. Michelle personally trained and mentored current chocolatier Carmen Moore. 
As for its wine, Glass House boasts award-winning bottles that are made from 100% Virginia-grown grapes. With well more than a dozen varietals, the vineyard produces a number of reds and whites, and a rosé. In 2011, the Virginia wine board designated viognier as Virginia's state grape, and Glass House's silver award-winning viognier, fermented in stainless steel, sports the minerality and balance for which the varietal has come to be known. 
In terms of visiting at a time when travel is challenging and caution is paramount, Smith ensures that the winery, conservatory, and bed and breakfast are safe places.
Regardless of the season, Glass House is worth a visit, but Smith has particular enthusiasm about visiting in Virginia's colder months.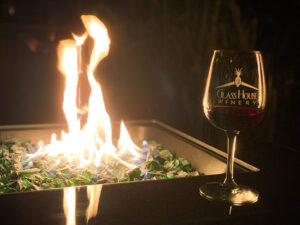 "If you have not been here, you are truly missing a unique and wonderful experience like no other in the beautiful mountains of Virginia. Even with weather conditions such as cold, rain, or snow, you can sit in the warm conservatory surrounded by tropical plants, listen to top local musicians, enjoy fine wines, and eat delicious chocolates!"  
Glass House Winery
5898 Free Union Road, Free Union, VA
434-975-0094