Mom's Apple Pie Company, where "Everything has to be yummy."
Story by Bill Kent, Photos by Kaitlin Hill
Way, way back in the late 1970s, Steven Cox and Avis Renshaw had a Potomac River farm, a home in Reston, and two Fairfax County farm stands.
The grandson of an Ohio farmer and the granddaughter of an engineer who helped build the Pentagon, they imagined a future literally rooted to the land, in which hard work and sound farming practices would provide a future for them and their family. 
Then, by 1981, they were bankrupt. They lost their farm and the farm stands due to crop failures from an unusually long drought, and couldn't get a loan to meet their expenses. Avis was pregnant with the first of their four children. She remembered how pies had sold quickly at their farm stands. To bring in money, they made pies in their home kitchen and sold them to friends, neighbors and farm markets.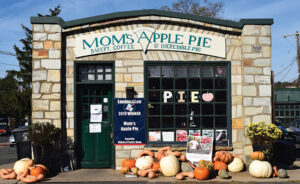 "I learned to bake by trial and error," Avis remembers. "We took a bunch of recipes and tried them all and we were systematic about finding out what we liked and what we didn't."
Steven sourced the fruit, flour, butter, and pumpkin from Virginia farms. He insisted on organic growing and demanded that produce be picked and delivered at the peak of ripeness. He used no preservatives or processed ingredients. 
Daughter Petra (also known as "Petee") recalls that her father did much of the baking. "When it comes to pie and produce, he has a mad-professor energy about him—a zeal and fervor that's hard to dismiss." Her mother "handled the business end and sought out new markets."
They baked and baked and baked. "The key was making the crust just right," Avis adds, "and not putting in too much sugar, so you could taste the fruit."
With the birth of Clancy (now a professional soprano living in upstate New York), Avis decided to call herself Mom's Pies. A local Safeway supermarket decided to sell a few. They sold. Soon 40 Safeways wanted their pies, cookies, and baked bread. To meet the demand, Steven bought an antique dough mixer, a dough rolling machine, a dough press and an oven that could bake as many as 100 pies at a time. None of these would fit in their home kitchen so Avis rented space in a Sterling industrial park and their pies and other baked goods found fans. Among their earliest supporters was the late Supreme Court Justice Sandra Day O'Connor, who was especially fond of their Sunflower Crunch Loaf. 
They heard a rumor—later confirmed to be true—that one of their apple pies found its way into the White House and was savored by President George H.W. Bush. (Bill Clinton later would say nice things about their Lemon Chess, and Obama would enjoy their sweet potato pies). 
Refocus
By then Avis and her small staff were making as many as 800 pies a day. In 2003, when their industrial park landlord raised their rent, they decided to stop selling to supermarkets. Later that year Avis found an old Leesburg gas station at the "pie shaped" intersection of Loudoun and East Market streets and turned it into a retail shop. She used the small shed behind the shop to make the pies. People leaving on flights from nearby Dulles International Airport bought pies before departing on flights. Later Avis and Steve would get fan letters from Europe.
They soon opened another location in Occoquan's historic district that also had room for on-site baking. When that landlord offered them additional space, daughter Petee, who had been studying cuisine and viniculture in Italy, suggested they fill the shelves with craft beer, vintage and boutique wine (Avis's brother Ben's 8 Chains North Winery among them) and locally produced jams, honey, pottery, Winchester's Lone Oak Coffee, and Route 11 potato chips.
Petee managed the shop for a while, then moved to New York City, married, and opened her own pie shop there. She has since opened a café restaurant in Brooklyn.
Two years ago, Avis and Steven opened a third location with on-site baking in the Hill High Marketplace, just off Route 7 in Round Hill, that also has ice cream and custom mugs from Round Hill potter David Norton. 
Home Farm Production
The pies had not only pulled the family out of bankruptcy, but permitted them to move to Lost Corner Farm on the Potomac, just a few miles from their previous farm. With cattle, chickens, pigs, and three dogs, they settled into – in addition to making pies – production of most of what they needed for home and business use. 
In addition, Lost Corner is one of several in Virginia that sells CSAs — community supported agriculture shares — of their produce. Lost Corner partnered with Misty Meadow Farm in Leesburg, Whiffletree in Warrenton, and Day Spring in Middleburg to offer 22 weekly deliveries of fruits and vegetables, but also dairy, beef, pork, eggs, and poultry. Mom's also donates food to many shelters and food banks, Tree of Life in Round Hill among them.
Originally, they had imagined they could raise everything they needed for their pies organically and sustainably, in their own backyard.
It didn't quite turn out that way. "We are lucky in that Virginia has the right kind of weather to grow many things," Steven says, sitting on a tractor on the Lost Corner Farm. "We not only have great soil, we have great resiliency in the soil. This allows us to grow all the berries, corn, sage, potatoes, sweet potatoes, and pumpkins for the pies."
But not the apples.
"We have tried and baked every variety of apple grown in Virginia and just about every variety from the rest of the country. We owe it to the pies to use the best of everything we can find." Mom's currently "imports" Northern Spy, Crispin, and Granny Smith apples from New York state. Flour comes from Montana.
"We planted wheat. It worked for our bread but it didn't quite pass the test for our pies."
What test is that?
"Everything has to be yummy."
The Impact of COVID-19
Mom's did not suffer as much as others in the industry during the COVID-19 pandemic that devastated so many restaurant, retail, and food operations. 
"For a while at first I just wanted to make sure we had the best practices in place and that we could keep all our people employed. But we were as worried about survival as everyone else and we figured that, if things got really bad with food shortages, we would be able to live on what we grow. What we didn't anticipate was that the shortages made people even more concerned with where their food was coming from, who was growing it, and how it was grown. Suddenly we had what a lot of people really needed. Our CSA shares increased by 30 percent," Avis says.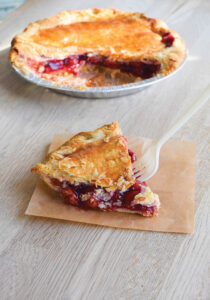 "We hoped that things wouldn't get so bad that people would stop wanting to have pie, because pie is a celebration, a feel-good kind of food."
She was right, thousands of pies were sold during the 2020 holiday season, much more than 2019. "We had outside sales tents erected at Leesburg and Hill High and I think that made the difference — less time in line and an outdoor option for people being careful because of COVID-19. Someone still reported us for having more than 25 people "gathered," so the health department came and rearranged my traffic cones and made the line go down the street to the gas station. People wore masks and kept good distance even though it was outside."
The Future
With 50 full-time employees, son Tyson supervising much of the farm and bakery operations, and daughter Biansa doing the books, Avis "hasn't quite thought through" handing the business over to her children.
Steven wants to add hearty, savory meat pies to the shop's menu, inspired by daughter Petee's success in New York. He also wants to "do more with chocolate" for Valentine's Day, adding to the heart-shaped Linzer cookies that are best sellers in February.
"I'm trying to slow down," Avis said, now a grandmother seven times over, "but I'm used to working all the time." As vice president of the Loudoun County Farm Bureau, she advocates for farm preservation and small scale, family-owned and operated agriculture. "As long as I can remember there's been a conflict about what we're going to do with our farmland and I want to make sure that we hold on to as much of it as we can," she says. "And that the farming we do is done responsibly and sensibly so that whoever comes after we're gone can have the same opportunities we had. When it gets frustrating, I remember what Justice O'Connor told me: 'Justice is slow. That's why they have turtles holding up the columns at the Supreme Court.'"  
---
Mom's Apple Pie Company
Leesburg: 220 Loudoun St Se, Leesburg | 703.771.8590
Hill High: 35246 Harry Byrd Hwy, Round Hill | 540.338.1800
Occoquan: 126a Commerce St, Occoquan | 703.497.7437
---
Mom's Pies rarely share recipes. In her first cookbook, Pies for Everyone (240 pages, Abrams hardcover, $29.99), Mom's daughter Petra "Petee" Paradez, does more than give away the store. Her father, Steven Cox, admits that "Petee uses more butter than we do. Her pies might be even better than ours."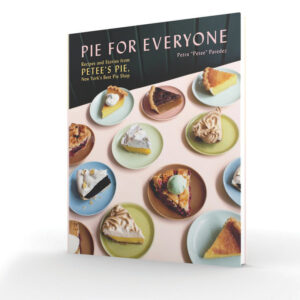 Petee's Lower East Side shop, now in its seventh year, has made many of the city's "best" lists, and, in her book, Petee includes pictures of the Lost Corner Farm and credits her parents for instilling in her a perfectionist's quest for simplicity and purity of ingredients, as well as the gift of a one-ton Artofex dough mixer.
She encourages beginners to use their hands when making their first "shockingly good" crusts of butter. Lard is too rich for her and she won't use vegetable shortening because it is "removed from nature" and "completely devoid of flavor"—use a coconut oil if you want a vegan crust, rice and cassava flours for the gluten-free. Though she profiles some of her suppliers, she advises you not to feel guilty if all you can find is frozen fruit for the fillings—frozen fruit can taste better than out-of-season fresh.
The book offers 80 different kinds of pie, with variations, from the classic apple (Petee adds lemon juice and a pinch of salt) to holiday favorites (mincemeat and savory mincemeat), quiches (with foraged milkweed buds), cheese pies (honey chevre), meringues (elderflower) and such meal-making favorites as Chicken Pot Pie and a spicy Chile Verde Pork Pie. Why go to the freezer when you can make your own vanilla bean ice cream (be careful stirring in the yolks) that you can lather on such exotic pies as Cardamom Rose, Pistachio Cloud, and Maple Whiskey Walnut.
In her exploration of the history, science and culture of pie-making, we learn that ancient Egyptians may have been the first to enclose perishable ingredients in a crust, and that the "classic" American pumpkin pie derives from a French recipe that, if made from canned filling, may not have any genuine pumpkin in it. She comes close, but doesn't quite solve the mystery of Virginia's famed "chess" pie, but praises it for transforming "the most modest pantry staples…into something rich, elegant and sublime." She offers six chess recipes, plus variations, for making Chestnut Rum, Salty Chocolate and Sesame Tahini.
Recipes are clearly written and easy to follow. Be wary of Victor Garzon's luscious photographs—one look and you'll want to throw away your bathroom scale.