A painter and a sculptor merge their visions to create monuments of beauty.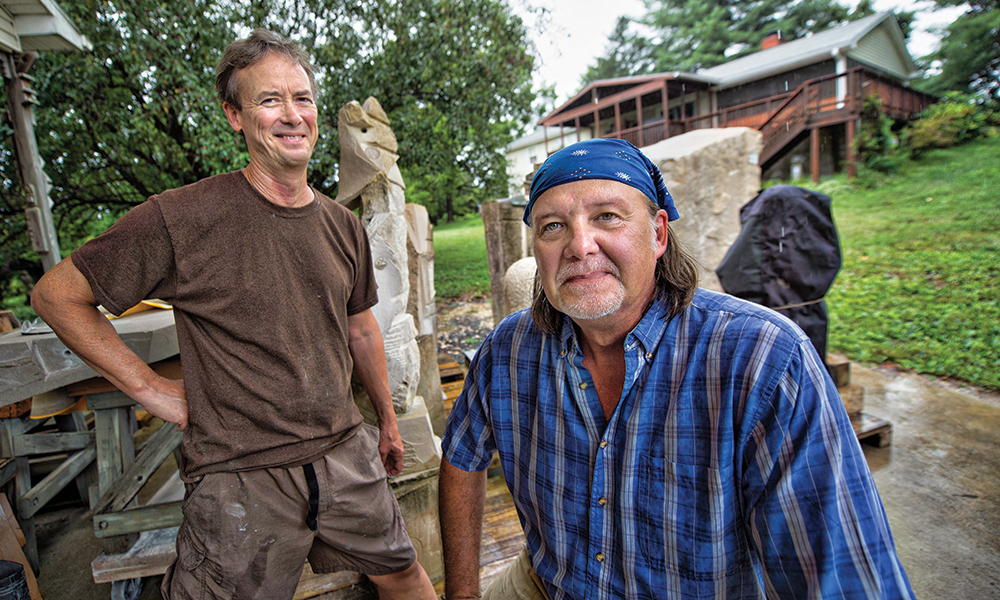 By Anne N. Edwards
Most people travel in the summer to visit relatives, enjoy a change of scenery, or simply to get away from it all and do nothing. They do not usually venture to a quarry in the Midwest and return home with thousands of pounds of Indiana limestone.
On a warm July morning, sitting inside Andrew Haley's well-known Sperryville gallery, Haley Fine Art, Gary Colson and Chris Stephens seemed more like ebullient school boys than the serious artists that they are. As sunlight poured down on one of their pale-colored limestone sculptures placed prominently in the gallery's side yard, the artists talked enthusiastically about their recent road trip to Indiana.
No, they did not head west from Virginia's Piedmont, where they both reside and work, on an extended camping adventure. Rather, they set off to procure a truckload of limestone from one of Indiana's largest quarries. For the non-geologists among us, the middle of what is now the United States was covered for centuries by water. This fact accounts for the stratified rock beds of the relatively soft stone located in the Midwest.
Though limestone is, perhaps, easier to carve than granite or marble, it also is extremely durable. The artists took a tiny detour while in Bloomington, Ind., to tour a local cemetery. Here they observed that the grave markers made of limestone were in better shape, showing less deterioration, than those made of marble.  Many noteworthy buildings in Washington, D.C., like the National Cathedral, are constructed of limestone, and even with the earthquake that struck a few years back have withstood the test of time.
The artists are mindful that like all natural resources, limestone will not be plentiful forever. They estimate that the large band of limestone in Indiana where their stone was quarried is about 10 miles wide by 30 miles long. They were told that the area will probably yield stone for another 100 years; and while they likely won't be around then, they seem to mourn the fact that future generations of builders and sculptors may not have the opportunity to construct and create with limestone.
The easy, warm rapport between Colson and Stephens would lead you to think these artists have been friends and collaborators since childhood. But that is not the case. What they do share, however, is an attachment to art that has existed for most of their lives.
Colson, who grew up in Virginia's Shenandoah Valley, remembers his father returning home from business trips with pockets full of memo pads. These he gifted to his son and Colson filled them with sketches that he stored in a toy box. Also, he remembers the original works of art that decorated the walls of his family's house and being allowed to run his finger over their painted designs.
Having spent his formative years in Raleigh, N.C., Stephens says that he, like Colson, has been drawing and looking at art since he can remember. Both men made art their major in college and went on to receive graduate degrees in art.
Colson has been a high school art instructor in the Fauquier County public schools for 27 years. Stephens has taught art in a variety of public schools, as well, and now devotes most of his time to producing art.
Their creative paths first crossed in 1994 when they were both teaching at the Governor's School, a summer program for gifted and talented high school students, which was then at the University of Richmond.
Colson was employed to teach the students to think three-dimensionally, while Stephens taught painting. With his own work, Stephens continues to focus on painting. However, once Colson put a chisel in Stephens' hands, he was drawn to the medium and relishes the collaborative bond that has grown between them.



"Usually art is such a solitary thing," Stephens comments, "but working alongside someone else pulls you out of yourself." When sculpting with another artist, he adds, "You have to accept somebody is going to mark over what you have done."
The sculptural work that stands outside Haley Fine Art is typical of the designs that Colson and Stephens create. They are normally abstract and have a linear thrust. Because of their verticality, some viewers might imagine a human form emerging from the work, but this seems far-fetched.
Primarily, the sculptures reveal a respect for the raw material. Colson comments that the tools one uses to carve limestone are beautiful—much finer than those required to hack away on granite. He seems to revere the tools he owns and uses daily.
Taking a close look at one of their sculptures and the distinctive marks etched on the stone's surface, one is reminded of aboriginal art.There is a slight primitivism to the marks, but at the same time an assured authenticity. Some people—other artists—have referred to their sculptured works as "poetry."
The sculptors are dependent on commissions, which Haley Fine Art is skillful in securing. Acting as both dealer and critic, Haley advises these artists to focus not only on the actual carving and the different textural patterns they are able to impart to the limestone, but also on the three-dimensionality of each completed piece.
A crane was on hand to unload this recent haul of limestone in Colson's backyard in Culpeper. Three massive blocks of stone were lowered to the ground, and suddenly the challenge that lies ahead of these artists to transform the lifeless limestone into works with visual interest and vitality seems daunting, to say the least.
There is no strict division of labor in the collaboration. The inspiration for their early sculptures came from Stephens' abstract paintings, which Colson says made him want "to take the two dimensional into the three dimensional."
But Colson and Stevens will start off slowly. Together, they might take a big black marker to the stone blocks to help them decide which areas to reduce and carve away. Also, they will craft small models in clay to help them visualize a completed work. Both will sculpt but, Colson smiled, "I'm the stone guy, but we've worked together so long now I can make Chris-like decisions."
Unlike their earlier works, in which blocks of limestone were artfully stacked one on top of another with a metal rod linking them together securely, their newer pieces probably will prove to be more monumental and solid in scale.
Colson comments that sculpture is a subtractive art and that an art professor once advised him not to be afraid of making mistakes: "'There is plenty of stone there,' he would say. 'Plenty of stone.'"
Just inside the entrance to the converted garage that serves as Colson's studio hangs a black-and-white photograph. Purchased in Italy, it depicts not a completed, perfect statue created by the great Florentine master, Michelangelo, but a rudimentary study he sculpted for a larger piece. It is easy to tell that the this photograph inspires Colson—he  keeps it tacked to the wall as a reminder that even the greatest of the greats had to start somewhere: with one chisel mark, then another…