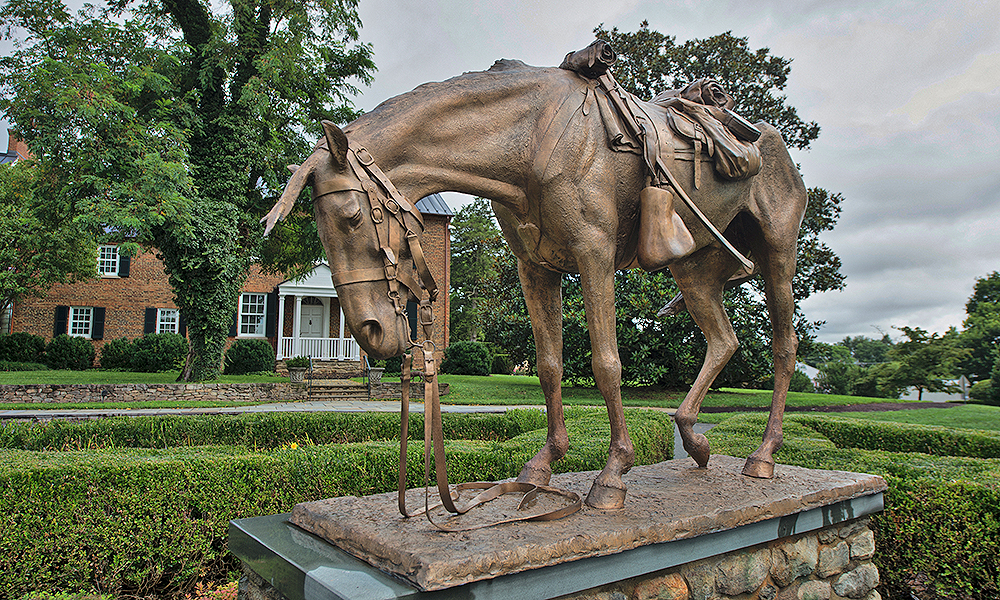 "Civil War Cavalry Horse," 1997. Tessa Pullan, Sculptor. The iconic sculpture of a dejected horse on the lawn of the NSLM is a tribute to the 1.5 million Confederate and Union Army horses and mules who were killed, wounded, or died during the Civil War.
The National Sporting Library & Museum
The unique institution offers a wealth of sporting art and education.
by Laura Gresham Clark
For years, I passed by the pristine property on six acres at the corner of West Washington Street and The Plains Road in Middleburg. I wondered about the prominently displayed bronze horse sculpture, its head hanging low and its stance, dejected.
I watched as the site evolved, adding and enhancing buildings. I knew that it was the National Sporting Library & Museum (NSLM), but somehow I was under the impression that it was exclusive to serious equestrians. That assumption could not have been more wrong, and it led me to miss out on one of the most impressive resources in our region. Looking into the museum was a game-changer, and now I've not only been to NSLM, I'm a member.
Dedicated to preserving, promoting, and sharing the literature, art, and culture of equestrian, angling, and field sports, NSLM houses an astounding collection of more than 26,000 books and over 1,200 art objects. Its primary components are a library and a museum. Each one merits separate but equal attention and praise.
The library is filled to the brim with resources for serious scholars and casual visitors alike. George L. Ohrstrom, Jr. Head Librarian, John Connolly, is the right person for the job. His mastery of every item under his charge is remarkable, and he discusses his responsibility with appropriate gravitas and depth. He still appreciates a lighthearted take on the library's mission, however. He explains, "If it's a sport from a Jane Austen novel, we've got it right here." He's referring to the fact that the library's collections include, but are not limited to, works related to general riding, horse breeding, foxhunting, steeplechasing, polo, fly fishing, carriage driving, falconry, and wing shooting.
From its inception, the library welcomed the community, and that spirit remains a hallmark of the institution today. In 1954, George L. Ohrstrom, Sr., and co-founders, Alexander Mackay-Smith, Lester Karow, and Fletcher Harper wanted to start a library that was accessible to all. At the time, the only sporting libraries in the United States were in Keeneland, Ky., and The Jockey Club in Lexington, Ky. and New York City, both of which required rigorous academic credentials for admission. In its earliest days, the library was located in a small house across from what is now Safeway in Middleburg. It later moved to its current location at Vine Hill, a Federal home built in 1804. A donation of 5,000 volumes by John H. Daniels in the 1990s necessitated an expansion, and the stunning new library opened next to Vine Hill in 1999.
Attracting locals as well as tourists from around the world, the library is designed to feel warm and inviting. Its décor is evocative of a well appointed home. In addition to the thousands of titles gracing its stacks, there are magazines, periodicals, archival collections, photographs, letters, manuscripts, and hunt diaries. Additionally, more than 7,000 books line the shelves of the temperature and humidity controlled F. Ambrose Clark Rare Book Room. Gleaming trophies take up residence at the library all year except when they leave briefly to be awarded and engraved for annual sporting contests. The unexpected collection of weathervanes assembled by the late Paul Mellon of Upperville lends an amusing touch. The library's status as a research institution prohibits checking materials out, but anyone can spend time in the comfortable rooms reading, studying, and learning.
Throughout its existence, the library was also home to many works of art. So many, in fact, that it ultimately became evident that they needed their own building. Vine Hill was the ideal location, and following a significant renovation and expansion, the Museum opened its doors in 2011. The property has since been known as the National Sporting Library & Museum.
Inside the walls of the museum are paintings, sculptures, works on paper, and decorative arts from the 1600s though today. The objects reflect a passion for the same country pursuits as the library, including images of landscapes, portraits, sporting events, and animals. With strong representation of both American and British works, much of the collection celebrates all things equestrian.
One room after another offers delightful surprises. A dramatic, 122" horse head sculpture greets visitors as they enter. An English sterling silver model of a horse-drawn carriage is the largest of its kind. A magnificent oil painting from 1878 depicts foxhounds and a terrier enjoying a moment of rest in a kennel. No detail is too small for Claudia Pfeiffer, the Museum's George L. Ohstrom, Jr. Curator of Art, to commit to memory, and her respect for and knowledge of each artist and each work is incredible. A tour with Pfeiffer or one of the museum educators is a not-to-be-missed experience.
On NSLM's manicured grounds, sculptures of horses and foxes dot the landscape. Some are whimsical, like the little foal nipping its hindquarters, aptly named "Darn That Itch." Another is somber. The dejected horse mentioned at the top of this article is a tribute to the 1.5 million Confederate and Union Army horses and mules who were killed, wounded, or died from disease during the Civil War. The sculpture, commissioned by Mellon, is of an exhausted horse, reminiscent of a horse's condition in the tragic aftermath of battle.
Adding to the museum's permanent collection are exhibitions of art on loan from prestigious institutions. Previous shows have included photography, ancient Greek art, British engravings, fly fishing, and gun dogs. Most recently, Mellon's revered collection of British sporting art from the Virginia Museum of Fine Arts in Richmond has been on display. Up next is "Sidesaddle, 1690-1935" from September of 2018 through March of 2019.
The combined staff of the library and museum is relatively modest for a world-class institution, with about 10 full-time and six part-time employees. That makes it even more impressive that they have the time and energy not only to curate and manage the collections, but also to hold a wide array of events and programs throughout the year. This aspect of the NSLM is critical for maintaining the long tradition of community appreciation and involvement.
One look at the busy event calendar, and it's obvious that NSLM offers something for the entire family. Best of all, many programs and events are free. There are gallery talks every Wednesday, giving attendees a personalized peek at traveling exhibitions, new acquisitions, or permanent collection pieces. Art programs allow aspiring artists young and old to create in inspirational environments. Lectures take a deep dive into fascinating topics. Academic tours welcome public, private, and homeschool groups from pre-k through post-graduate and adult learning. Book readings and signings engage authors and audiences. And the Open Late concert series brings music and fun on the last Friday of the month, May through August. In 2017, more than 1,000 people enjoyed these special outdoor evenings, where picnicking is permitted. This year's series has seen even greater numbers.



Each September, NSLM holds the Polo Classic at Great Meadow in The Plains. Last year, 950 guests watched two matches featuring acclaimed polo players from near and far. This event is a key fundraiser for NSLM, with proceeds from ticket sales going towards exhibitions, educational programs, preservation of collections, and more.
While NSLM is inclusive in almost all that it does, there is one important program that is exclusive. Since 2007, NSLM has hosted the John H. Daniels fellowship program. Postgraduate students, professionals, scholars, and authors from around the world come to NSLM and live in a cottage on the property. Just one fellow participates at a time, and during the stay, each takes full advantage of NSLM resources for further study across a wide variety of sporting topics.
Bringing so many resources, events, and programs to a large audience requires a significant annual budget. NSLM is extremely grateful for the support it receives. The majority of items that are now part of NSLM came through gifts from private collections, and much of the library's income comes from membership fees. There are different levels of membership, with individual fees starting at just $50. Members enjoy benefits including unlimited free admission to the museum; discounts on events, lectures, and educational programs; invitations to members-only receptions; research assistance; and a tour of the Rare Book Room.
For many, the Rare Book Room tour alone is worth the price of membership. Visitors get an up close and personal look at fore-edge books that seem ordinary until they reveal intricate hidden paintings on their edges. Theodore Roosevelt's handwritten original manuscript, "Riding to Hounds on Long Island," complete with corrective notes, is part of the collection. And well-loved historic volumes sit on the shelf waiting for repair. When someone "adopts" one of them to restore, NSLM places a dedication plate on the inside front cover.
So it is that NSLM, an internationally renowned institution, sits nestled on a serene piece of land in the quaint town of Middleburg. It's a gem, and one that everyone can and should enjoy. Connolly mentioned that attendance saw an uptick while Downton Abbey aired. That struck me as funny at first, but then I saw that visiting NSLM truly is like stepping onto the set of a lush and engrossing period piece. It's a chance to immerse oneself in refined words and art, to feed the intellect, to escape the everyday, and to leave one's cares behind. In comparison to the hectic pace of life in 2018, that's a horse of an entirely different color.
---
National Sporting Library and Museum
Hours of Operation: Wednesday-Sunday, 10:00-5:00
Admission: Library: Free, Museum: Free to members and children 12 & under; Adults, $10; Seniors 65+ and Youth, 13-18 $8.
Note: The Museum is free on Wednesdays and on the last Sunday of every month.
Address: 102 The Plains Rd., Middleburg, VA
Phone: 540-687-6542
Website: nationalsporting.org