I can remember my grandmother and mother making certain yummy treats beginning in September. Autumn would arrive soon, and that meant these delectable sweets would follow. As I've grown older, I've wanted to create those special memories for my little one too. But let's face it, I love food, so I also wanted to make these recipes myself.
One of my favorites that I've had to perfect over the past couple of years has been candied pecans. I have tried recipe after recipe, and they just weren't what I was looking for. This normally means I'm going to have to tweak it to what I think it needs — true cook, they say. I simple say it's my love of butter. But also, my longing for simplicity in taste. I wanted something simple and sweet. That's it. Doesn't taste right?–add butter. Doesn't look right?–add butter.
Guess what. I added butter, and now I can't stop eating these things. Candied Pecans, that is.
Autumn reminds me of pecan pie and fried apples. And therefore, so do candied pecans. My favorite Autumn snack are these sweet little nuts, coated in sugar, brown sugar, cinnamon, and butter. Lots of butter.  This recipe calls for egg whites as well, and our farm duck eggs make this even more special. Once baked, they create an ooey gooey goodness that is incomparable to what you  might find at a fair or those hard, dried nuts you find in the special section at the grocery store.
I hope you enjoy this recipe — I know we certainly do!
Cinnamon Candied Pecans
4 tbs. butter, melted
1 large egg white
1/4 cup sugar (I use organic evaporated cane juice)
1/4 cup light brown sugar
1 1/2 tsp. vanilla extract
1 tsp ground cinnamon
8 ounces (about 2 cups) pre-shelled pecan halves
1. Preheat oven to 350 degrees. Line an entire 9×9 baking dish with aluminum foil. Pour melted butter in bottom of pan on top of foil, not allowing any of the butter to escape the foil lining.
2. In a large, separate bowl, combine egg white, sugar, brown sugar, vanilla extract, and cinnamon.
3. Pour pecan halves into egg white and sugar mixture, coating each halve evenly.
4. Pour the pecan mixture into the baking dish in a single layer (as much as possible).
5. Bake at 350 for 30 minutes, stirring mixture every 10 minutes. Allow mixture to rest once done (do not go over 30 minutes) for 10 mins. Transfer to a separate dish until completely cooled. Back in an air tight container or in goody bags to share with friends and family or as holiday gifts.
** for a kick to your pecans — add a sprinkle of cayenne pepper!
---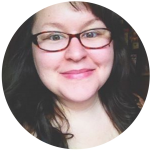 Amy Fewell is the Web Editor of The Piedmont Virginian Magazine, as well as one of our writers and graphic designers. She resides in Rixeyville, VA along with her husband, son and loveable lab. They run a small "mini-homestead" and Amy owns her own photography and marketing business. For more information, visit their homestead website and Amy's business website.
---