Fine Dining and First-Class Hospitality in Flint Hill 
Story and Photos by Kaitlin Hill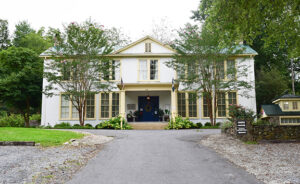 With an estate-like entry, sprawling garden, and hard-to-miss blue door, The Blue Door Kitchen and Inn in Flint Hill offers patrons a true country escape, complete with hospitable proprietors and inspired cuisine. The property is run by Chef Andrea Pace and his partner, Reem Arbid, whose shared focus on exquisite dining and first-rate lodging has made the inn and eatery a favorite of locals, visitors from neighboring towns, and greater metropolitan Washington area weekenders alike. Even more than their commitment to excellence, Pace and Arbid's inclination for accommodation, even during a pandemic, makes Blue Door well worth a visit. 
Both Italian transplants and culinary veterans, Arbid and Pace joined forces a decade ago. Arbid shares, "We met 15 years ago, through the industry. I had a catering company and he helped me with a few big events I couldn't handle on my own. And from there we got together and opened Villa Mozart and then The Blue Door." 
The duo owned Villa Mozart in Fairfax City for 11 years before selling in 2017 and looking for their next place and new project. A loyal customer put Flint Hill on their radar during the search process. Arbid remembers, "A customer left me a voice message saying, 'I know you're looking for a place and I came upon this place in Flint Hill and it has your name written all over it. You must go see it.'" 
While Pace was intrigued, Arbid was a little skeptical. She notes, "Andrea is from the Northern part of Italy, the Alps. He was intrigued to come check it out. But, I thought, there was no way I would move out there. But [this customer] she was so correct. We fell in love with this place and here we are." 
The Blue Door Kitchen and Inn opened in May 2018, offering a comfortable country escape and Pace's Italian Alps-inspired cuisine. Arbid explains, "It's a different type of cuisine than the rest of Italy. It has the Austrian influence." 
Pace's food philosophy elevates his regional inspiration.
"He was trained in Italy and continues to do everything the same way he learned. There are no shortcuts. He makes everything from scratch. He believes in not putting too many items in one dish, maybe four or five at the most, so each item shines and you can taste it," Arbid says.
When Arbid says from scratch, she means it. Not only are their menu offerings made in house, ingredients are grown on-site or sourced locally. Arbid says, "He uses a lot of what he grows, which gives him so much pleasure." 
She adds, "In the morning we go down to the garden and he gets all his vegetables and herbs that he will use in the food and we get the rest from local farms." 
Pace highlights his quality ingredients in mouth-watering dishes like "Hometown Rye Ravioli with Mountain Cheese, Baby Leaf Spinach, Chives and Grana Shavings" and "Duck and Foie Gras Ravioli in Sage Butter Sauce." 
At the outbreak of Covid-19, Pace and Arbid's focus on fine dining remained, but their approach to service shifted to accommodate CDC guidelines, state mandates, and customer comfort levels. 
Initially forced to close their on-site dining, Blue Door Kitchen made the menu to go. Arbid shares, "We made the shift very naturally, even though we've never been in this kind of business, carry out, but you have to do what you have to do." 
This time, it was Pace's turn for some skepticism, followed swiftly by reward. "He was resistant at the beginning because he did not think our food would travel and keep the same quality. But we were blown away by all the people, the first few weeks, calling us or writing to us saying that our food travels so well and it's just like eating in the restaurant," Arbid remembers. 
More than positive reviews, the ability to continue serving offered a mental boost as well. Arbid admits, "It was very good mentally to feel like you are still providing. A lot of places shut down and locals did not have many options to get food." 
When cleared for on-site dining, the team at Blue Door took the opportunity to continue to provide for their customers, prioritizing safety protocol and guest comfort. 
"We reopened slowly, because I wanted to focus on the safety issues, training ourselves and training our staff." Arbid says, "We seat outside and the tables are spaced." For colder months, dining al fresco is kept cozy with overhead heaters and a fire pit. 
And for indoor dining Arbid says, "We are running at 50% capacity with dividers between each table. Everyone has to come in wearing a mask until they get to their table. And we wear masks all the time and sanitize continuously. It's for our safety, our staff, and our guests." 
The level of care taken to accommodate their visitors has not gone unnoticed, and in the fall, led to an added offering at Blue Door. 
"A guest came to me and said, 'My fiancé and I were dining and we felt so safe and so comfortable. And we would love to have our micro wedding here,'" Arbid recalls. "So, we've been getting a lot of this, micro weddings every weekend. We have some that are four people, some that are 30 people. It's great. We want people to come, feel safe, comfortable and really enjoy themselves. It makes us so happy to see people finally being able to do that." 
Whether on-site dining, curbside pickup, or even micro weddings, all experiences at The Blue Door Kitchen and Inn serve as examples of Arbid and Pace's dedication to excellence in hospitality and ability to adapt in challenging times. 
Arbid perhaps sums it up best when she says, "We'll keep doing what we are doing, but we will have to see what happens. For now, customers can expect excellent food, excellent service, and beautiful ambiance. We want guests to come and really feel relaxed and safe, enjoy the garden, the food, the company and not have to worry about anything," she says.
For their latest news and updates regarding service during Covid-19 visit: thebluedoorkitchen.com or @thebluedoorkitchen on Instagram and Facebook.