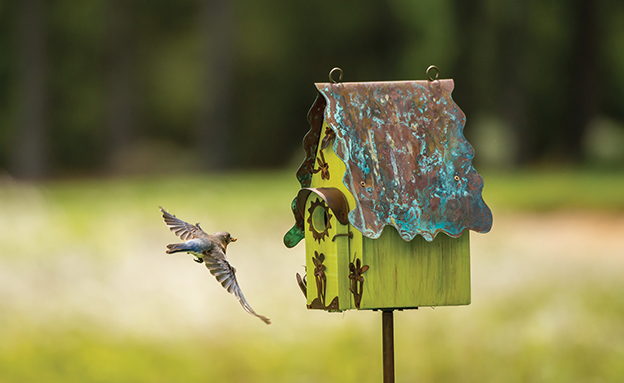 A Berryville couple creates artsy hand-crafted houses for our feathered friends
By Jennifer Waldera, Photos by Elizabeth Gray
For many, during a time when staying at home has been encouraged, it has become a priority to create more comfortable and aesthetically pleasing spaces in and around their homes. Fly Home Birdhouses' hand-crafted, niche products, specifically designed to attract small songbirds, can do just that.
When Ginger Reuling first moved back to Virginia from Montana about two decades ago, she began to design and craft rustic, earth-toned birdhouses from barnwood. Eventually Reuling progressed to creating her artsy homes for birds in a funkier and more functional style, incorporating bright colors and copper roofs, employing some of the skills she had perfected in Montana.
"I started doing art about twenty years ago. I was doing metal work and I learned how to use a plasma builder. So I was cutting and welding steel and from there it sort of morphed into creating super usable birdhouses," says Reuling.
Reuling worked on her own to craft and sell the birdhouses for about ten years before she met and eventually married Clark Hansbarger, a teacher at the time. Hansbarger, still teaching, began to travel when possible with Reuling to the art shows where she sold the birdhouses. The two were inspired to approach the business as a joint venture.
"We both felt like we just could explode the business if he stopped teaching, and he had been teaching for a long time," explains Reuling.
After Hansbarger retired from teaching, the two began to build the business further, traveling the country year-round to attend high-end art shows while also expanding their selection from six to twenty or more birdhouses.
"We designed a house that's really structurally sound and functional. It's a whimsical, cartoony style, but it's prettier than it sounds. Ginger's got a remarkable talent that she can hand cut using a torch so she can make anything," says Hansbarger.
On their farm in the Shenandoah Valley, Reuling creates the roof and all of the shapes that are cut from solid copper with a plasma cutter. Hansbarger focuses on woodworking and they design together.
"Like a painting, I put together the canvases. The ornamentation that Ginger does is what makes it unique. Each birdhouse is one of a kind," Hansbarger explains.
Materials to make the birdhouses are locally sourced. While they often shop around, their copper comes from The Roof Center and the wood from various local spots.
The couple has learned much from birders about how to attract specific types of birds and what designs are most effective and preferred.
"It's all about the hole size — the cavity size. Chickadees, tree swallows, and others — all the tiny cavity-nesting birds — are attracted. A robin or cardinal is not. They like to nest on ledges," Reuling says.
Additionally, the two refined the design for cleaning purposes. Previously, the roof needed to be removed to clean the birdhouse while the newer construction features a front door that allows it to be cleaned from the front. The change allows for other birds, like bluebirds who need an empty box, to be attracted.
While the birdhouses themselves will attract about 20 species, Hansberger also designed a pole that is a colorful addition, and critical to attracting bluebirds.
"Over half of the people who buy them are attempting to attract bluebirds. Lots of people said bluebirds won't use them, but we have hundreds of photographs of people using them. They are a nice height for a birdhouse to sit, and have a wonderful bracket situation," Hansbarger says.
For those not choosing to purchase a pole, the couple includes a wire hanger so they can instantly put the birdhouses in a tree.
"Birds do really move into them and really use them and people have started to put them in their yards. The birds love them and they can serve as a habitat or nesting box. People are looking for beautiful things. There's been a swell in birdwatching and these are particularly functional for that," says Hansbarger.
Though art shows have dissipated to some extent over the last year, the couple is fortunate to have a devoted following and the many connections they have created over the last fourteen years of working and traveling together for the business. Additionally, they welcome online purchases or visitors to their five acre farm and studios.
Fly Home Birdhouses, Berryville
flyhomebirdhouse.com