A Voluminous Historical Resource Thrives in the Piedmont
By Jennifer Waldera, photos by Camden Littleton
While the Piedmont region is blessed with a large quantity of quality bookshops and an abundance of regional history to research and explore, there are few bibliophiles who have married the two successfully. Scott Fennessey, owner of Blue Whale Books in Charlottesville, has accomplished just that with his vast collection of expertly curated texts, maps, and prints in his inviting and expansive shop.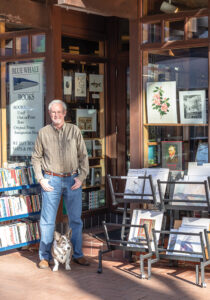 After working at the Rare Book School as a graduate student at the University of Virginia, Fennessey opened Blue Whale Books in 1994 with an initial stock of approximately 34,000 volumes that were acquired from the Richmond Bookshop. Now, after more than two-and-a-half decades, Blue Whale is still attracting visitors and locals alike.
Fennessey earned his master's degree in English at the University of Virginia, where he focused largely  on bibliography and the history of the book. Laughingly explaining his inspiration for opening Blue Whale Books, Fennessey says, "I did not want to write a dissertation! That, and I was working for Rare Book School as a graduate student and loved books."
Fennessey recalls the serendipitous start of the shop fondly, sharing that, as a graduate student reading the Sunday paper, he found information about an upcoming liquidation sale. He called the owner and by that same evening, he owned a bookstore. 
"Most of my inventory comes from local sources. When you have been in business for 25 years, word gets around and people with things to sell find me," he says. "The maps and prints however were almost all published in Europe, so I get most of them at auctions in Europe. Flying to Paris or Berlin is a nice change of pace!"
While Fennessey describes Blue Whale Books as a broad, generalist type of store, featuring thousands of "regular" used books and hundreds of rare books in a variety of categories (with a large number that focus on Virginia and Jefferson), he also has a personal interest in architecture and books about books (typography, bookbinding, paper-making, etc). However, it is the maps and prints that set the store apart from others.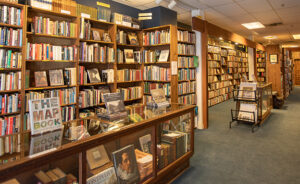 "What makes us truly different is our selection of graphic arts. In Europe it is common for bookstores to also sell maps and prints, but you hardly ever see it in the United States. For our maps and prints there is generally a cutoff point around 1875. This corresponds with the change from hand-colored work to printed color, mass production work. We usually have maps or prints hanging around from the 1500s, but we also like the wood engraving revival of the 1930s. We generally have something for everyone," he explains.
Fennessey credits the business' interest in terms of its selection to the research required to curate the collection. With a reference library of about 2,000 volumes — covering subjects from the identification of French armorial bindings to watermarks in paper from the 16th century — he  uses his abundance of resources to identify valuable and interesting materials for potential buyers. His two colleagues, Andrew Hniat and Lisa Reardon, help in the process as well.
"We know what we are doing. We are three full time professionals with decades of experience among us," says Fennessey.
In addition to the texts, maps, and prints themselves, the ambience of Blue Whale Books is a draw for those who enjoy the experience of spending time among texts in an inviting environment. The store's open floor plan and comfortable environs are welcoming to the casual customer looking to explore in a cozy, yet open space.
"I modeled the layout of the store after Barnes and Noble. They sold the most books back in the '90s, partly because they built stores with enough room for their customers, and comfortable places to sit. Then I added a nicer carpet and wood shelves that I made myself. I wanted a place I would like to be in, since I was going to spend most of my life in it. And I'm proud of it too."
A glance at Blue Whale Books' new website launched in late 2020 shows pictures of the warm and inviting shop, in which any dog lover will likely grin at the sight of Gizmo, the shop's resident Cardigan Corgi, and another contributor to the relaxed feel of the space. She has spent her entire 13 years as their bookstore dog. 
"She is recognized all over Charlottesville and is our star Facebook influencer!"
In the last year in which travel has become far more rare, and in-person perusing in shops is less frequent, Blue Whale Books has remained healthy. One of those reasons, Fennessey says, is the open environment in which guests can remain distant from others. He also nods to the historical nature of the area, and its draw to regional travelers, as another reason for continued success as a small business during a challenging time.
"Thomas Jefferson makes a lot of money for Charlottesville. While tourism is nearly gone everywhere else, we have attracted a lot of people looking for day trips. It has translated to some hotel stays, but not so much to restaurant sales. Our retail, though, has been surprisingly healthy."
While a trip to the shop is certainly worth the drive, for those who do not prefer in-person shopping, it is possible to peruse some of the store's offerings online. 
"Everything that goes out of this store is in nice condition and packed securely in a box. We have a 100% satisfaction rating on Amazon going back 20 years," Fennessey assures. 
Blue Whale Books, ABAA
115 West Main St., Charlottesville
434-296-4646