Teddy Chipouras's music comes from deep inside
By Ed Felker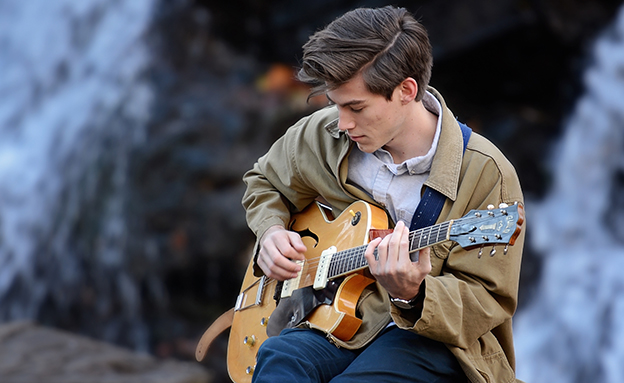 Like many of us, Teddy Chipouras grew up listening to and loving his parents' favorite music. The Beatles, The Band, Simon and Garfunkel, Jackson Browne, and The Rolling Stones were often playing in his childhood home.  The first artist he discovered and fell in love with on his own was Elton John. "I would listen to the song a "Take Me to the Pilot'" on repeat on the bus ride home from middle school," Teddy recalls. "I couldn't believe what I was hearing."
That started what Teddy describes as a domino effect of listening to and discovering new artists. Sports, baseball to be precise, dominated his free time, but music had started to become a hobby.  He took some guitar lessons on and off, but when he started listening to bands like The Avett Brothers, he wanted to play like them. "There was a certain point where listening just wasn't enough," he says.  "This is when I really wanted to start creating." He was in fifth grade when he saved up and bought his first guitar, a Taylor Big Baby.  
Having never had voice lessons, Teddy was apprehensive about singing.  One day, Teddy's parents, Peter and Deirdre, heard him playing in his room.  Peter went to him and asked him to play so they could sing some together. "I turned the other way as I don't think either of us wanted to see the other singing at that point," Peter says.  "I loved the quiet voice I heard." That quiet voice grew more confident day by day, and eventually Teddy opened his door to let the whole house hear him play and sing.
But it wasn't until he started writing that Teddy understood music was going to be a significant part of his life.  Finishing his first song, "The Leaving," was so fulfilling that he had to have more. His songwriting was a massive creative outlet as well as a comfort.  "Once I discovered it I could not live without it," he says. "And once I realized I could try to write songs and play music as a career? That was it."
Those close to Teddy also felt the confidence, and the momentum, that came with his songwriting.  "Once he started writing, we knew he had something special," Deirdre says. "It became clear that he was filled with songs that needed to be written."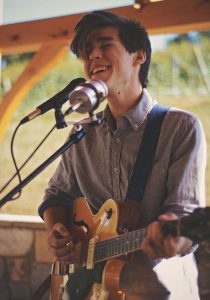 All the while he was developing his own signature sound.  He learned how to play mandolin, piano and harmonica because his songs required them.  His soulful voice grew stronger and more confident. One day strange packages started arriving at the house.  "When he was maybe 17, Teddy ordered 'parts' from eBay. A drum head from one guy, an old suitcase from another," Deirdre remembers.  "I had no idea what he was up to at the time." Teddy was constructing a suitcase drum he placed behind him and played with a foot pedal.  He called it a "Shakey Box," named for one of his favorite artists, Shakey Graves, who uses one. He has since replaced it with a larger kick drum, but a drum at his feet became a major part of his musical identity.
Now, much as he felt the time was right to open his door to let the whole house hear him, he was ready to open the door to his community.  And the community loved what they heard. 
Teddy was invited to practice performing any time at Mad Horse Brewery in Lovettsville (now The 1836 Kitchen and Taproom, where he still plays).  On one of his first nights playing a full set there, a man stopped by after work and quietly listened. "When we saw him watching, Deirdre and I both thought he hated the music," Peter says.  The man was Michael Stephenson, and as it turns out, he felt the opposite. "Michael came up to Teddy when he was done and asked him about his music," Peter recalled. "He says 'I have never sat and watched a local musician play, not known a single song, and loved them all."
Stephenson, an accomplished musician himself, had a gift for recognizing talent and a passion for promoting young, local artists.  That night began a relationship the importance of which is impossible to overstate. Despite the years separating them – Teddy was just 17 when they met, Michael was a veteran who had traveled and served all over the world – Stephenson became a music partner, encourager, mentor and friend.  "We connected on so many levels and started playing shows together," Teddy says. "He gave me so many opportunities and advice when I was just starting out."
Michael used to call Teddy "Boy Wonder," and would tell him he was the best musician in any room he walked into.  "It was so important for Teddy to have someone outside of his family that believed in him at that level," Peter says.  "Imagine the confidence that gave Teddy."
Others in the local music world were also taking notice.  Music promoters Bill and Cheryl Bunce heard Teddy for the first time at Old 690 Brewery, the location of Teddy's first paid gig.  The Bunces had been working with National touring artists and promoting live music since 2010, and were struck by his poise. "Teddy had been covering a favorite band of ours, The Wood Brothers, and then launched into songs we knew had to be original which was so exciting for us," they say.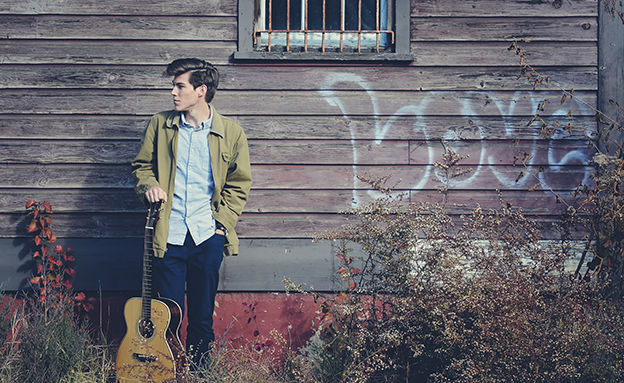 "Most young artists start out imitating the artists they admire and as a result sound like those artists," they says.  "Teddy had his own voice from day one. Even when he covered another artist, he made the song his own." 
Teddy was starting to get noticed.  After local musician Ted Garber recommended him to the producers of the NBC show, The Voice, Teddy was offered a private audition in Philadelphia.  From there he advanced to a weeklong audition in L.A. in the summer of 2018, then advanced to go back again for a month in October for filming. From more than 50,000 hopefuls at the start, he joined fewer than 75 for the culmination of the show, the blind audition.
It was a grueling process.  "Very long, but so worth it," he says.  "I met a ton of amazing people and musicians, and had the opportunity to perform in front of four mega stars."  He also filled long hours of hotel living with songwriting. In the end he didn't make it as far as he had hoped, but he learned much from the experience.  And his proud fans back in Lovettsville did get to see him perform, albeit briefly, on National television. 
But it all had come perilously close to collapsing.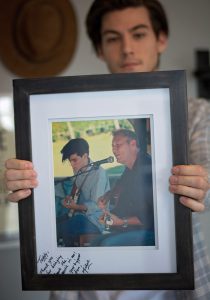 A few days before Teddy left for his freshman year at James Madison University, The Chipourases invited Michael Stephenson over for dinner, and Michael presented Teddy with a framed photo of the two of them playing together.  On it he had written a note. "Teddy, Thank you for bringing back the music in me! Your biggest fan, Michael."
Teddy brought the gift with him to school the next day.  Two days after that, Stephenson was dead by suicide. Before freshman classes even started, Teddy's world seemed utterly derailed.
Stephenson's death was a massive, shocking loss to the community.  Peter and Deirdre knew it was having a profound impact on Teddy, too.  He was devastated. "I wasn't sure after Michael died that Teddy would ever sing again," Deirdre says.  "Michael was that much a part of his confidence." The house, she says, remained quiet for what seemed like forever.
"It was real hard to play after that," Teddy says.  "Hard to write, too." But music brought Michael happiness, and his music brought happiness to others.  Teddy knew that he had to continue playing, writing, creating. Lyrics in Teddy's new songs reflect on Michael, who will surely show up in songs for a long, long time.  "It was the first time that writing helped and healed me," he says. "I found a therapy in writing that I didn't know existed before. I found a way to reflect, heal, and honor him."
And one day the doors opened, and music began to fill the house again.
"That time really showed me the power and importance of writing and playing in my life," Teddy says.  "Which I guess was Michael's final gift to me."
In the past six months, Teddy has written, recorded, and released a full-length, self-titled album, has licensed two recordings for commercial use, and won first place in a prestigious songwriting contest (for 'The Ghost'), all while carrying a full course load at JMU. His summer plans include an east coast tour, performing at festivals and local events, and writing. 
Always writing.