Then and Now
By Kit Johnston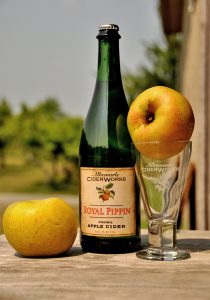 Cool days and cooler nights spell autumn and apples in Virginia. And in the old days that meant grandpa would be out back pressing those apples for hard cider that would have grandma giggling by Christmas. 
"Hard cider" or, more properly, simply "cider" was once America's preferred drink. From early colonial days to 1850 or so, men, women, and children drank an astounding amount of it every day because among other things, it was easy to make, safer than water, and cheaper than imported wine or tea. In Cider Hard and Sweet, Ben Watson says that by 1767, in Massachusetts alone folks drank hard cider at a per capita average of some 35 gallons per person. 
It was the golden age of cider in America. 
Back then, most farms in Virginia grew apples, and an astounding variety at that. According to renowned Virginian pomologist, orchardist, horticulturalist, and nurseryman Tom Burford, by the 1650s, apple orchards with thousands of trees of hundreds of varieties were growing throughout the Colonies "specifically for cider." Favorites among the likes of George Washington and Thomas Jefferson included the Virginia (Hewes) Crab and the Harrison, which Burford says in Apples of North America, makes "a very dark rich cider with exceptional mouth feel." 
But the golden age didn't last. Cider production in America began to fall by the mid-19th century for lots of reasons, including the costly Civil War, industrialization, abandonment of rural areas, a preference for beer among newer émigrés, and last but not least, enactment of Prohibition in 1919. Well-tended orchards and exquisite heirloom apples were left to rot and disappear, some, like the Harrison, to the point of near extinction. 
The Dawn of Now 
Over time, American pomologists began to pay attention to all this. Burford rediscovered the Harrison and helped found the North American Fruit Explorers to unearth other lesser known cider apple varieties and distribute the stock. Meanwhile, in a far corner of Virginia just shy of the Blue Ridge Parkway, retired businesswoman Diane Flynt and her husband Chuck decided to plant an orchard with cider making in mind. Diane set about learning about the old varieties, grafting and planting those she preferred, and taking what turned into years of cider-making classes and workshops. 
In 2005, Diane became the first cider maker of the modern South to release for sale a traditional cider (as in dry, not sweetened, with pure apples and yeast, not flavored or watered down) with the juice of her own heirloom fruit. By the time she closed the doors to Foggy Ridge Cider in 2017, Diane had been nominated four times for the James Beard Award for the quality of her ciders and advocacy of the nation's still infant craft cider industry. In 2013, Eric Asimov and a panel of fellow food and wine critics had reviewed a small batch of ciders for The New York Times and rated Foggy Ridge top of the heap in part as a highly welcome change from the sugary, watered down, mass-produced products flooding the new American cider market back then (and still today). 
Today
Today at least 26 mostly craft (not mass-production) cideries dot the Virginia landscape, 17 more than in 2017. Those featured here — Albemarle CiderWorks, Potter's Craft Cider, and Hinson Ford Cider & Mead — are committed to, and successful at, making exceptional ciders that honor cider's golden age. 
---
Albemarle CiderWorks (est. 2009)
Tasting Room and Vintage Virginia Apples LLC Orchard
North Garden
albemarleciderworks.com
Albemarle CiderWorks off Route 29 South just north of North Garden is a pleasing place to be when its 12-acre orchard is in bloom or laden with fruit. That's enough, but there's more because the orchard was the beginning of it all, and it shows in how all else is or has been arranged, from Shelton family homes above it to the production facilities and impressive tasting room below it.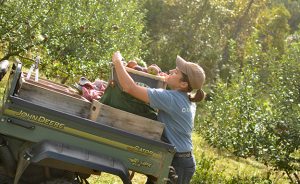 All (plus a nursery) is owned and operated by the Shelton family, principally Charlotte Shelton and brothers Chuck, Bill, and Todd. It was next-generation daughter and niece Anne I first met during the Second  Annual Virginia Cider Festival in July where 500 folks endured 100-plus degree heat to sample 40 ciders from 16 cideries. 
CiderWorks offered two ciders to taste that day, a dry single varietal of the Goldrush apple and an off-dry blend called Ragged Mountain. Both were very clean, refreshing, and distinctly apple-y. I asked Anne if CiderWorks ever bought apples. She said when Uncle Chuck the cider maker needs or wants to, he buys from orchards in Nelson County and Winchester. Perhaps helping some of those orchards stay alive I said, to which Anne answered "We certainly hope so." A few weeks later I visited CiderWorks to interview Aunt Charlotte and taste more, as CiderWorks likes to say, of "the orchard in a glass." 
Retired from teaching and the investment brokerage business, Charlotte never retired as an ardent gardener. And it is this, in a way, that led to the orchard and everything else CiderWorks is today. 
When the family began its migration to the North Garden farm in the 1990s, Charlotte, once chair of the North American Fruit Explorers' local chapter and dear friends with Tom Burford, began planting "non mass-market fruit trees in a way that sort of got out of hand." What to do at that point then became the question, so on Burford's advice, the family planted more, all increasingly rare mostly cider apple varieties. In 2000 they began building up the farm's infrastructure starting with a large cold storage unit. As the trees began bearing larger quantities of fruit Chuck pressed some of it for fresh juice, and, Charlotte says, "It was good." Should they make cider then became the question. And after consulting others, including Diane Flynt, the answer was "yes." The family upgraded to a larger press in 2008 and went on to open a full production facility and tasting room in 2009 despite lingering effects of the '08 recession. 
For that first year Chuck fermented and bottled two blends — Jupiter's Legacy and Ragged Mountain — and one single varietal, Royal Pippin. All three remain on the tasting menu today along with some 15 other blends (Ragged Mountain remains my favorite) and varietals (Hewe's Crab is the one for me here). Future plans include making more cider maker specials, expanding distribution in Washington, D.C., and Northern Virginia, and a harvest festival the first weekend in November. 
Bottling
Up the conveyor
Potter's Craft Cider, The Cider Garden (est. 2011)
Charlottesville
potterscraftcider.com
When Dan Potter landed a job at Tuckahoe Plantation near Richmond, his first local food systems idea was to start a farmhouse brewery with all ingredients grown right there — barley, hops, you name it. He knew about brewing beer. He'd been doing it for years with his buddy Tim Edmond from college days. 
But the James River rose and drowned Dan's crops. So he turned to cider. In the fall of 2009, he saved a 5-gallon carboy of apple juice the plantation pressed each year to sell fresh, added yeast, and then forgot about it until he saw the yeast had settled. So he kegged, carbonated, smelled, and drank what he had made and immediately called Tim. Because this pure, dry, unsweetened, unwatered down elixir was unlike anything he had ever tasted. "This," he told Tim, "is what we should be making." 
So they did. By spring 2011 Tim and Dan had found a farm in Free Union with an old vet clinic to refurbish as a production facility. They purchased the best cider fruit they could find from nearby orchards. They pressed, fermented, tasted, and experimented and by summer's end were distributing cider samples to Charlottesville "touchstones" such as Beer Run and Blue Mountain Brewery. In 2012 they started to plant an orchard on the farm starting with Hewes Crab and now plan to plant more, including Harrison and Dabinette. 
I first tasted Potter's Hewe's Crab last spring at Pen Druid's Yeaster and absolutely loved it. Then at the Second Annual Virginia Cider Festival I sampled the Farmhouse Dry Oak Barrel Reserve (where the oak lies down like a purring cat) and loved those too. New releases planned soon include a new Oak Barrel Reserve, a Pelure de Pomme, and a Cranberry Orange Reserve, all of which, it is hoped, will by then be served for the first time in Potter's new tasting room and production facility in Neve Hall, an intriguing looking stone manse built in 1924 near what is now the interchange of routes 29 and 64. 
And while other ciders expected soon include Guava Galaxy, which sounds and may taste way beyond traditional, Tim and Dan made it known from the beginning that while "our process is respectful of a long Virginia tradition… [we] are not afraid to push boundaries to make ciders that stand out." 
In the end, Tim emphasized that for Potter's with cider and wine makers with wine (new cider maker Andy Hannas is a chef and former wine maker), everything begins with the fruit. That means "we actively work with Virginia orchardists to grow more of the apples we want and to let the fruit hang a little longer." It's a bit tricky, he added, because for an orchard to plant more of the traditional cider apples a cidery like Potter's or Hinson Ford wants, for example, it has to trust "that there is a cider industry." 
It "can be tough for an apple grower," he concluded. "Grocery store apple varieties have a home no matter what, whereas the market for cider specific varieties is only one market. "In the end, "as the traditional cider industry becomes more robust there will be more demand for cider apples and growers will be able to act with more certainty."
---
Hinson Ford Cider & Mead (est. 2018)
Amissville
hinsonford.com
Hinson Ford Cider & Mead opened its doors in 2018, making it one of Virginia's newest but also oldest cideries (as the first and only in its home county of Rappahannock). It may be one of the most experienced as well, for the team that does it all — friends, neighbors, and partners Dave Shiff, Dennis Kelly, and Mary Graham — are far from new to the business of making cider (and mead). 
In a recent interview over sunset cider on the cider house lawn, Dennis revealed that he and Mary started making cider as high-school sweethearts some 40 years ago. And they never stopped, even getting the children involved as they came along. 
"At first, it was just Mary and me. We'd come to Rappahannock to pick apples at Apple Hill Farm in Old Hollow. Not sure what kind of apples, but we made cider from them mostly as a nice way to get tasty alcohol. We also made cider from Yellow Delicious, Stayman Winesap, and pear trees in Mary's back yard. The results were pretty hard and dry and learning how to make it better came over time with experience and help from Annie Proux's famous book entitled Cider: Making, Using & Enjoying Sweet & Hard Cider. 
Meanwhile, Dave recalled when for about three or four years he and a few buddies would convene each fall as the "Rappahannock Cider and Debate Society" to prep newly harvested apples for cider and discuss the affairs of the day. "In one day, we would press from 10-15 bushels then I made the cider and we drank it. Our most successful cider was a blend. Mostly we had mixed results." Dave also recalled an epiphany he had about the kind of cider he would like to make. It was 2002 or so while on a river cruise with his Dad to visit the Beaches of Normandy his Dad helped defend as an Army Air Corps pilot in WWII. One day during the trip he took a side journey to a farm with extensive fruit plantings, including apples, and was offered a taste of French cider Norman style. 
"I knew I liked cider," he recalls, "but this was absolutely wonderful. Now it wasn't as dry as what we do here at Hinson Ford, and it was a bit lower in alcohol and had some residual sugar. But it tasted like apples." 
Dennis and Mary first met Dave at a neighborhood party featuring Jim Law of Linden Vineyards pouring one of his early wines and themselves pouring ciders. Afterwards and over a long stretch of time, the three talked off and on about going commercial with local cider. But that didn't jell as Hinson Ford Cider & Mead until Virginia's cottage cider industry had matured a bit and the time seemed right to pursue getting a state license. 
Lessons learned so far? Dennis: "The cider market across the country is very dynamic right now. Things are happening very quickly, but not bad things. We've been extraordinarily lucky to get a lot of help and support including from our neighbors right here in Amissville who are excited and happy to have something new and interesting to come to." Hinson Ford has also been fortunate to establish a strong local connection with one of the few commercial orchards left in Rappahannock. That relationship, with Thornton River Orchards, can be a bit thrilling when Alan Clark or his daughter Megan call with 60 gallons or whatever of juice they think Hinson Ford will like, and then someone has to decide whether to play. But usually, Dennis says, "Our answer is 'hey, bring it on, we'll try it.'" 
"Our cider-making philosophy is to find the good qualities in the juice we get then get out of the way," he added, and the result seems to be drawing new and repeat customers. Sometimes new customer "don't quite have a grasp on cider and how to make it, you have to start with apples." Always appreciated however is the range of ciders Hinson Ford offers at any given time — usually six or so — including a popular low-alcohol Ginger and a sophisticatedly oaked Brehon. 
New as of August and available now is a Spitzenberg varietal, which Dennis is wild for (as are his partners). "This is the best cider I've ever made. It is one of the best I've ever had. It is fairly potent with a nice blend of sweet and tart and a spot on, amazing spiciness in its bouquet that I can't put my finger on. Magical." Other ciders to come soon include Port Barrel aged Cider, Matriarch, an off-dry spiced cider sweetened with local honey, and a new 2018 blend, "643," the State Route designation for Hinsons Ford Road.