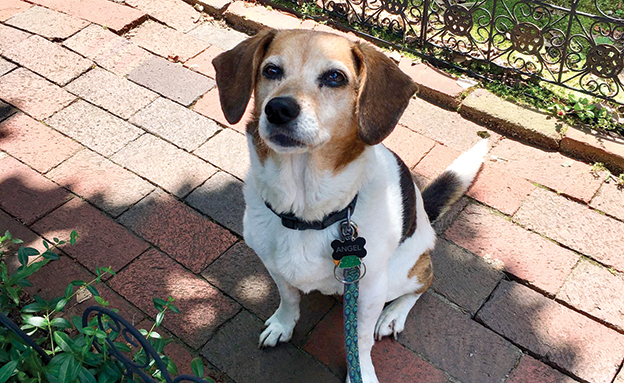 A magazine's masthead tells readers what people at the magazine do: their job responsibilities and titles – circulation manager, art director, etc. But "Angel," listed on the masthead since the magazine's inception, didn't really have a job description. Not defined (and therefore limited) by what she did, she was simply what she was – a "Beagle Mix."
A rescue dog, no one knew Angel's age, exactly; but she was at least 16 years old when she died in July, suddenly and inexplicably becoming totally paralyzed. Remarkably vigorous till the very end, she had, only four days before, dog-paddled down Compton Rapids on the Shenandoah's South Fork. Though not a genetically bred "water dog," she loved to swim. On canoe trips, she would invariably jump in the water in order to swim from one canoe to another (like most humans, she always wanted to be where she wasn't!).
She loved to run and romp across the Piedmont's open fields. In the woods, she loved to scamper on the rocky outcroppings, as if she were part mountain goat. So when her legs gave out – so abruptly, so improbably – she must have wondered, "Why?" Is that what she was asking as her dark pupils stared into mine? Could some human sense of irony or stoic recognition of injustice possibly mitigate the pain? 
Virginia's Piedmont is a dog-friendly place, so in the magazine's early days I took Angel everywhere. On many ad sales calls, I think it must have been her "cute" presence that closed the deal. Or when an editorial contributor experienced writer's block, she became what is now commonly called an "emotional support animal."
Though she never knew the destination when walking on a leash down Old Town Warrenton's streets (to the bank, library, business meeting, coffee shop?), she always confidently led the way. Head high, tail forever wagging, Angel made passersby smile: "Here comes Happy Dog," they would say. 
Unlike most humans, she never pretended there was some grand purpose or goal propelling her. She was just exploring, curious, appreciative, and open to the world as she found it. This world was especially generous in the smells that only a canine nose could detect. Her hidden world, she sought to share but I could witness only vicariously. 
Like most humans, she had character flaws – therefore "no Angel." Given her abandonment as a pup, she had a neurotic fear of being left alone. As she aged, preferring the company of humans, she sometimes got grumpy around her fellow dogs. But, then, I know many humans who feel similarly about their own kind, growing increasingly misanthropic in their old age. 
Though she couldn't be characterized as especially courageous, Angel was noble nonetheless. One day, Lassie-like, she ran for help to save someone who had fainted and fallen into a pond. She seldom barked or howled and never whined. Her bonds with humans were never simply transactional; she didn't need to be fed or petted to show affection, whether curled at one's feet in the magazine office or consoling terminally ill patients in the hospital.
Angel is buried now at the tree line on a hill near the Rappahannock River where she liked to roam. But she's not dead, for her nose retains its endless curiosity and her friendly tail doesn't stop wagging as long as those whom she touched still live.