By Linda Jane Holden, Photography by Roger Foley, Forward by Sir Peter Crane, President, Oak Springs Garden Foundation, Published by Vendome. 
The life of Rachel Lambert "Bunny" Mellon spanned almost the entire twentieth century. It was a remarkable life in so many ways, not least in its intersection with the lives of President and Mrs. Kennedy. But it was also a life anchored by deep engagement in the world of plants, gardens, and landscapes…. If beauty is the harmonious relationship among parts, then Mrs. Mellon, through the gardens and landscapes she designed, was a creator of beauty…Mrs. Mellon was also an artist in her own right. She expressed her creativity in three dimensions, embracing the challenge of a living palette that changes with the seasons.
In this book, Linda Jane Holden brings together for the first time the brilliant accomplishments of Mrs. Mellon in garden design, and Roger Foley's outstanding photographs capture the essence of some of the very special places that she created…Especially important is the uniquely beautiful walled garden than Mrs. Mellon created at Oak Spring, her home in northern Virginia. With the Blue Ridge Mountains to the west and the Bull Run Mountains to the east, Oak Spring is set in one of the most tranquil and beguilingly beautiful landscapes of North America.
— Sir Peter Crane, introduction
On June 3, 1929, Bunny graduated from Foxcroft, a private girls' school in Middleburg, Virginia…after graduation, the father daughter duo restored the house and grounds at Carter Hall, a historic plantation in Millwood, Virginia, that he had just purchased.
She worked on friends' gardens as well. "One of the first gardens I did outside the family was for the designer Hattie Carnegie," Bunny told Paula Deitz in a 1982 profile that appeared in the New York Times. "I was 23 then, and I went to her salon,  but could not afford any of her dresses myself, though I loved them. Miss Carnegie suggested I do a garden in exchange for a coat and dress, and so I designed and planted a garden for her." She also created gardens for French jewelry designer Jean Schlumberger and Charles Ryskamp, a professor of British literature at Princeton who went on to become director of the Pierpont Morgan Library and the Frick Collection.
During their fifty-one year marriage, Paul and Bunny Mellon owned houses and gardens in Upperville, Virginia; Cape Cod and Nantucket, Massachusetts; Antigua, in the West Indies; New York City; and Washington, D.C. But the Upperville property, Rokeby, a 4,000-acre farm in the foothills of the Virginia Piedmont, sixty miles west of Washington, D.C., was their favorite. With its gently rolling hills and creeks meandering through green fields, Rokeby was an ideal spot for their favorite pastimes: farming, cattle raising, thoroughbred horse breeding and racing, and gardening…By 1953, construction had begun on a new Mellon family home amid old oak trees, ponds, and natural springs. The Mellons called their new home Oak Spring.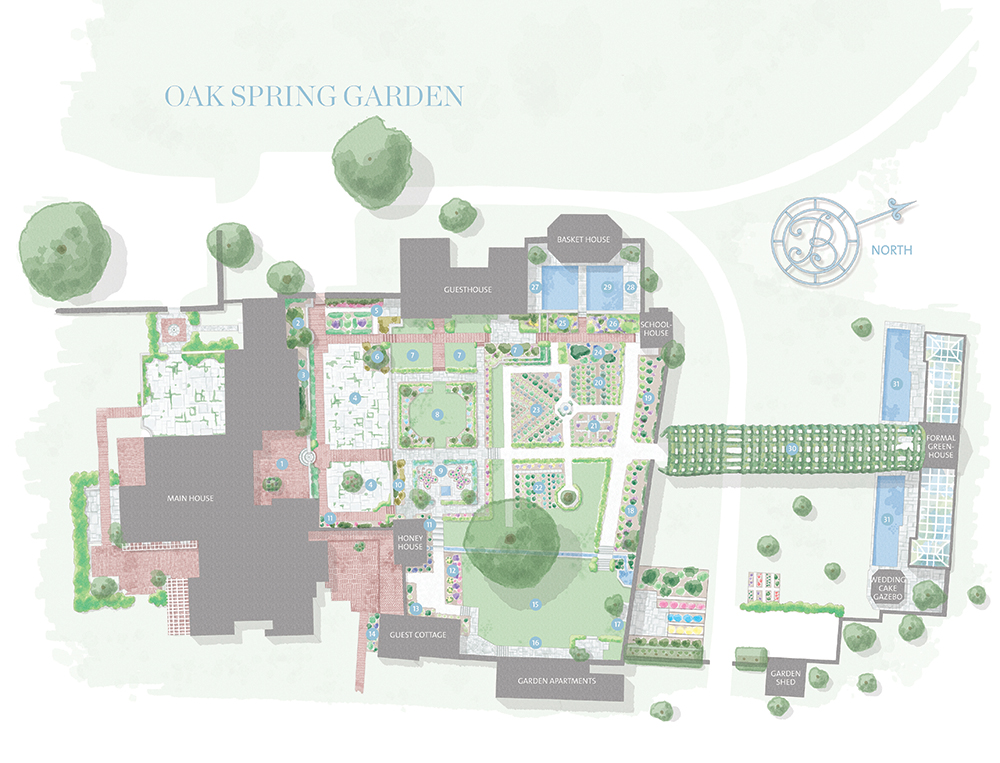 Oak Spring is a complex of weathered-stone cottages with shingled roofs, connected to one another by a high stone wall. Surrounding a Formal Garden, it resembles an eighteenth-century French hamlet and has the aura of a step back in time.
The Oak Spring Garden can be thought of as three connecting rooms: the Formal Garden, The Allée, and the Formal Greenhouse. The half-acre Formal Garden is divided into three terraces — Upper, Middle, and Lower.
She laid out the garden with a subtlety that adhered to her design ethos: nothing should be noticed; nothing should be obvious. She wanted it to look natural, as though God had created it. Every branch should have its own space; each plant should complement every other; If a plant wandered in, that was just fine. Perfection is achieved in the imperfect. 
---
---
---
---
The book can be purchased at Amazon.