Hopkins Ordinary's Ale Works
By Jennifer Waldera, photos by Doug Graham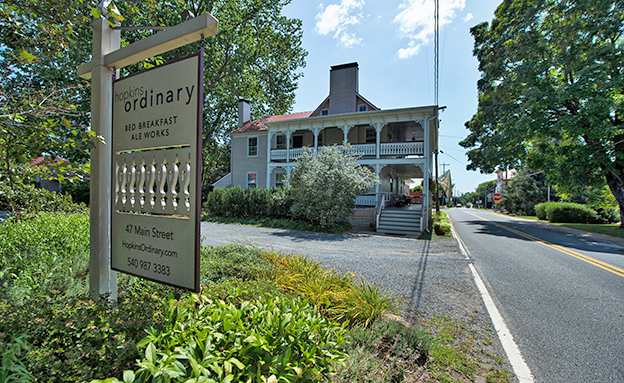 On the quaint Main Street of Sperryville, lined with cozy shops and spots for dining, stands Hopkins Ordinary, a picturesque 200 year old historic home owned by Kevin Kraditor and Sherri Fickel. The impressive structure, originally built by Johns Hopkins, and later expanded upon in the 1900s, serves as a comfortable bed and breakfast for travelers to and through the town. While the presence of a bed and breakfast in an area that is a popular destination for hikers as well as wine, beer, and spirits enthusiasts may be expected, the operation in the basement of this beautiful home is where the surprise lies.
Around the side of the large home, under the shade of mature trees, is the entrance to the basement brewery, Ale Works, also co-founded by Kraditor and Fickel. After operating the bed and breakfast for nearly ten years, the couple opted to open the operation in the cozy downstairs space in 2014. 
Kraditor and Fickel, having always shared an enthusiasm for both food and entertaining, had dabbled in culinary creations prior to brewing including meat curing, cheese making, and offering cooking classes. It was when Kraditor traded his cheese making knowledge for brewing know-how with a close friend that he delved into homebrewing. In four years' time, he decided to offer his beers in the space that became the brewery and the small local community was instantly supportive. 
"We have a group of core regulars, 20 people who didn't know each other before who are all like a family now. We didn't expect to build that kind of community — it's very rewarding," remarks Kraditor. 
While about a third of the brewery's visitors are comprised of locals, there are also a number of tourists and, naturally, guests from the bed and breakfast (for whom the first beer is on the house) who populate the tasting room to try any of the nine beers on tap at the time. 
Kraditor's brewing philosophy revolves around the concept of creating true-to-style beers with a consistent flavor profile. He attributes that consistency in part to the malting process at Copper Fox Distillery where he sources his grain.
While Kraditor likes to rotate seasonal beers into the selection and offer a diversity of choice, there is still a level of consistency of offerings on the taps.
"There's always something light and something medium. We try to have one each: dark, IPA, light, smoky," Kraditor explains.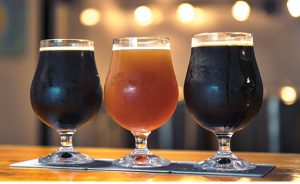 The most popular of his brews are IPAs and the light Belgian-style Little Deviled Blonde. Still others have devoted followings, like the End Of The Trail Pale Ale which once sold out in two weeks. Unique to the brewery are their blended beers. Combined straight from the tap, the blends marry two or more brews together for a unique flavor. While the Winter Blitz is a mixture of whichever wintry beers are on tap, the Quarter Porter is a combination of one-quarter porter, which is rich, barrel aged, and sports 10% alcohol, and three-quarters stout or brown ale. The Beekeeper, for which Sherri was the catalyst, mixes one-half IPA with one-half Wildfire Honey Brown Ale.
"Gradually he has gotten more and more creative," says Fickel of Kraditor's brewing.
While Kraditor is the brewer, the two work in tandem when it comes to flavor profiles, with Fickel often contributing creative ideas and feedback on flavors.
"Up next we'll be doing a black lager and black IPA," Fickel says.
"We'll also be brewing our Never Again Pumpkin Ale," Kraditor laughs as he explains that while he is not a fan of trendy beers, last year's brew was inspired by an unexpected pumpkin that grew in their yard and the beer's popularity is the motivation for bringing it back, despite its moniker.
While the operation itself is somewhat small with a one barrel system that produces about 60 – 65 gallons per week, the couple is grateful for that, citing their ability to make their own creative choices and to experiment.
"If we make a happy mistake, there's no one to explain to or to make demands," says Kraditor. 
While the tasting room was initially comprised of only the small bar in the basement, the two have expanded the reach of the brewery on and within the property over time. The backyard is host to a beautiful biergarten and more recently the room adjacent to the bar area was transformed into a comfortable space with a speakeasy style setting. Stone and exposed brick line the walls while low lighting illuminates the tables and loung seating replete with books, magazines, and games. Windows on the far side of the space offer street-level views while maintaining the intimacy and hidden feel. Meanwhile, though a food menu is not available, the brewery sells local products like a salty/sweet kettle corn, and the two intend to begin serving soft pretzels made on site with a housemade stout mustard. 
"The goal was to make it feel cozy," explains Fickel.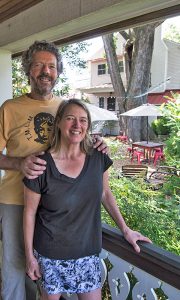 With so much support from the community, it is natural that Kraditor and Fickel would work with their neighbors as well. 
"We regularly collaborate with Pen Druid. We call each other, get ideas and feedback, talk about regulatory issues," Kraditor says of his relationship with one of Sperryville's other breweries.
Kraditor also sources locally when possible, citing Water Penny Farm, Sunnyside, Jenkins Orchard, and the aforementioned relationship with Copper Fox Distillery. They also make regular donations to charity events.
"We feel very much a part of the community — other places send people to us and we send people to them, particularly bed and breakfast guests," says Fickel. 
For those who want to take in the aroma of brewing wafting from Ale Works from the comfort of a room at Hopkins Ordinary, there are five available in the home with semi-private porches as well as wood-burning fireplaces in all but one. Detached from the home is also a small pet and child friendly cottage that sleeps five and overlooks the biergarten. Rooms are refined, yet comfortable, with the artwork of Kraditor's own uncle, as well as local artists, on the walls. 




"A French man once called the decor French country but we just call it clean and simple," says Fickel. 
Never skimping on details of food and drink, the two offer not just breakfast but also homemade cookies and a selection of wine from their own curated cellar including bottles of red, white and rose. 
After fourteen years of bed and breakfast ownership and operation, and nearly five years under their belts with the brewery operation, both Kraditor and Fickel are excited to continue to be a part of the community. 
"Our philosophy is that we like to keep it fun, be flexible, and roll with any changes that happen," says Kraditor. 
To try Ale Works brews, visit onsite at 47 Main St, Sperryville, VA 22740. Tastings are available Fridays, Saturdays, and Sundays 3-7 pm and growlers, howlers, and 22 ounce bottles are available for sale.