Nikki Stamps's dedication to raptor rehabilitation and environmental education
By Nathan Ray, photos by Kara Thorpe
A heart captured and captivated by wildlife today may transform the world of tomorrow.
–Nikki Stamps
"Do you want to see a baby vulture? He's our latest education-hopeful!"  This is a rather surprising proposition, especially if asked while one is being ushered into the dining room of someone's house. 
But on a bright summer's day when this question was proposed to me, I wasn't just at any residence; I had the pleasure of being a guest in the home of Nikki Stamps, a Virginia Department of Game and Inland Fisheries and U.S. Fish and Wildlife Licensed Wildlife Rehabilitator and Master Falconer, in Warrenton. 
Jovial and animated, Nikki is dedicated not only to providing medical attention to injured birds of prey, but also to educating the people of Fauquier and surrounding counties on the importance of such animals in the ecosystem of northern Virginia through her new non-profit organization, Bird in the Hand. Her enthusiasm for her work radiates from her like beams of light, and she flutters around her home and yard cooing to her falconry birds and rehabilitation raptors the way one might gush to a pet dog or cat.
Following her through the kitchen, I was seated facing a table, at the center of which gently rested an animal crate. As Nikki opened the door to the carrier, the occupant was revealed: a young, molting vulture, with grey fluff and black feathers mingling along its surprisingly large, stooping frame. "He's the latest hopeful for my educational program at Bird in the Hand," Nikki explained. "According to the young man who rescued her, her family had been living in a barn loft for the last several years, and the farmer decided he didn't want them in the barn anymore. He went into the loft and scared the group of vultures out. But this one couldn't fly so he hit it, breaking its wing in three places and injuring its right leg in the process." 
Barn Owl "Aoife" showing off her cute personality. Barn Owls respond well to Barn Owl boxes provided by landowners. Supporting Barn Owl populations effectively controls pest populations and costs less than pesticides and traps.
Nikki with "Dr. Finnegan Whoo" (a.k.a. "Finny"), a Great Horned Owl, the fiercest predator in the night sky.
Although the goal of animal rehabilitation is always to rehabilitate the animal so it can return to life in the wild, medical examinations indicate that this young scavenger will never be able to fly, and therefore cannot live in his natural habitat. So, Nikki hopes that one day he will be able to serve as an ambassador with her raptor education program. 
"What I'm trying to do is get him over his fear of humans," Nikki elaborated. "He's really terrified. He's going to be on the counter in his crate for the next couple of days. The last time I worked with a non-releasable vulture it was very successful, so I'm hoping he will come around."
Despite the impressive collection of natural wonders that decorate the walls of her cozy home, Nikki has not always worked in animal rehabilitation. "You get redefined over and over again through life," she asserted. This belief is evident in a reflection upon her career path, which has seen Nikki's energetic migration from one enterprise to the next. From becoming a licensed S.C.U.B.A. instructor to exploring as a boat captain and skydiver to working as a registered nurse and operating room nurse for more than 30 years, she has focused not only on filling her time with action, but also on facilitating the journeys of others. 
"Once you do something exciting and adventuresome, there really is that adrenaline rush," she smiled. In regards to the breadth of her different occupations, Nikki simply explained that "I would see something that was really awesome and I'd just pursue it." 
That adrenaline rush has led Nikki to her present adventure: wildlife rehabilitation. With her background as an operating room nurse, she is not the squeamish sort, and so is uniquely suited for the profession. "I don't mind if the animals come in and they're wounded. All of that is comfortable for me," she said. "I am also very fortunate to be able to work with Wildlife Veterinarian Care, who help me diagnose and treat injured wildlife." 
Her interest in rehab began in her youth, when her uncle found a kestrel falcon tangled in barbed wire and brought it home to her and her mother. Eager to help, the two went to the local library to find books on how to care for the injured animal. Inspired by their positive experience with the bird, Nikki and her mother proceeded to practice the sport of falconry for the next four years, learning how to trap birds of prey in the fall, train and hunt with them in the winter, and release them back into the wild in the spring. "Trapping and keeping a falcon during the winter months gives it a leg up in its hunting skills," Nikki said. "If the hunt isn't successful, the bird still eats and lives to try another day. Releasing the bird in the spring allows him to move on and live a natural life as a raptor. That is what we are always aiming for…a successful return to the wild."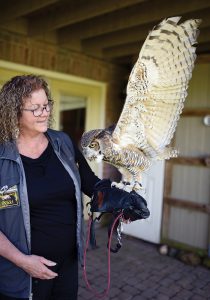 There are many misconceptions surrounding raptors and the sport of falconry. Dating back almost 4,000 years, falconry, or hunting with birds of prey, fosters a symbiotic relationship between man and bird, the actions of each mutually benefiting the other. "Falconry is really about more than having a bird," Nikki remarked. Instead, she asserted, the sport is about "being an engaged observer and going along with [the bird] while he's doing what he was created to do — hunt," noting that it requires both a state and federal permit to possess and hunt with birds of prey. 
It is important to understand that, although falconry focuses on hunting, raptors are not vicious animals. "Raptors are perceived as killers. The truth is that none of these animals hunt unless they're hungry," Nikki explained. In fact, despite the perceived dangers of birds of prey to humans and livestock, humans pose more of a threat to the birds than the other way around; wild raptors have between a 70-90 percent mortality rate in their first year. "Even when you're one of the top predators, you have a lot to be afraid of," Nikki noted. "Pesticides, rodenticides, cars, cats, people, other birds of prey…there are a lot of things out there that can get a raptor."
When she left home, she put a hold on her practice of falconry. It was not until years later that Nikki, living in Fauquier and now certified in wildlife rehabilitation, returned to her work with birds of prey, serving with an organization known as the Native Wildlife Rescue group. "Nobody was helping raptors," she related, explaining that "everyone had their own niche, which meant that hawks and owls were left out." 
Nikki, however, was undaunted by the powerful creatures and became the raptor specialist in the group. When asked what makes her rehabilitation work worth the effort, Nikki smiled her response. "Getting to see something go free…my rehabilitation sponsor told me, 'One day in the wild is worth 1,000 in a cage,' and I believe that's 100 percent true."
Concerned about all the misconceptions about raptors, Nikki began Bird in the Hand, an organization dedicated to educating the community about raptors and their purpose in the local environment. "Each one of these animals has a beautiful niche in the ecosystem that absolutely has to be maintained or everything crumbles. You might not see it or understand it, but that doesn't mean that it isn't important," Nikki insisted. 
With a two-fold mission of helping audiences understand the importance of raptors and inspiring the community to maintain and preserve the environment, her organization runs demonstrations for schools, libraries, small groups, picnics, corporate seminars, and community events. She said, "I realized halfway through my wildlife rehabilitation career that I could rehabilitate small mammals and birds for the rest of my life without actually affecting anyone but the individual animals. I really wanted a chance to affect people and cause them to love wildlife as much as I do. Bird in the Hand is the perfect platform for that."
Nikki's aspiration for the program? To get people excited about the world around them. "A heart captured and captivated by wildlife today may transform the world of tomorrow," Nikki contended. With the help of the presentations offered by Bird in the Hand, her audiences can gain an appreciation for the majesty and mystery of the natural environment. 
"It's very liberating," Nikki argued, explaining, "You can live your whole life and everywhere you go you'll find the fascination and the wonder of the natural world. And it'll be a little bit different everywhere, which makes all of your life an adventure."
For more information about Bird in the Hand, please visit birdinthehand.net or on Facebook at Bird in the Hand Conservancy.