Story and photos by Amy Fewell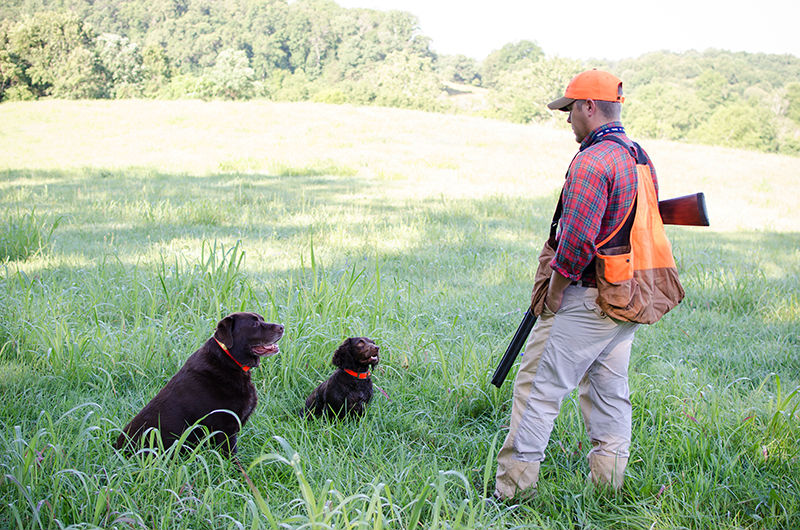 Like that of Johnny Cash and June Carter, this love story began long ago.  Named after the legendary country duo, "Cash," a nine-year-old English chocolate Labrador retriever, and "Carter," a one-year-old spaniel mix, are two of the Piedmont's finest sporting dogs. Their affair began nine years ago when owner Stirling Harrison Young, a Middleburg native, fell in love with a restless puppy while living in Tennessee.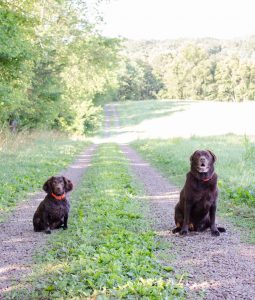 Harrison's love for hunting began at an early age, and understandably so.  His penchant for the outdoors was passed down from generation to generation, starting with his great-grandfather, who would take his grandson—Harrison's father—hunting where Dulles International Airport now sits.  Harrison was influenced by his grandparents, Jimmy and Sally Young, who were members of the Orange County Fox Hounds.  Like many children who grew up in hunt country, he quickly took interest in the sporting life.  During high school, he began bird hunting and working with sporting dogs.  It wasn't until later that the sporting life would really take hold of him.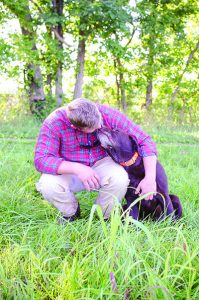 In 2007, Harrison experienced a change he could never have anticipated.  While living and working away from the Piedmont, Harrison's brother, Jonathan, came for a visit one day, but he didn't come alone. There in his arms was Cash: a bright-eyed pup full of a desire to please and an eagerness to rip apart tennis balls.  When it came time for the visit to end, Jonathan left, but Cash didn't.
---
"Money can buy you a fine dog,
but only love can make him wag his tail."
---
Harrison attributes his current hunting lifestyle to his brother Jonathan and the Reuter family of Middleburg, from whom he purchased his second dog years later. If not for them, he may have never gotten back in tune with the sporting life in adulthood. Cash opened a new door for Harrison, and quickly became his right hand "man."
"He's more than just a dog or a pet," Harrison says. "He's more like my child or a brother. This dog has been through a lot of hard times in life with me."  Harrison looked off into the distance, trying to contain his emotion, but it was clear that his love for his friend ran deep. "When everyone else disappointed me or disappeared, Cash was there."
And so the story began—a story not only of the art of hunting with sporting dogs, but also a story of friendship and brotherhood.  Harrison believes that the two go hand-in-hand, and that you cannot train dogs successfully without first building a relationship with them. He takes it a step further. In Harrison's opinion, trainers do an incredible job of professionally teaching dogs, but a dog is not at its full potential until master and animal exhibit a harmonious relationship in both sporting and daily life.
Years later, as Cash grew into a fine retriever pulling in geese and other game birds, Harrison wanted to add a new breed to his family.  That's when Carter made her grand debut last year. Carter, also known as a "little brown dog," is an 18-month-old Boykin spaniel, springer spaniel, and cocker spaniel mix. There's an entire movement for this breed because of its versatile size and agility.
Harrison named his labrador after Johnny Cash, so it was only natural for him to name his newest addition after "The Man in Black's" true love, June Carter.  And so, his very own Cash and Carter duo was born, and my goodness, do they ever go well together. Harrison's little unit, including himself, run like a well-oiled machine when it comes to the hunt.  While Cash is accustomed to working in action (and is a typical lazy lab any other time), I watched eager Carter prance around the fields during retrieving exercises. Keeping their minds sharp, even outside of hunting season, is necessary.  They are extremely well-mannered, intelligent, and ready to work at a moment's notice. Cash and Carter excel in hunting and retrieving quail, pheasant, goose, duck, and more.
When Harrison isn't out in the field or on the water with his beloved pals, he is a lacrosse coach for a local school, and an area manager for a Piedmont-based landscaping company.  He handles landscape service contracts for estates, businesses, and developments across Northern Virginia. And while he loves his job, he often asks himself why he got into the development industry when his family worked so hard against developing the Piedmont landscape.
"My grandparents and other fellow sporting enthusiasts fought to protect from development and sprawling, and here I am in the development business.  But, I like to look at it as I'm helping put things back into place—planting plants and flowers. Putting back what was taken out."
If he could have his dream job, it would be working with a wildlife management organization, but for now, he's happy to donate to organizations every year. As so many have noted in the Piedmont, keeping the land wide open is one of the most important things to preserve the beauty of the region
"The greatest part of the area that we live in is the diversity of the land.  In a half-hour, you can be floating various waterways. The Virginia Piedmont has a certain beauty that's hard to explain. There is a natural beauty, and the ability to enjoy the Piedmont's beauty while hunting is priceless."
The Piedmont lends a great deal of outdoor opportunity for sportsmen, but hunting with sporting dogs is a skill that is making a comeback quickly in the younger generations, not only because of the thrill, but also because of the relationship and connection with our animals and land that we revere.
While Carter and Cash are exceptional sporting dogs now, the training process is a tedious one, and one that should be taken seriously.  Harrison spends most of his weekends diligently working with his dogs for a few hours each day, all across the Piedmont.
Knowing the dog's behavior is key to successful training.  Because Harrison personally spends the bulk of his time with his dogs, he can tell when they are plotting something mischief, hurting, bored, or simply want to be loved.  But more importantly, they know when their master means business.
"We are a unit, and they know when it's family time, play time, and sporting time," says Harrison.
One of Harrison's greatest satisfactions is watching Cash and Carter work successfully in demonstrating what they've learned.  Because they are working and sporting class dogs, having a job for them to do is essential to their happiness. Harrison will certainly tell you that every moment in the field or on the water has its challenges.  But just as humans face challenges every day, he believes that it's all about the recovery and how we react in the end. Life with sporting dogs has taught Harrison patience, trust, and loyalty. Without those traits, he says, there would be no sense in trying to train his dogs. Training his dogs has brought out the best in him, and for that, he is forever grateful.
Harrison grins as he utters the quote famous among breeders and trainers: "Money can buy you a fine dog, but only love can make him wag his tail."  Hunting with dogs and training them efficiently takes sincere passion and careful observation, but it also takes a lot of love and care. In the end, they're not just hunters, but beloved pets. They are an extension of Harrison's family, and he believes that makes all the difference.  If there's one thing to know for sure, Cash and Carter certainly do "walk the line" for Harrison, but in return, they delight in hunting, family, and brotherhood, the components of a happy life for both Harrison and his dogs.