Five of my favorite places to spend winter days
By Leonard M. Adkins 
It is always nice to take a hike, but winter's long, dark hours often keep us close to home. With summer's extended daylight, it's time to explore farther afield. Herewith are five of my favorite places to spend some of these days. It is not a "best of" list, but rather a "get acquainted with" what the Piedmont has to offer.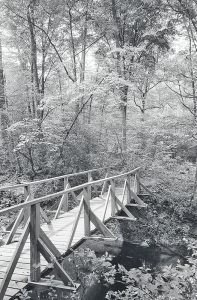 The quiet beauty of Prince William Forest Park is all the more remarkable because of its proximity to heavily-populated Washington, D.C. In addition to picnic areas, campgrounds, rental cabins, and a backcountry campsite, it has nearly 40 miles of trails passing through a forest that has been maturing since the park's 1936 establishment. The moderately easy terrain undulates by an old pyrite mine, two waterfalls marking the Piedmont's passage into the Tidewater, and the old orchards and cemetery of a former farm site.
---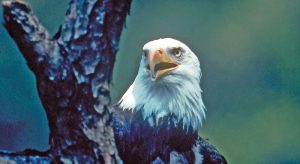 Although they're miles from the Chesapeake Bay's mouth, the marshlands of Mason Neck State Park, northeast of Prince William Forest Park, are affected by the ocean's tides, providing habitat for blue crabs and other saltwater water creatures. Belmont Bay's shoreline attracts bald eagles, osprey, ducks, geese, and herons. A trail system of less than 10 miles, with an elevation change of no more than 50 feet, has a boardwalk over wetlands where painted turtles bask in the sun. Other points of interest include a cattail-lined marsh and a forest of oak, hickory, and poplar.
---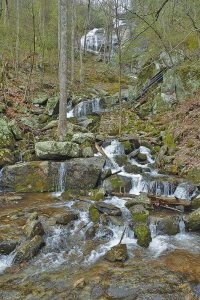 Depending on the source you consult, Crabtree Falls in Nelson County drops anywhere from 500 feet to 1,200 feet. No matter which is correct, know that this is such an impressive waterfall that the U.S. Forest Service has lavished much attention upon it. Graded switchbacks, wooden steps, and native stone observation decks ease the 1.5-mile ascent of 1,000 feet. If you're feeling a bit lazy, the first cascade is reached within five minutes.
---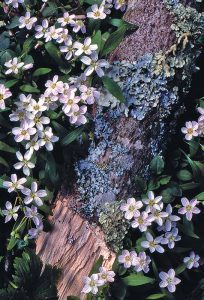 Fields and forests with elevation differences of 1,200 feet ensure abundant wildflowers in Sky Meadows State Park near Paris from winter to fall. Skunk cabbage appears by mid-February, and cutleaf toothwort and rue anemone bloom in early April, followed by violets, spring beauties, and chickweed. Soon afterward, wooded areas become their most colorful—pink wild geranium grows above corydalis' yellow trumpets and mayapple's white flowers droop below green foliage. In summer, jimsonweed dots road banks and daisies and crown-beard thrive in meadows. Touch-me-nots bloom in September and mullein adds bits of gold into October.
---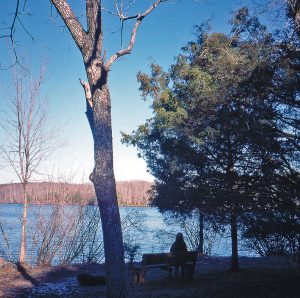 Centuries before Lake Anna State Park (south of Culpeper) was created in the 1970s, the area was home to Native Americans and early settlers. Later, iron furnaces processed local ore, a gold rush lasted from 1830 to 1850, and plantations flourished before the Civil War. Numerous trails allow visitors to roam the 2,400 acres, discovering natural beauties and finding reminders of past human activity.