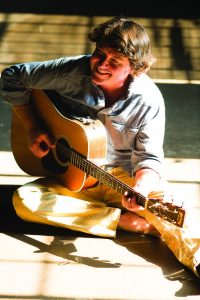 For a little over two decades, Fredericksburg's jam-band guru Keller Williams has done his own thing in his own time.  Over the course of his 21-year career, the multi-instrumentalist has brought his one-man, "Acoustic Dance Music" show to every state in the country and collaborated with a wide array of luminaries like Bob Weir and Phil Lesh of the Grateful Dead, Bela Fleck, the Infamous Stringdusters, Michael Franti, Del McCoury, the String Cheese Incident, and more.  Meanwhile, he's managed to make 21 original albums, including 2012's Thief—a collaboration with progressive bluegrass guitarist Larry Keel and his wife, Jenny—that topped Billboard's bluegrass charts.  With genre-spanning tastes and interests ranging from funk, soul, bluegrass, rock, folk, blues, techno, electronica, and even children's music—not to mention instrumental forays into electric and standup bass, guitar, keys, mandolin, Theremin, laptop, drums, and, yes, xylophone—each record stands as a testimonial to whatever creative inkling Williams was into at a given time.
Hoping to learn a bit more about this protean musical prankster, The Piedmont Virginian caught up with the man himself recently for a phone conversation.
Piedmont Virginian: Back in the early 90s, you built a reputation based on your live, loop-based, one-man show.  Could you tell us a bit about how the concept evolved?
Keller Williams: When I first started out, I performed as a solo artist—just me sitting on a stool playing covers.  Basically guy-in-the-corner, happy-hour situations.  I'd get dinner and maybe tips.  Then, at some point, I realized, "Hey, I can get the same money playing solo that I can playing with a band."  Around that time, I was doing temp jobs scraping mortar out of the cracks of cinderblock walls for eight hours in the summertime at minimum wage.  So it seemed like playing music for myself was the obvious way to go. After that. . .
Read the rest of the article in the September/October issue of the Piedmont Virginian, on the stands now. Don't miss an issue! Print and digital subscriptions available….subscribe now!
Story by Eric J. Wallace, Photos by Taylor Crothers