The recent attacks in Charlottesville and the related proposals to remove statues and rename roads and schools brings to my mind a film premiere and book we covered in our May 2017 issue. They share controversy in common and something else: the principle of treating history honestly, openly, and engaging in dialogues that, though uncomfortable, will help us move forward as a nation. 
Jim Hall's book The Last Lynching in Northern Virginia: Seeking Truth at Rattlesnake Mountain, together with Davenport Films' The Other Side of Eden: An American Tragedy, has exposed the climate of racism in Fauquier County—and Virginia—in the 1930s.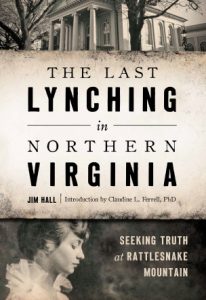 The story of Shedrick Thompson has come to light through Hall's investigative research, complemented by research and interviews by Tom Davenport, a renowned local filmmaker. They have uncovered the carefully concealed information in the memories of local residents and their descendants. Only now, 85 years after the crimes, are locals starting to reluctantly talk about these events, as though worried an old wound shrouded in silence may reopen.
On July 17, 1932, a black farmhand named Shedrick Thompson is believed to have entered the Markham, Virginia, home of his prominent white landlord and employer Henry Baxley, beat him unconscious, then raped, battered, and left Baxley's wife, Mamie, for dead. A two-month manhunt ensued, ending only when Thompson's decomposing body was found hanging from an apple tree on what is now the Marriott Ranch property in Hume.  Word spread quickly when the body was found, and a crowd of about 150 gathered. Only one official—a deputy sheriff—had arrived and was able to view the body only briefly before the crowd set fire to it. Thompson's death was immediately ruled a suicide by the coroner.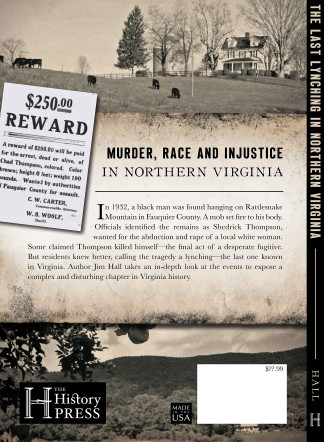 However, Thompson's death had all the hallmarks of a lynching. Official evidence was scarce once the body had been burned, and no one was ever charged with the murder or the destruction of the body. But, "current residents … cite the local lore, the stories they've been told, combined with a logic born of time and place," writes author Jim Hall. Given the recent events, there is value in analyzing the underlying racial currents in Fauquier during the early 1930s, ideally to promote awareness, encourage thoughtful discussion, and help people acknowledge history even when it is painful and personal.
I asked Jim Hall, after reading one of his blog posts about an upcoming book talk, to tell us a little about the resistance of locals to the subject and the unwillingness of local shops and the press to promote the film and book, and also to elaborate on the problems he and Davenport had during the production and marketing of their respective media, both before and since the events in Charlottesville. 
---
When I worked as a newspaper reporter and a reader complained about one of my stories, I listened carefully to what the reader said. Was the story wrong or incomplete? Was it poorly written? Or was the reader unhappy, not because of what the story said, but simply because I wrote it? To these readers, no news was the only good news.
I was reminded of this in recent months as the author of The Last Lynching in Northern Virginia. The book describes the horrific lynching of Shedrick Thompson in Fauquier County in 1932. The reaction from some Fauquier residents has been similar to what I heard from unhappy readers in my newspaper days. The complaints are not that I got my facts wrong, or that I'm a lousy writer. Instead, they are upset that I told the story at all. It's as if I have been littering downtown Warrenton with dead skunks. Go away, they say, go away.
The first hint of a problem came soon after publication when a local reporter asked one person what she thought of the book. "I don't want to look at the cover," she said. "I don't want to read it. I don't want to read anything about it."
Retailers in Warrenton also were nervous and told History Press, the publisher, that the topic was too sensitive for their shelves. In the early months, I had invitations to talk about the book to groups in Richmond, Fredericksburg, Manassas, Culpeper, Stafford and Spotsylvania, but not Fauquier. Later the Afro-American Historical Association of Fauquier invited me to talk to its members. That appearance this spring is still the only time I've spoken in Fauquier.
I was scheduled to talk at a Fauquier winery this month, but a winery representative asked me to postpone the event to a time "when feelings are not so heated and the topics of conversation in your book might be better received." But time itself is neutral and changes nothing, as Martin Luther King, Jr. once said. So I spared the winery the pain of cancellation and did it myself. "I wish you the best," I told them.
My friend, Tom Davenport, and I have worked together for months on this project. He has created a documentary film about the Thompson lynching and about the racial climate in Fauquier at the time. He too has experienced similar resistance. The leaders at his church, after much discussion, decided that the film was too controversial for a screening there. And after Tom did screen the film in May to a packed theater in Warrenton, he received a threatening letter from a lawyer demanding that he remove one section. Because of the letter, Tom canceled a second showing in Upperville. But he also got his own attorney and successfully defended his right to show the entire film.
So when reading my book, if you find that my facts are wrong, please let me know. If you think I could make my prose more sparkling, I'd love to hear it. Otherwise, I'm sorry, but I'll continue to write and talk about this case. It's a worthy topic that teaches, among other things, the dangers of ignorance. Pretty timely, I would say.
—Jim Hall
---
Hall's next, and only scheduled, showing will be Saturday, February 10, 2018, at 2 p.m. at the Afro-American Historical Association at The Plains.
The Last Lynching in Northern Virginia: Seeking Truth at Rattlesnake Mountain by Jim Hall can be purchased at History Press, Amazon or Barnes & Noble. Follow Jim's blog by clicking here. 
The Other Side of Eden: An American Tragedy by Davenport Films can be found by clicking here. 
We welcome your thoughtful comments and polite discussion on this post.