ARTISTS OF RAPPAHANNOCK
By Roger Piantadosi
Rappahannock News staff
On any given day here on the edge of Shenandoah National Park, the one thing you are least likely to see is Maggie Rogers not in motion.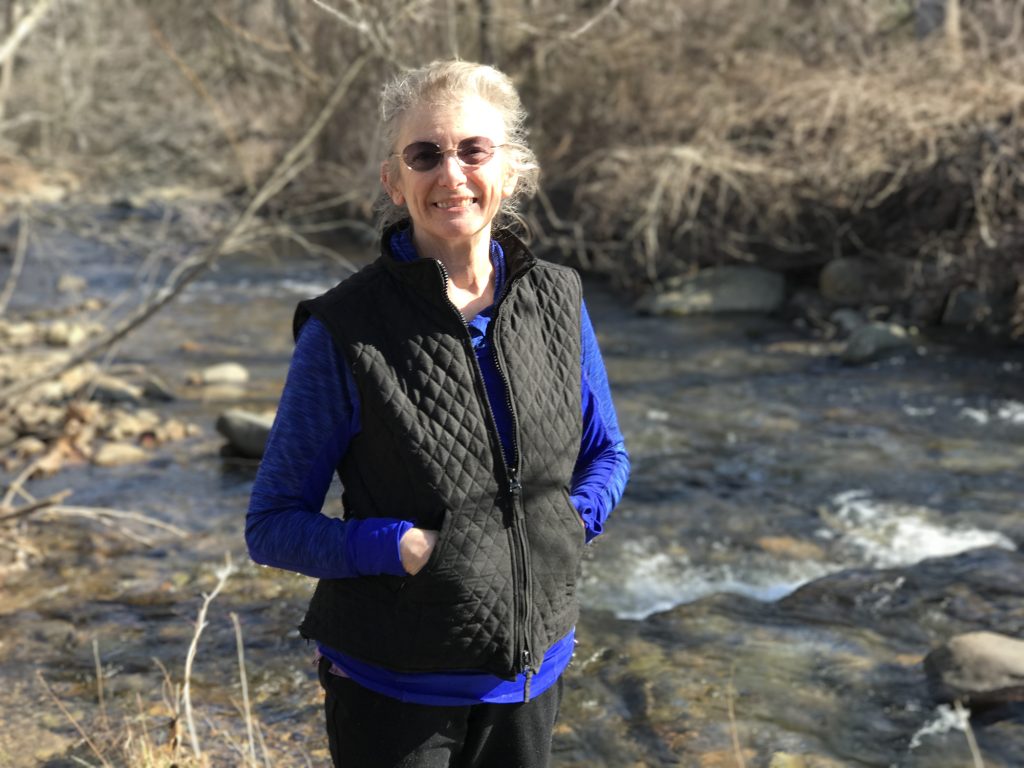 Still a barely contained bundle of energy at 67, Rogers is likely to describe herself as "printmaker, coffee roaster, hiker, gardener," and then to add, "That pretty much sums it all up." After which she's just as likely to burst into one of her explosively hearty laughs—probably because it's unlikely anyone, even Maggie herself, could sum her up in five words. (In fact, Rogers says and does precisely this video, the first in new series on the Artists of Rappahannock.)
Rogers has been a hiker and gardener for much of her life—though especially since she and husband Kenny moved in 1980 to Sperryville, beside the national park. It's here that they also raised three sons (Tucker, Jesse and Adam, whom you might have met if you've been to a Gold Top County Ramblers gig, since they're all part of the regionally popular bluegrass band).
As the boys grew up and school-centered activities wound down—activities that included a memorable series of homemade puppet-theater productions—what the Rogers family decided to do some 17 years ago was open Central Coffee Roasters, which they've since built into one of Rappahannock County's steadiest small businesses. It's a favorite stop for hikers and other visitors passing on their way back from the park, with $1 cups of six or so different brews (the money donated to the Potomac Appalachian Trail Club); it's surely one of Rappahannock's busiest merchandise exporters; and it's a local landmark—not just for coffee lovers but for those who come to Central's Sunday evening folk and bluegrass concerts.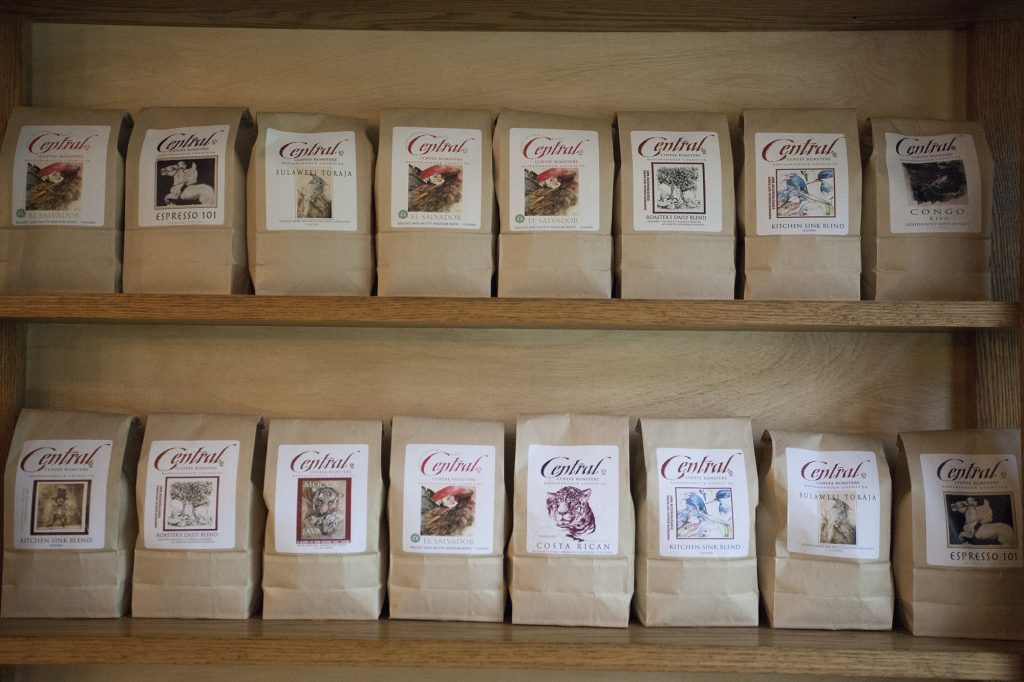 Central is also where Maggie and Kenny, a carpenter, built her printmaking studio a decade ago, the place where Rogers now pursues not only the love of drawing that led her to first study design and illustration at the Corcoran School in the late '60s, but the venerable art of etching and engraving on copper plates and then inking, printing and hand-coloring the results.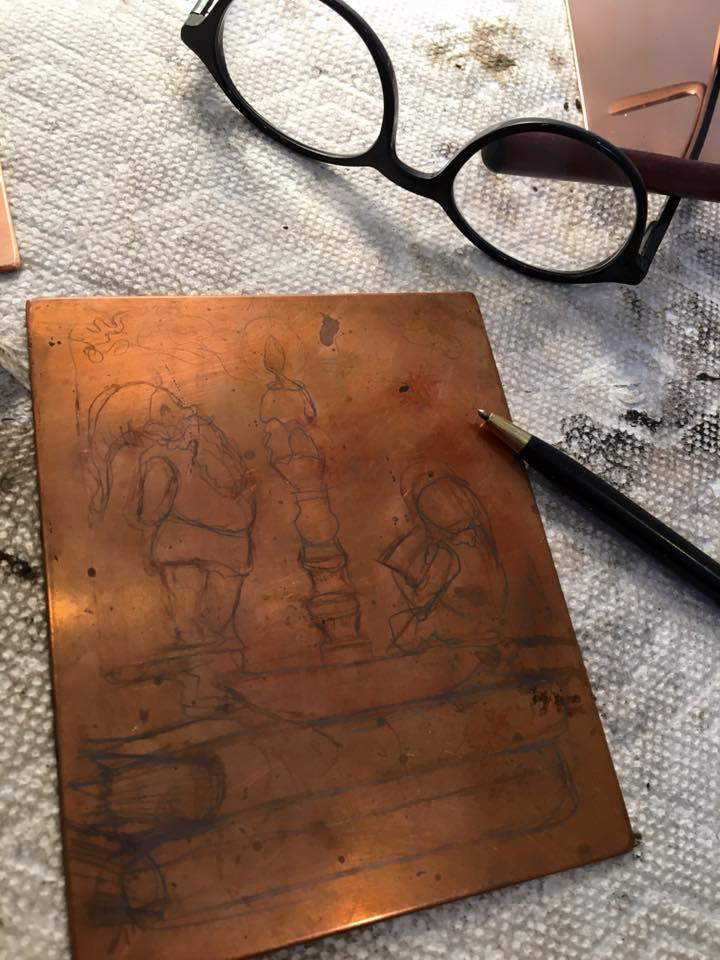 "Printmaking is my main focus, but it's still using . . . the line. The line is the thing," says Rogers. "I did a lot of illustration and drawing, always relying on the line. In etching . . . you work in the matrix, below the surface, and the line you create through carving using tools on . . . the copper, which is soft. And the ink is rolled in there, and when everything else is wiped off, the line is what remains, and the line is what's printed on the paper."
If you've bought a bag of Central Coffee beans, you've already seen some of Maggie Rogers' work. All of Central's labels are adapted from her prints; the originals of many also adorn the walls of the roastery and of patrons' homes. Almost all of her work depicts in detail flora and fauna—most of it familiar and local, some of it found only in Wonderland.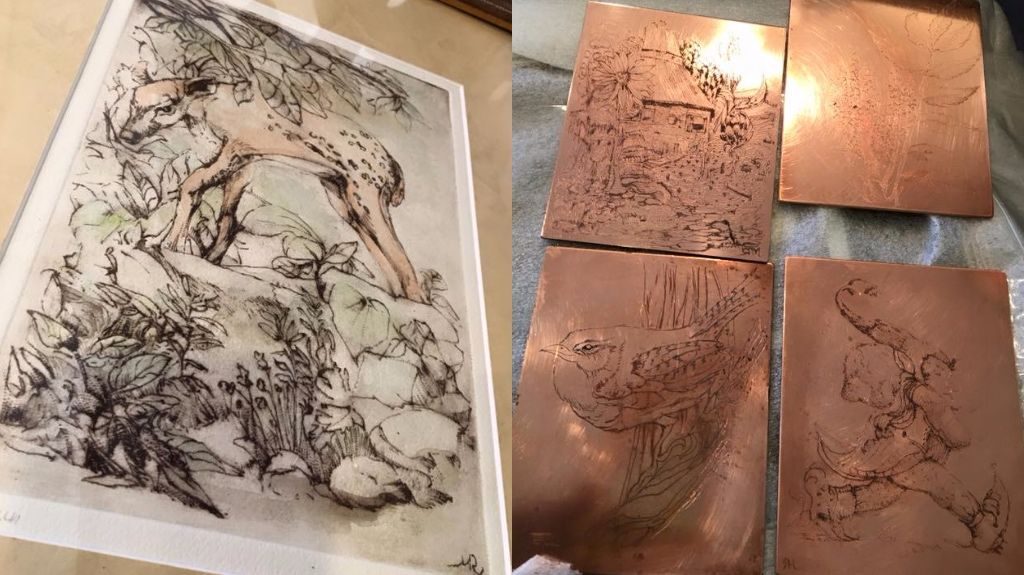 "It's always been animals and birds that have made up a big deal of my nature—my personal nature," says Rogers, who recently began work on what she hopes will be a series of illustrated children's story books.
The fairies and fanciful animals, she adds, "probably come from a lot of my English and German heritage and family, and my interest in hiking . . . When I see trees today, even just on a hike—my friend who hikes with me says, 'Oh, Maggie, look!'—and there's a tree with this tremendous root, and the little doors . . . you know somebody's in there."
There's more online about Maggie Rogers' printmaking at hughesrivertrading.com, and about Central Coffee at centralcoffeeroasters.com.
Artists of Rappahannock: Maggie Rogers
The video on Sperryville printmaker Maggie Rogers, the first in a series of short videos on the Artists of Rappahannock made possible with a grant from the Rappahannock Association for the Arts and Community's Claudia Mitchell Fund, can be found online at Synergist Media's YouTube channel (bit.ly/synergistyoutube), as well as on the rappnews.com website. More videos will be added in the weeks and months to come.
The videos are produced by Rappahannock News Contributing Editor Roger Piantadosi, with photographer/videographer Luke Christopher. More online at synergistmedia.org.