At Restaurant Rochambeau in Gordonsville
Story and Photos by Kaitlin Hill 
Lined with trees and a stretch of adorable homegrown shops, Gordonsville is a picturesque example of the small town aesthetic characteristic of Virginia. However, in the center of town, just visible between the leaves, hangs le drapeau Français, inviting locals and out-of-towners alike to experience refined dining that is distinctly and authentically French at Restaurant Rochambeau. 
Named for Jean Baptiste Donatien de Vimeur, Comte de Rochambeau, Restaurant Rochambeau is a Francophile's dream. The space pays homage to its namesake, a pivotal figure in the American Revolutionary War, who led a French military force that helped the Thirteen Colonies secure independence. In his honor, a massive print of Rochambeau's family chateau covers the sidewall of the elegantly laid dining room. In the back, a grand fireplace and shrine to Escoffier add to the general ambiance Française. 
But for Jacqueline and Bruce Gupton, the restaurant's owners, the French connection runs much deeper than dining room décor. In 2015, Gordonsville became the Sister City of Rochambeau's hometown, Thoré-la-Rochette, and the Guptons are friends of his descendants. Even more, a portion of the restaurant's profits is donated to Les Amis de Rochambeau, an organization committed to maintaining the estate and keeping the Comte's memory alive. 
Unsurprisingly, when the Guptons started their search for an executive chef, they insisted the new recruit be as authentically French as their establishment.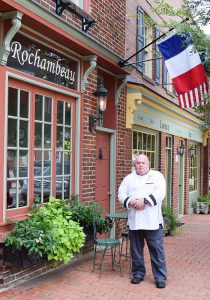 Enter Chef Bernard Guillot, who joined the team in April. The Brittany-born chef started his cooking career at the hotel and restaurant school of Saint-Brieuc, France, and refined his skills under the tutelage of all-stars like Jean and Pierre Troisgros and Frédy Girardet. Over 40 years, Guillot added to his impressive resume with stints in Canada, Corsica, Hong Kong, Japan, and Portugal and time spent cooking for high-profile clients like Mick Jagger and former President George W. Bush. Additionally, his talent and hard work resulted in numerous Michelin Stars, his induction into the Maîtres Cuisiniers de France, and a Diplome d'Excellence from the United Nations.   
Now in Gordonsville, Guillot plans to bring the same caliber of cuisine to diners from the community and day-trippers from as far as Richmond or Washington, D.C. He says, "I cook the same for everybody, for whomever, celebrities or locals. The quality doesn't change." 
For proof, look no further than the magnificent plates Guillot presents showcasing his mastery of French technique, inspired spice blends, and use of regional and organic ingredients. 
For dinner, try the Pavé de Loup de Mer – Virginia bass over vegetable ratatouille. The skillfully cooked and locally caught fish sits on a nest of tender vegetables swimming in a pool of expertly spiced sauce. A symphony of flavors, the sauce contains no less than 21 spices ranging from savory to sweet. Ginger, cinnamon, and star anise give the sauce a subtle warmth and a hint of sweetness, while Sichuan pepper and cayenne add a delicate bite. Despite all the contrasting flavors, the dish isn't overly busy and each element shines brightly in every forkful. 
Desserts feature Guillot's artillery of spices too. Decadent dark chocolate ice cream is proudly perched on a seat of remarkably flaky puff pastry and swirls of chocolate mousse. Chocolate overload, if such a thing exists, is cleverly avoided with the addition of fresh strawberries, dried star fruit, and a spiced sauce that cuts the richness with a hit of heat, courtesy of cinnamon, star anise, and cardamom. 
Though for a true taste of France, Guillot's menu has no shortage of French classics. Brunch offerings include Soupe à L'Oignon, Quiche du Jour, and Poulet Provençal. In the bar, Croque Monsieur and a traditional French charcuterie plate, including Pâté de Campagne, rillettes, and cornichons make for great snacking while enjoying a cocktail. 
But perhaps, Guillot's secret ingredient for excellent dining is his own personal blend of ambition and humility, manifested in the plans he has for the restaurant's future and the trust he puts in his team. Guillot says, "I like the challenge. I think coming here, the challenge was very interesting. We can only go up…The objective is the Michelin." He continues, "It is not easy to get the one-star and to keep it for one year, two years, seven years. It is very hard." 
No stranger to Michelin accolade, he knows that this prestigious culinary status is only accomplished with trust in, and mutual respect for, each member of his team. He explains, "I am always learning. I can learn from the best and I can learn from the guy doing the cleaning. I have respect for all the people I work with." He continues, "If you have no team, you can forget about it. Respect for the people is 98 percent of the job." 
And the remaining two percent? Guillot responds to the suggestion that his success is owed to his raw talent with a small chuckle and sly smile. But he doesn't deny it. Whatever the formula, Guillot is just getting started, and the Restaurant Rochambeau experience is not to be missed.