By Mary Winston Nicklin, Curator
The mountain stands alone, looming majestically over the Piedmont. Its peak marked by exposed granite boulders, Old Rag is unique, a regional icon. As Monhegan Island is to Maine, the Golden Gate Bridge to San Francisco, so is Old Rag to Virginia's northern Piedmont. The dominant peak on the eastern slope of the Blue Ridge, the mountain has long lured hikers and captivated artists. The poet Wallace Stevens famously said that there are 13 ways of looking at a blackbird, so here are 13 ways of looking at Old Rag Mountain through the eyes of some of the region's most accomplished artists.
1 Stefan Pastuhov
Old Rag from Yowell Farm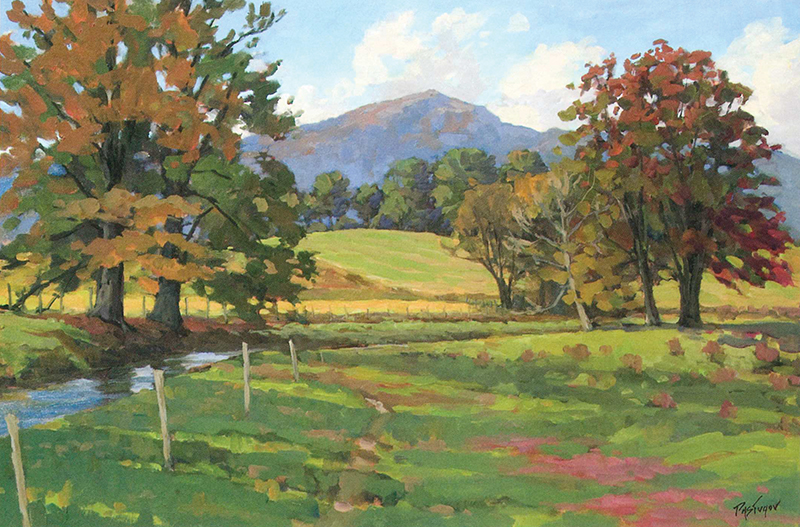 Stefan Pastuhov's grandparents fled to the United States from Russia during the 1917 revolution. Pastuhov grew up in Massachusetts, and lived in Maine for 18 years. He graduated in 1975 from Tufts University and the Museum School of Fine Arts. Like the Hudson Valley painters who were drawn to American landscapes as the New Eden, Pastuhov is a plein-air painter who loves the outdoors and paints outside year-round. Pristine Landscapes like Virginia's Old Rag Mountain and New Hampshire's White Mountains conjure emotional responses for Pastuhov and are compelling to paint. The beautiful seasonal changes in light appeal to Pastuhov and he captures these changes on canvas. His work has been featured on the covers of several L.L. Bean catalogs and placed in selected collections throughout the U.S.
2, 3, 4 Richard Lykes
Old Rag in Fall Twilight (left); Aerial View of Old Rag (center); Old Rag Looms Large in the Distance (right)

An avid photographer since the mid-1950s, Richard Lykes lived on a farm on Fogg Mountain in Rappahannock County with an almost 360-degree view of the close-by Blue Ridge mountain range.
"We have very little of what most folks don't want—traffic, shopping centers, developments, and lots of what everyone loves—beautiful scenery, green fields, woods and streams, and small villages here and there," Lykes said.
"I find inspiration for my photography surrounds me. This unique image of Old Rag [in Fall Twilight], with bales of hay just visible in the twilight, captured my attention while driving along a country road at the end of the day south of Sperryville." Editor's note: Richard Lykes passed away in 2009. 
5 Thomas Spande
Crevice at the Top of Old Rag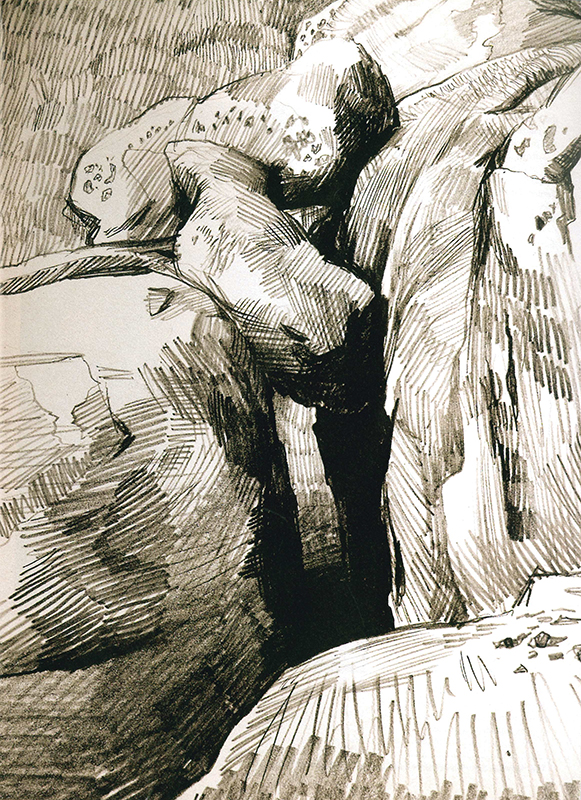 Artist Thomas Spande was inspired by a hike up the mountain. "When a few friends went off to explore, they left me time enough to be drawn by (and vice versa!) the beauty of the crevices and boulders that crown Old Rag Mountain, my favorite place to hike in Virginia.The texture of the rocks and their incredibly ancient history appealed both to my imagination and to my sense of rendering in pencil."
Spande has exhibited at Middle Street Gallery in Washington since he was 11 years old. He spent his childhood weekending in Rappahannock on an old family farm south of Sperryville. Throughout Spande's youth, he sold drawings and paintings of landscapes at regional art fairs. A graduate of Bowdoin, where he majored in studio art, Spande also attended the Maryland Institute College of Art and the École des Beaux-Arts in Paris.
6 Steven Kenny
Donna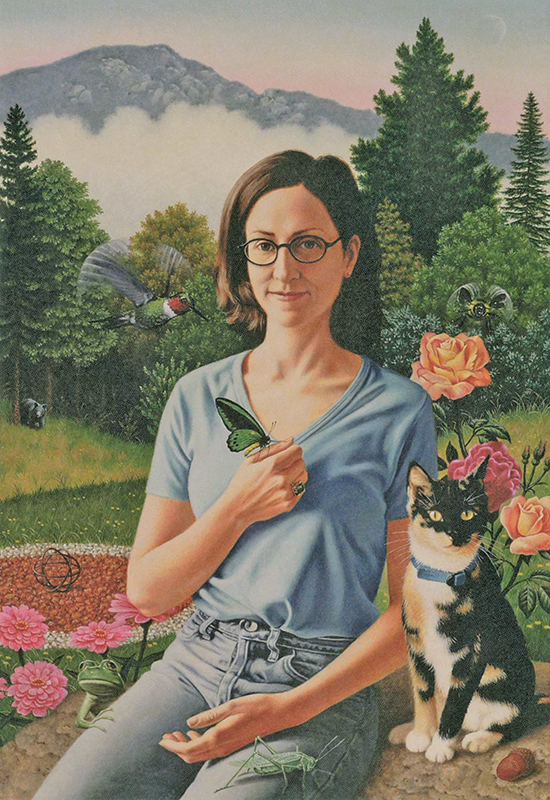 Steven Kenny left New York City, where he was a highly successful commercial illustrator, to move to Rappahannock County in 1997. His love of nature brought him to the Piedmont, which serves as the inspiration for his work: combining the human figure with elements from nature to highlight their interdependence.
Painted shortly after their move, Kenny's portrait depicts his then-wife, Donna LaPre, who is a gardener and small-scale farmer. Old Rag makes a background appearance as seen from Slate Mills in the southern corner of Rappahannock County.
In describing his work, Kenny says, "For subject matter I focus almost exclusively on humans and birds in varying combinations. For me—as they have in religion, myth, and art for millennia—birds represent both the untamable natural world we inhabit and the vast spiritual and psychological wilderness within each of us. … The manner with which my figures interact with their natural environments is a direct reflection of the successes and failures modern man experiences on a daily basis. The quality of our internal lives is manifest in the physical world around us. The future health of Earth's biosphere will depend on our ability to intimately nurture our inmost hearts."
7 Tucker Hill
Summer in Champe Plain Valley Beneath Old Rag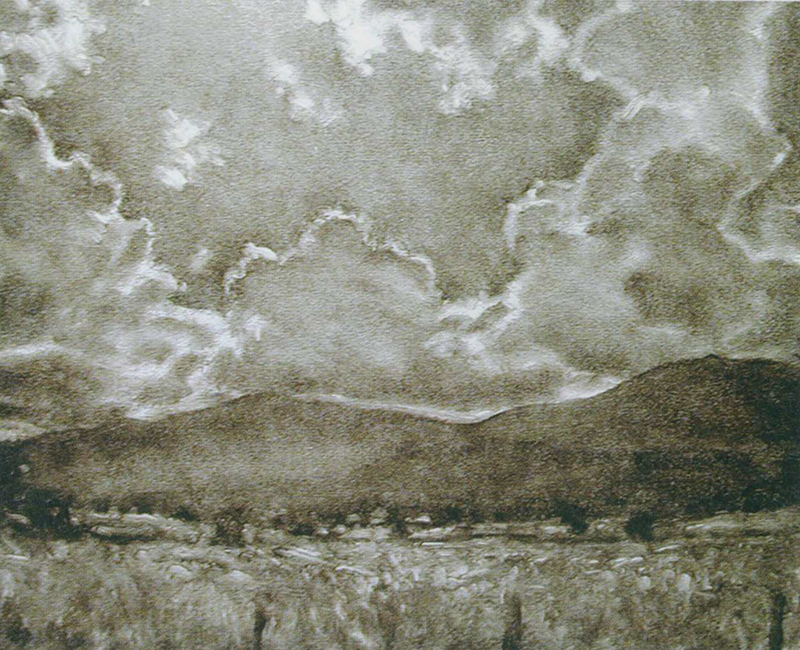 Tucker Hill has been creating site-specific monotypes of Virginia rural landscapes since 1985 using a simple and direct process that begins with photographs and proceeds through freehand sketches that guide the inking of the print plate, ultimately leading to the single image.
After studying printmaking in the early 1980s at the Richmond Printmaking Workshop, Hill set up his own studio in Richmond with a small (16" x 30") floor-mounted Charles Brand etching press which he moved to Madison County in 1991. In addition, Hill had a long career with history museums creating exhibits and publications until his death in 2010.
8 Lawrence Altaffer
Old Rag Mountain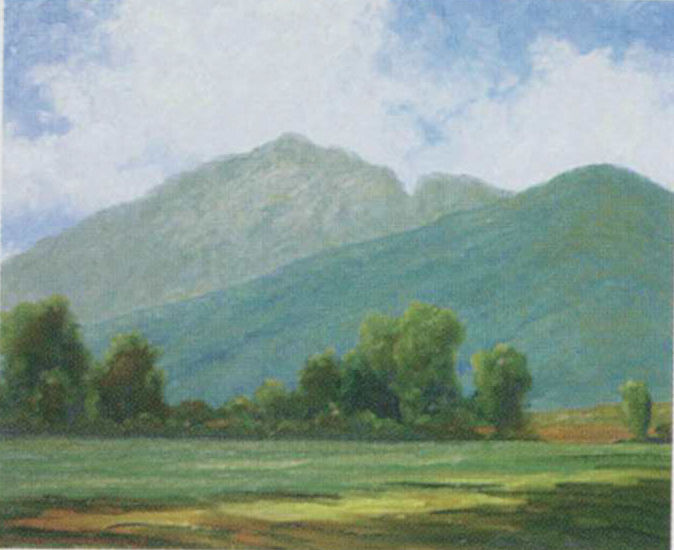 Though primarily self-taught, Lawrence Altaffer has exhibited landscape paintings in prestigious juried exhibitions. In fact, Taggart Lake was awarded Best In Show out of 700 paintings at the Annual American Landscape Show at The Art League in Alexandria in August of 2003.
Altaffer began painting in 1997 and has been a member of the Washington Society of Landscape Painters, one of the oldest plein-air painting groups in the United States. He has also been an elected member of the Salmagundi Club in New York, one of the most venerable art organizations in America, whose roster has included renowned artists such as Winslow Homer, Thomas Moran, William Merritt Chase, and N.C. Wyeth. He is listed in "Who's Who In American Art." Altaffer's paintings hang in many private and corporate collections in the U.S. and abroad.
9 Joe O'Kane
Out of Warranty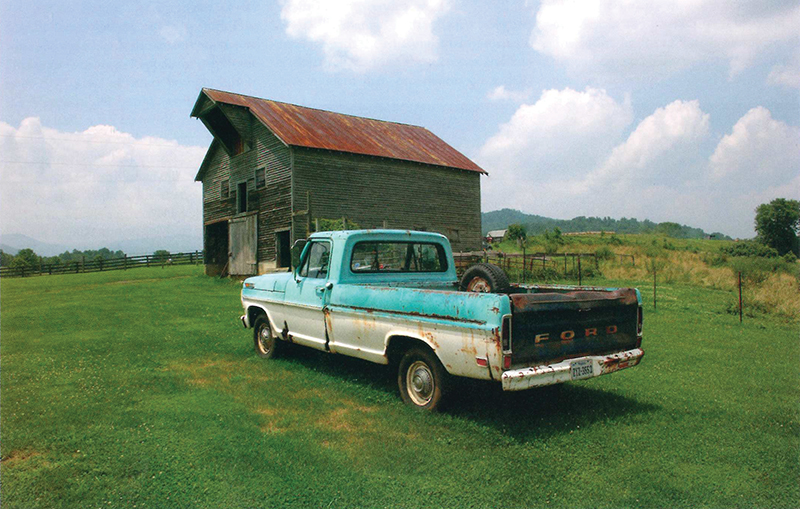 "Often, when people come to visit Rappahannock they attempt to take a piece of the magic and serenity that the county of­fers, and a photograph of sunrise from Old Rag Mountain, the maple tree on Main Street Sperryville in the fall, or a newborn calf lying on the grassy green hillside, will surely allow them to recall the visit and bring them back for another look," says Joe O'Kane. O'Kane first picked up a camera when he joined the U.S. Navy, where the world's stage guaranteed good subject matter and a good 35mm was a worthwhile investment. But since settling in Rappahannock Coun­ty in 1999, O'Kane has found just as many artistic opportunities—in the surrounding countryside. "I only have to drive around Rappahannock to find the majority of my subject matter," O'Kane says.
10, 11 Thomas Mullaney
Wild Roses and Old Rag; Evening in Rappahannock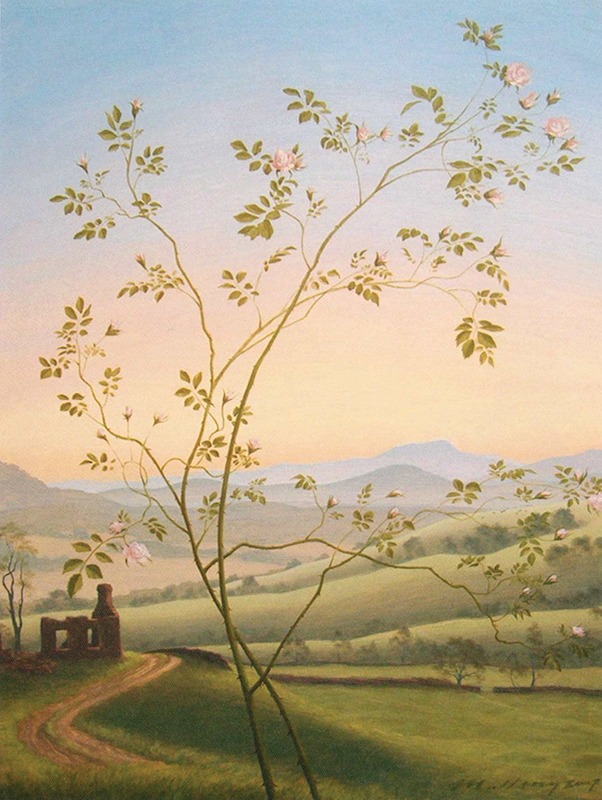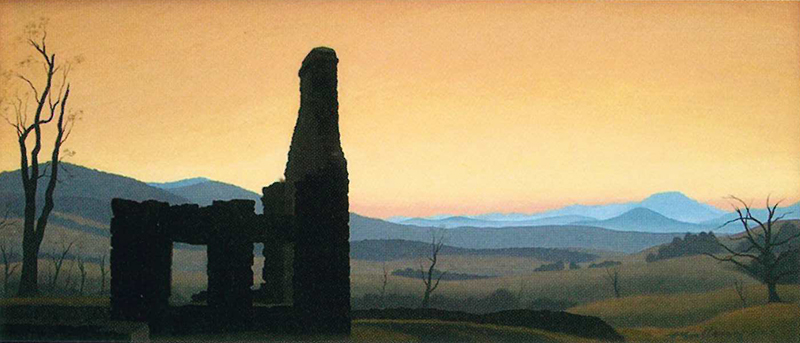 Virginia artist Thomas Mullany doc­uments local Rappahannock landscapes and events, as well as fictitious images, and has gathered a loyal following by col­lectors across the U.S. Reminis­cent of the Hudson River School, Mullany demonstrates a masterful understanding of paint and light.
Mullany says about his work, "I paint imagery in a straightforward kind of
real­ism, whether or not the scene is real. The paintings from my imagination are treated as matter-of-factly as possible, but I like to alter the paintings of real things and places to suit my purposes."
A graduate of the Corcoran School of Art, Mullany has exhibited his work in numerous one-person shows in
Washing­ton, D.C., New York City and Charlotte, North Carolina. His paintings are included in many public and private collections. In addi­tion, Mullany has received a wide range of public commissions in Washington, D.C., Virginia, Maryland, and New York.
12 Jo Levine
Autumn Skyline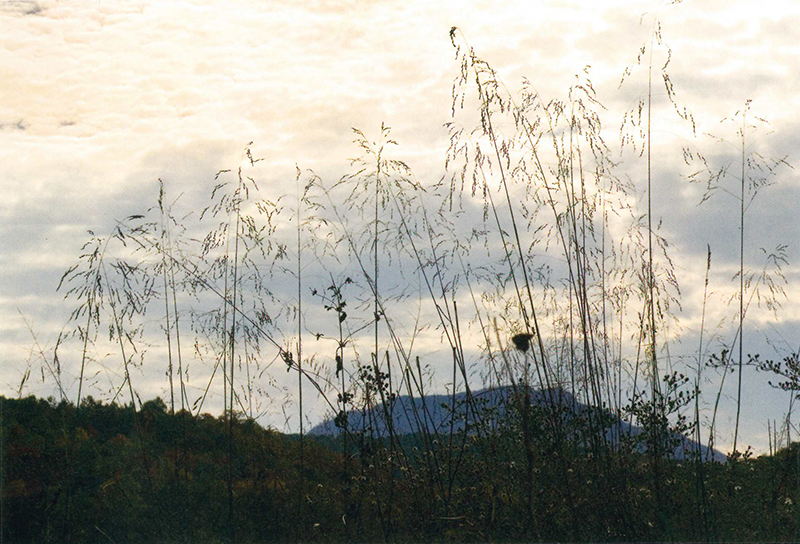 Photographer Jo Levine grew up in Niagara Falls, New York, and currently di­vides her time between Washington, D.C., and Rappahannock County. Levine began taking black-and-white photographs after her husband gave her a camera as a wedding present. For a time, she debated between becoming a professional photographer and going to law school. Law school won out.
Jo returned to the serious pursuit of photography after retiring from a successful legal career with a federal con­sumer protection agency. She specializ­es in fine-art photographs of nature and semi-abstract patterns created by natural and man-made objects.
13 Edward Cooper
On Old Rag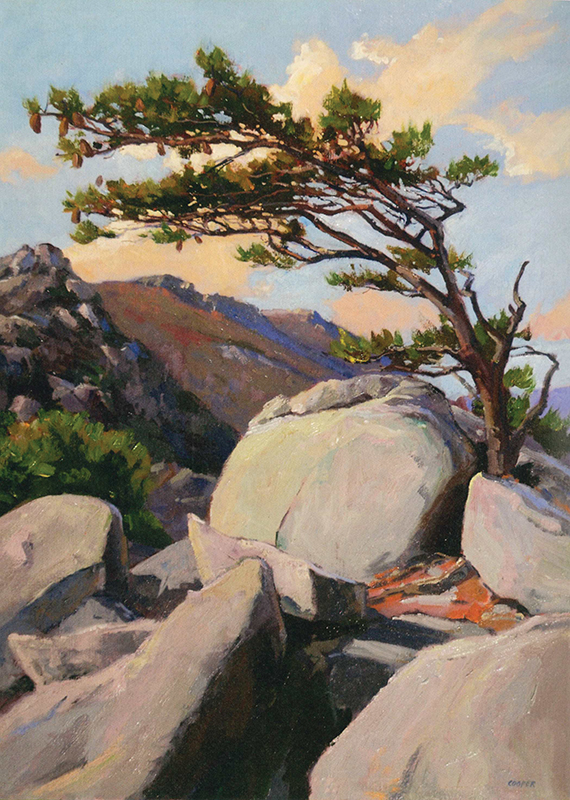 Naturally, Edward Cooper, partici­pant in many plein-air art competitions and arts festivals, has found inspiration in the Blue Ridge Mountains of Virginia. He is a self-described wanderer. "My constant com­panions are a pochade box, which allows me to do quick plein-air oil color sketches, and a digital camera." Outdoor scenes, like mystical Old Rag, evoke emotional responses within the artist, which Edward Cooper cap­tures for the viewer.
Frequently featured in publications and art magazines, his paintings are also exhibited in galleries all along the Eastern seaboard, from La­gerquist Gallery in Atlanta to William Ris Gallery in Stone Harbor, New Jersey. Other galleries include Hatfield 2 Fine Art in Charleston, South Carolina, South Street Gallery in Easton, Maryland, and Susan Calloway Fine Art, in George­town, Washington, D. C.