For this extremely successful high-tech entrepreneur and California transplant, organic farming and restoring the local food chain may be the next new thing.
Photographs by Nate S. Rhodes
When Sandy Lerner purchased Ayrshire Farm in in 1996, the 793-acre, Upperville estate possessed "all the old neglect of prospect." That poetic, late-eighteenth-century phrasing is from Jane Austen's Emma; and spending time with Sandy Lerner, as the magazine's editors did recently, is to time-travel: not only backwards into an earlier century, but also forward into an environmentally conscious, sustainable future.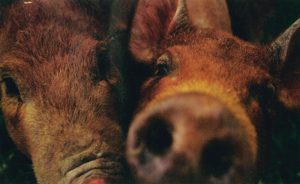 "It was overgrown land," she said of Ayrshire when she bought it, but Ayrshire enabled her to farm. "I wanted to farm," she said—not just own land. And by farm, she does not mean what she calls the "industrial production" of most food that is produced in the United States today.
In 1992, she established a foundation to lease Chawton House—the 400-year-old Austen family home in Hampshire, England—and to establish the Centre for the Study of Early English Women's Writing. But, as the co-founder of Cisco Systems, Sandy Lerner is perhaps best known as a high-tech entrepreneur. She also founded Urban Decay cosmetics, which never used animal testing and whose edgy promotional slogans included, "Does pink make you puke?"
A long-time philanthropist and advocate of animal rights, Lerner remains passionately committed to organic, humane farming and the preservation of farmland and open spaces in Virginia's Piedmont. The Virginia Organic Producers and Consumers' Association is her creation. Ayrshire Farm's magnificent fieldstone manor house, which she restored, has become the site for her annual "Beastie Bazaar," a benefit for abandoned and neglected animals, as well as for special events showcasing organic farming—most recently Heritage Turkeys. Ayrshire Farm also hosts cattle-farming association meetings and equestrian events, including carriage rides.
In nearby Upperville is her restaurant, Hunter's Head Tavern, whose most acclaimed dishes are fresh farm products direct from Ayrshire. In Middleburg, her Home Farm Store (now located in Marshall as Gentle Harvest) offers farm-fresh organic products for home dining.
To have made all this happen—often in the face of huge obstacles—requires "bloody-mindedness," a British expression of which Lerner is fond. Without that trait, Ayrshire Farm might now still be run down and overgrown or, worse, carved up into residential housing lots. And all farms throughout the Piedmont would be the poorer without Sandy Lerner's wit and wisdom on their side.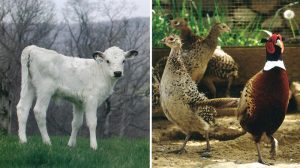 So, how do you go from Silicon Valley entrepreneur to Virginia Piedmont farmer, from Cisco to organic farming?
Actually, the big transition was from farming to Cisco, or at least from our small farm in the Sierras to graduate school in Los Angeles and then Stanford. Moving back to a small town and back to farming was the easy part.
But why Virginia? Why not go back to farming in California?
A lot of reasons … I like the font on the license plate. I am a jouster and the state sport of Maryland is jousting. But mostly because there is water here and farms that are large enough to farm but not large enough to be interesting to the agribusiness cartel.
But why go back to farming? Farming is generally not considered a sport of the idle rich.
Roger that. In America today, 14 percent of farmers live below the poverty line, and it's getting worse. In the last 10 years, prices at the farm gate have declined 9 percent, while consumer food prices have risen 30 percent.
Like everything else, farming is a lot more fun without a budget. However, I do think I'm a pretty typical farmer in that there's no way to quit once you start—it's in the blood. So, until someone comes up with a 12-step program for us, we are probably going to be farmers. Having said that, America loses 1 percent of its farmers each year. Think about it: in the next century, the U.S. will be entirely dependent on foreign food. In 1900, 45 percent of the population was working in agriculture; today it is less than 2 percent, and the census bureau no longer counts farming as a separate occupational category.
Farms and farmers should be considered a rare and valuable national resource; regrettably, this is not the case. And the only segment of the farming population that is actually increasing is the number of women going into farming … Go figure.
But if farming takes money rather than makes money, why do it?
That's about eight good questions. I'll address the one about why I farm, given the postwar farming economy. From my point of view, there is both a historical and a moral imperative: First, historically, it was the wealthy landowners—in America, think George Washington and Thomas Jefferson—who could afford to conduct experimental agriculture. People who were trying to eke a living out of the land could not risk trying new theories or technologies. Agricultural research has always been the responsibility of landowners with disposable income.
From a moral perspective, if you count all public and private sector money spent on agricultural research, a small fraction of 1 percent in the United States goes toward the development of sustainable agricultural models. To those of us who believe that sustainable agriculture is the only viable long-term agricultural model in terms of the land and our health—which really are the same thing as, like it or not, we really all just eat dirt in one form or another—the galling thing is that we have to pay taxes to subsidize chemical agriculture and then pay personally to fund research into new tools to help us undo the ravage to our environment and our health caused by chemical-based agriculture. And even this doesn't address the moral outrage of the factory farming of food animals.
What about farmers' markets? Prices are pretty high there, at least a lot higher than the supermarket, right? And the price of organic food seems a lot higher than conventionally produced food.
Let's first address farmers' markets: The average farmer in America is now over 60 years old, and 59 percent of farmers have full-time, off-farm employment; the median farming income is around $11,000 a year. So, this means that older people who are already working two jobs now have to haul their produce and stand outside for hours on their day off and hope someone comes and buys it. This seems a bit speculative on all counts and probably not likely to be a significant part in the restoration of the local food chain.
The other short answer is that farmers sell at wholesale and buy at retail. Surprisingly very few farms actually produce food—they produce "food components," like soybeans or corn or wheat—today's farmers have to buy their food just like the rest of us. This has always struck me as rather surreal.
As to prices for organic food, if you consider the subsidies paid to the agricultural conglomerates and the public money which pays for everything from research into herbicides, pesticides, and the antibiotics (70 percent of which end up in animal feed) to the highways used to truck the food, to the environmental clean-up of our air and water caused by modern agriculture, I'm not sure that organic food is more expensive—you just pay all of the bill at the cash register. And, again, this doesn't count the cost that we all pay in the loss of life and productivity from illness caused by systematically poisoning the earth with pesticides, herbicides, chemical fertilizers, all of which ultimately end up in the air we all breathe and the water we drink, and the concomitant loss of antibiotic drug effectiveness against those illnesses by overuse in the food chain. My personal guess is that organic food is a real bargain, if one fairly counts all the costs.
Is it very different farming in Virginia, say, than in California?
I was farming in California in the 1960s and 1970s when there were still enough family farms to keep FFA (Future Farmers of America) in the schools and 4-H Clubs going in the rural counties. In that sense, it is like Virginia in that 95 percent of farms here are still family-owned. My family farmed in the Sierras on essentially a vertical rock with very little rain. Here the land is gently hilly, and on average we get enough rainfall to farm, although I hope my neighbors don't think I brought the chronic California drought with me. On the other hand, today California is probably the most progressive state in terms of its turn toward sustainable methods and the support these farmers get from the state and the land grant universities there. However, South Dakota, Wisconsin, New York, and Massachusetts are also very strong.
Virginia has been somewhat "reluctant" to change its focus away from chemical, commodity agriculture, even though we are losing farms at the rate of 1 percent a year—that's almost 10 farms or 2,000 acres lost each week. And Governor Kaine has just appointed a marketeer from the tobacco industry to be the Agricultural Commissioner, so I wouldn't look for leadership or change anytime soon.
What do you mean by "restore the local food chain"?
America is probably now a net food importer—it's a little hard to tell because of how the government keeps statistics (for example, meat is not counted as a "food import"). This situation, importing food, I find disgraceful given the vast extent of this nation's farmable land. I don't know about you, but I'm a whole lot more worried about being dependent on foreign food than foreign oil; you don't have to drive, but you do have to eat. The local food system broke down in this country after World War II in the form of industrialized, monopolized agriculture that is now completely vertically integrated.
This agricultural cartel (and there is really only one) wants "free trade." "Free trade" in here really means that the cartel is free to buy cheap foreign food that has been produced with little, if any, regulation as to its safety—as we see now with the recalls of food from China. This drives our own farmers out of business since we have to comply with all of the workforce, environmental, and food safety regulations. With food, too, one gets what one pays for.
On the other hand, our grandparents bought local food as there was not a means to transport it long distances, and they were healthier than we are, and the economy was healthier as well. It's not just Wal-Mart that is driving up the national trade deficit, although it's certainly leading the way. The only solution to saving farms, farmland, and farmers is if people will, again, look to local, seasonal food. Keep food money local, and you'll keep local farms.
You've put your whole 800-acre farm in one easement. Why? Given your animal rights stance, it's obviously not to keep open space for foxhunting.
I really don't believe there is either a conceptual or observed linkage between one and the other. Open space is open space. The ex-Hunt Master who lived near my farm sold his farm to a developer. Yet other foxhunters have been leaders in not only putting their land into conservation, but also encouraging their neighbors to do so. The two farms right next to mine are not in easement; one used to rent the farm to the hunt, and the other still actively hunts, so it seems to swing both ways. A lot. In my view, preservation seems to depend more on kids inheriting land who have an emotional attachment to the land. One thing about farmers: They are attached to the land, literally and figuratively. If I had children, I'd farm just to give my kids a love for the land.
How do we turn farming around and help it become "the next new thing," or at least profitable enough to keep families on the land?
There are success stories out there—New Zealand and England for starters, and the Champlain Valley and upstate New York here at home. The organic dairy industry in Wisconsin is thriving, while Loudoun has gone from over 400 dairy farms in 1980 to just one in 2008. South Dakota has a very successful beef-marketing program that Virginia would do well to emulate. California, North Carolina, and even Missouri have well-developed state programs for helping farms to diversify and turn away from chemical commodity agriculture. There's also quite a bit of money out there, if one looks, including Department of Defense (DoD) money, which seems to indicate that food security is surely a big part of national security. I'm reminded about the early internet, another instance of DoD foresight.
The information is out there to save farms. It would be nice if Virginia Tech or the Virginia Department of Agriculture and Consumer Services (VDACS) would be more in touch with these issues, but as I've said, that's not likely. Out of 551.5 people employed at VDACS, the .5 is that one half-time person employed to support ALL of "specialty" agriculture, meaning anything other than chemical commodity crops of factory-farmed poultry. The other 551 are mostly oriented toward exporting our produce internationally, but that's pretty pointless since Europe and Asia are actively banning genetically modified and cloned food, which is what the majority of farmers in Virginia grow. That's one reason I started the Virginia Organic Producers and Consumers' Association (VOPCA): to try and do what I think VDACS and Tech should be doing to save farms and farmers in Virginia. Frankly, I'd rather they did it as there's a whole lot more of them than me.
With Ayrshire Farm, Hunter's Head Tavern, and the Home Farm Store, you've in effect created your own local food chain. Are there any missing links?
Gee, I'd like to think I've done what you just said, but what I've really done is create my own vertical monopoly. To restore the local food chain, we would need capital and social investment to resurrect processing and packing plants, grain mills, regional distribution systems, as well as local educational, information, and labor infrastructure, all of which support the rural economy. It's kind of like putting the trolley system back into the center of the city—a lot easier if you never took out the tracks.
We have no rural economic infrastructure left to support local agriculture in this part of Virginia; no extension agents who are able to assist farmers with issues ranging from organic methods of worming livestock to viable, diversified economic models; no local feed stores who have people who are knowledgeable about a broad range of animal and soil nutritional issues, natural weed management, local planting seasons, etc. Those people have all moved out of agriculture or died. I'm only trying to get my neighbors to see what food used to be and what it can be again, and for food security to spend a little extra energy and money to seek out better food and to build a habit of adding good food back into their daily lives.
As to the big issue, the regeneration of those rural enterprises such as baking, milling, dairying—including cheese and ice cream—slaughterhouses, packing plants, warehouses, small equipment parts and repair, welders, commercial refrigeration and storage facilities, even vets who know how to treat farm animals without the drugs prescribed by the U.S. organic standard—in short, rebuilding the local rural economy by rebuilding the local food chain—that's going to take a lot more than a one-horse team. Other places have done it and we can too if the future we want for Virginia includes open, productive land. The alternative is sprawling everywhere around us.