The Piedmont's patios and terraces beckon during one of the year's most beautiful seasons.
By Kaitlin Hill and Camden Littleton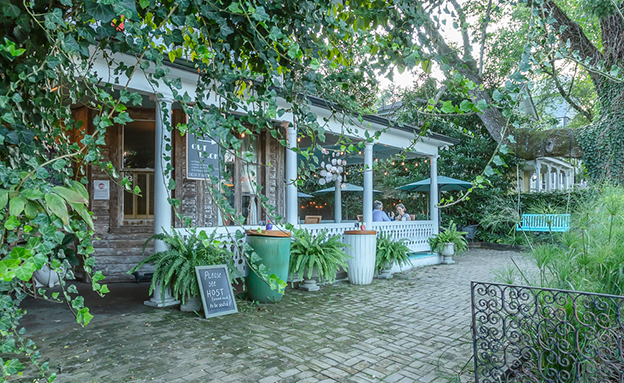 As cooler temperatures and fall foliage arrive in the Piedmont, outdoor dining isn't slowing down. In fact, with heated patios, semi-covered tents, and downright cozy conservatories, there is no shortage of options for eating outside. From Lovettsville to Charlottesville, and a few spots in-between, here are some open-air culinary experiences that you don't want to miss this autumn.
Southern Crescent Galley and Bar
Loved for their take on Cajun, Creole, and Caribbean cuisine, as well as kicking cocktails, Southern Crescent is a must visit in Charlottesville for outdoor dining.  The family-run restaurant, which opened in 2016, is named for The Southern Crescent Streamliner that runs from Charlottesville to New Orleans.  Following in the train's tracks, the restaurant offers a culinary tour of the South with popular items like Virginia Ham Biscuits, Carolina-style BBQ Buckshot Sliders, and Louisiana Gator Bites.  But their most popular item is "the Po'boys, because the bread comes from New Orleans," shares owner Lucinda Ewell.  The bread is a Pistolet French Leidenheimer that the crew at Southern Crescent tops with everything from the classic USA wild-caught shrimp that is fried and slathered in remoulade, to a vegetarian-friendly option with organic tofu and garden veggies. 
The cocktails are worth the hype, too, with house-made ingredients and creative combinations.  The Wicked Felina is a crushable mix of tequila, mescal, lime, pineapple, Campari, guava, and habanero shrub.  Ewell says, "Our bar is exceptional and everything there is made from scratch, too." 
Fans of the eatery agree, the Southern Crescent experience is best enjoyed en plein air.  Ewell explains, "We have five different outdoor spaces…We have two private tin-roofed pavilions that have sofas and club chairs for casual seating.  We have a veranda on the side of the house and a brick courtyard."  She continues, "And then we have the bar, which is connected to the two pavilions, so it is underneath a roof but open air."  The outdoor spaces are heated by cozy fire pits for chillier nights and adorned with twinkling lights for added ambiance.  Even better? Southern Crescent's outdoor spaces are dog friendly.  Ewell says, "People come with their dogs all the time, it's great." 
Southern Crescent Galley and Bar
814 Hinton Avenue, Charlottesville
(434) 284 – 6988
thesoutherncrescent.com
The Market at Grelen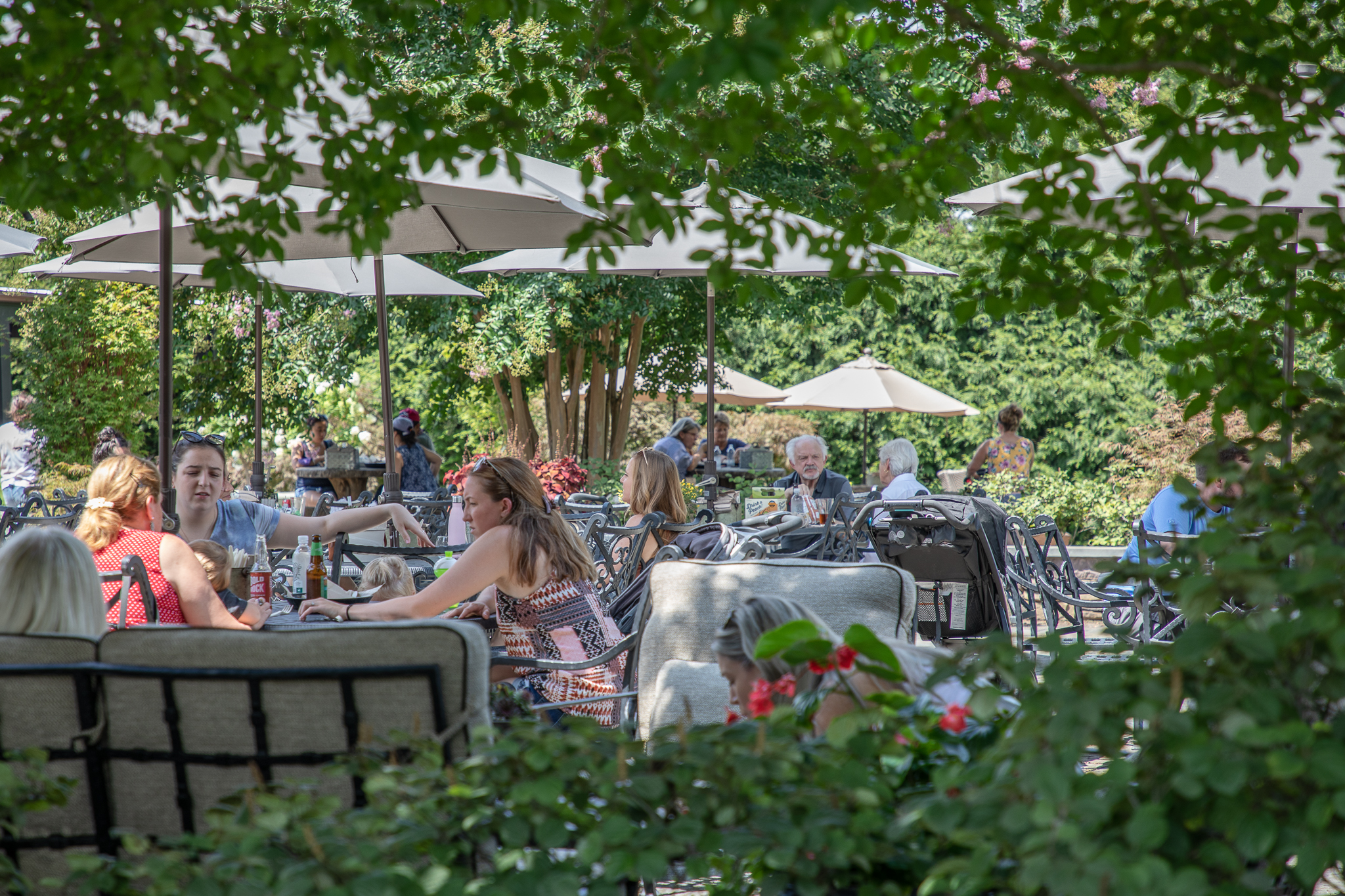 Founded by Dan Gregg in 1990 as a tree nursery, The Market at Grelen now spans a sprawling 1,000-acres in Somerset, and offers visitors the opportunity to visit the European-style garden shop, pick their own fruit, enjoy locally-sourced fare, and even get married.  As the property expanded, Gregg's wife, Leslie, and their partner, Zeke Galvin, joined the team.  The trio opened The Casual Café in 2013, giving Grelen visitors a dining option after a day of exploring the grounds.  The cafe is loved for its patio setting with gorgeous views and farm-to-table menu of salads, soups, sandwiches, ice cream, local snacks, and local sweets.  General Manager, Hank Gregg says, "It's all outdoor seating.  We do have some covered seating in the shade garden at the back of the shop.  It's all open air and has a nice breeze during the warmer months.  And then we convert our greenhouse into a seating option during the winter months, where we have full heating and you're surrounded by house plants so it's a really nice setting to enjoy a meal on a chilly day." 
The list of offerings reads like a love letter to Virginia, highlighting homegrown produce and local companies.  Gregg shares, "We source as much of the food as possible from our own property.  We have a vegetable garden which we use to grow different kinds of produce that we use in our farm-to-table café."  And for what they don't grow, Gregg says, "We love supporting local businesses.  All the snacks that we carry, the ones we don't produce, are made in Virginia."  On the menu you'll find local favorites like Charlottesville-based Gearharts Fine Chocolate candies, Virginia Chutney Co. products, Belmont peanuts, and Caromont Farm cheese from Esmont.  The beverage list is equally provincial, with brews from Devil's Backbone, Three Notch'd, and Albemarle Ciderworks.  On the wine list you'll find Early Mountain Vineyards, King's Family Vineyards, Barboursville Vineyards, and Narmada Winery in a selection of whites and reds.  Gregg notes, "We are all about living local and eating local." 
If you prefer to wine and dine on the go, The Market at Grelen offers an order ahead option that can be picked up and taken on one of the many trails that cover the grounds.  Gregg explains, "There are picnic tables set up at a few different locations along the trails that are just beautiful and scenic.  There is one down by the pond, underneath a weeping willow.  There is one up by the fruit orchard, which overlooks the nursery and the market with the Blue Ridge Mountains in the background.  And then there is another set up by the entrance to the Montpelier trails." 
Time at the Market at Grelen is time well spent and as Gregg says, "There is really something for everyone in the family to enjoy…It's just limitless what you can do here."  
The Market at Grelen
15091 Yager Road, Somerset
(540) 672 – 7268
themarketatgrelen.com
Restoration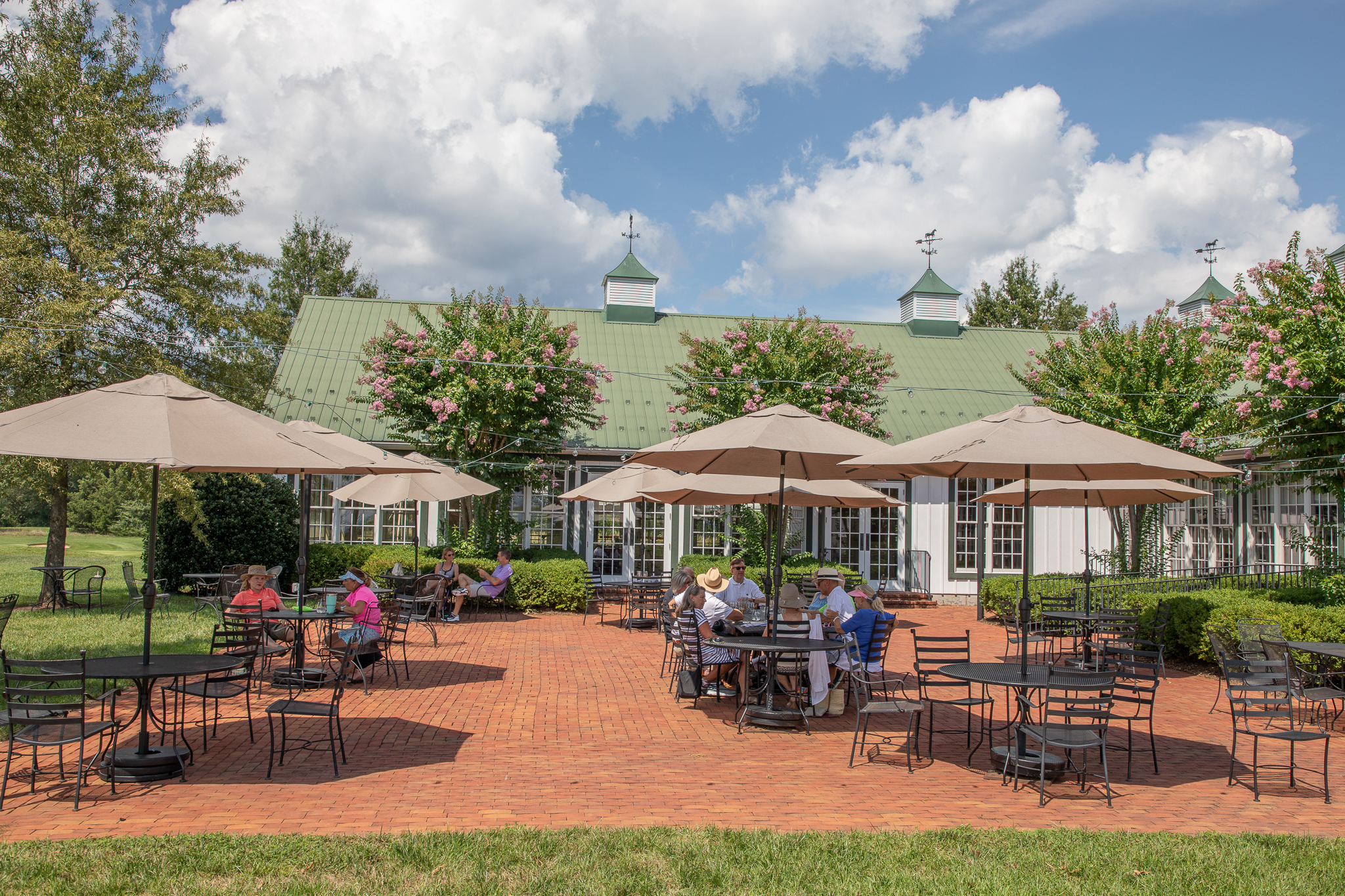 With the tagline of "Great Views, Delicious Food," it's no wonder Restoration in Crozet is a favorite outdoor dining spot of locals and visitors alike.  The patio boasts sweeping views of the Old Trail Golf Club's 18-hole Championship Course and the nearby Blue Ridge Mountains.  "We have spectacular views and the sunsets are just breathtaking," shares Restoration supervisor, Kenneth "KD" Nicholson.  He adds, "We have people come out just to take pictures, their prom pictures, and stuff like that." 
More than just picturesque, Restoration is popular for its tasty cuisine.  Open Wednesday through Sunday, Restoration's all-day menu is perfect for lunch or dinner with classics like a Grilled Chicken Club, Pork BBQ, their Flat Iron Steak and Fries.  And there are vegetarian-friendly options, like the Veggie Quesadilla packed with sautéed mushrooms, cheddar, and pico de gallo, or the Grain Bowl with toasted bulgur wheat and roasted Brussels Sprouts.  If a back nine brunch is more your speed, don't miss the Chicken and Waffles with Hot Honey or the Pork Belly and Potato Hash, both are guest favorites. 
Come for the views, stay for the food, and enjoy the service.  Nicholson says, "We just have a really wholesome atmosphere.  The greatest things about this place are definitely the views, the food, and the people who serve it.  Service is our number one priority here and we try to make everybody's experience a special one." 
Restoration at Old Trail
5494 Golf Drive, Crozet
(434) 823 – 1841
oldtrailclub.com/Restoration
The Restaurant at Patowmack Farm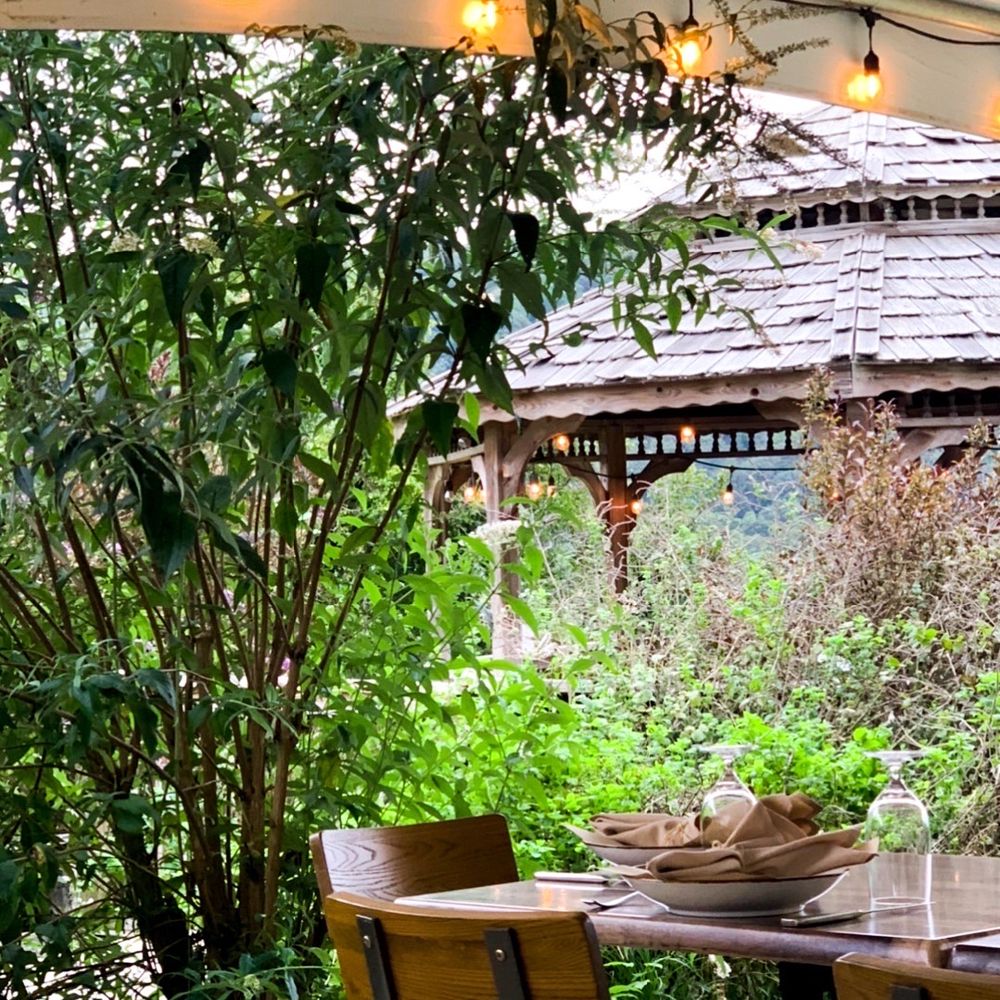 At Patowmack Farm in Lovettsville, the connection between place and plate is undeniable.  The farm was founded in 1986 by Beverly Morton Billand and is considered one of the first organic farms in Virginia.  Ten years later, in 1996, Billand added the restaurant, serving dinner in her barn, before building the gazebo, tent, and conservatory in 2004.  When dining in any of the outdoor spaces, guests will enjoy unparalleled views, an absolute feeling of serenity found only in nature, and of course, world-class cuisine.  Billand says, "It's magical.  You have a view of the Potomac River…It's just really beautiful. It's just very relaxing." 
Billand and Chef Vincent Badiee offer a seasonal, hyper-local, and sustainable menu that changes monthly, and sometimes daily, to showcase the bounty of the land.  Of the menu, Billand says, "Earth inspires it, nature inspires it, only Mother Nature can create what we do…It's all dependent on what's in the fields."  And Badiee adds, "It's extremely local.  I try to source most [ingredients] within 15 miles."  Not only local, Billand and Badiee offer a dining experience that is as personalized as possible to each guest.  Badiee explains, "I want everybody to feel catered to.  We can change the menu per guest."  And Billand adds, "Even though we have a set progressive menu, we're going to accommodate vegetarians, we're going to accommodate gluten-free, we are going to accommodate dietary restrictions that people have.  So we design a menu that is especially made for them." 
Badiee says, "It's an experience more than just coming to dinner," and an opportunity to "Nourish your soul and excite your palate," concludes Billand.  Needless to say, The Restaurant at Patowmack Farm is a must visit. 
The Restaurant at Patowmack Farm
42461 Lovettsville Road, Lovettsville
(540) 822-9017
patowmackfarm.com
Hunter's Head Tavern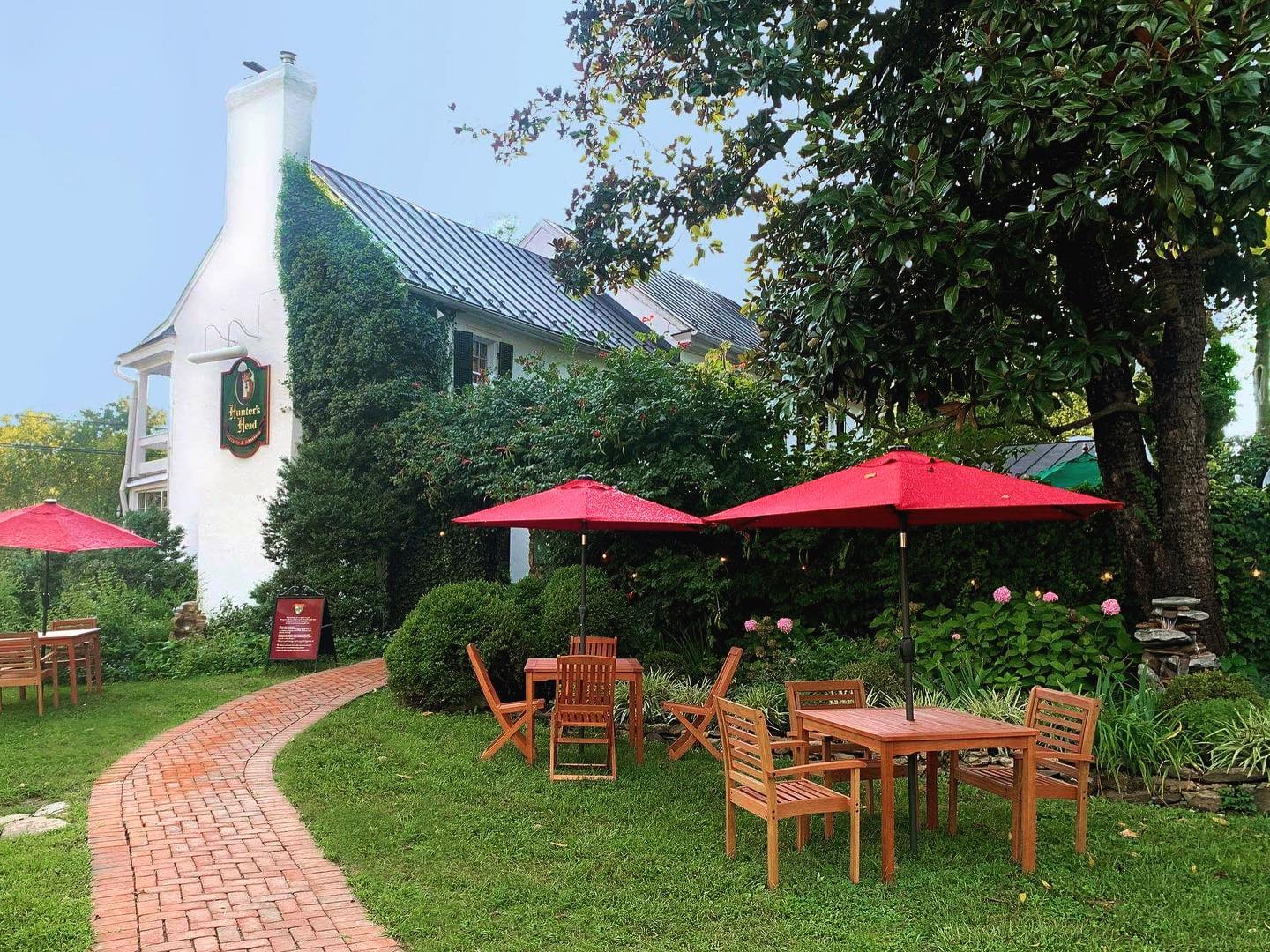 Part of the Ayrshire Farm family, Hunter's Head Tavern cooks up a blend of traditional tavern fare and seasonally inspired cuisine using their own certified organic, humane, and non-GMO meats and produce.  Head chef and general manager Lawrence Kocurek explains, "Sourcing products from our own farm allows us to have control over the quality of the meats we serve as well as a direct connection to the local community and agriculture."  Kocurek's focus on quality ingredients results in a dizzying list of across the pond pub classics like Shepherd's Pie with Ayrshire Farm beef, Bangers and Mash featuring house-made sausages, and Fish and Chips made with MSC certified cod.  There are Hunter's Head originals worth trying too, like the Ayrshire Farm Pork Keto Bowl that is packed with vegetables and drizzled with peanut dressing or the Moroccan Spice-Rubbed Sirloin Steak with Harissa Yogurt. 
The cocktails take their cues from local and seasonal ingredients, as well.  They have a rotating list of libations with a little something for everyone.  Of note, Upperville's Finest Botanical Mule is a tempting mix of lime juice, ginger beer, grapefruit, and rosé.  And the restaurant's signature drink, The Smoking Hunter, is a unique blend of Woodford Reserve Bourbon, cinnamon smoke, sweet vermouth, and house-made cherry syrup. 
For the best seat in the house, venture outside.  "We also offer outdoor dining on our [recently renovated], beautiful, pet-friendly patio," says Kocurek.  Shaded by towering trees and surrounded by an all-season garden, the patio is perfectly secluded for a romantic dinner or quiet lunch. As the leaves start to change, the patio will likely be surrounded by bursts of color to the delight of those who are fans of Virginia's fall foliage.  For the winter, they have a canopy tent and tent heaters to keep patrons nice and toasty.
Hunter's Head Tavern 
9048 John S Mosby Hwy, Upperville
(540) 592 – 9020
huntersheadtavern.com
Pro Re Nata 
Pro Re Nata loosely translates to "as needed" in Latin, making it a fitting name for the brewpub and music hall in Crozet.  With six onsite venues, including the Main Stage and Mountain View Patio, and a long list of beers, wines, and ciders, Pro Re Nata has something for everyone and is a picturesque place to relax under the open sky.  More than panoramic views and tasty libations, the brewpub takes its commitment to nature to the next level with sustainable practices.  In 2016, the team at Pro Re Nata installed two electric car-charging stations, and in 2020 they added 250 solar panels, which cover 60 percent of their energy usage.  As they say, "With great beer comes great responsibility." 
Pro Re Nata 
6135 Rockfish Gap Turnpike, Crozet
(434) 823 - 4878
prnbrewery.com