For those who love the still image, Charlottesville's LOOK3 Festival of the Photograph is the only place to be this summer! From June 13 – 19, festival-goers have the rare opportunity to see and hear from an international roster of 11 featured artists, participate in educational programs, visit world-class exhibitions, attend outdoor projections and screenings, and engage with fellow photographers.
Learn more online and follow them on Facebook, Twitter, and Instagram.
In preparation for the festival, our Assistant Editor Morgan Hensley interviewed Festival Manager Lisa Draine.
What about Charlottesville makes for a great festival experience?
Charlottesville is a small picturesque town located along the foothills of Virginia's Blue Ridge Mountains. It is perhaps best know as the home of the University of Virginia and Monticello, Thomas Jefferson's estate. Two other Presidents' homes are in the area, Ash Lawn-Highland (James Monroe) and Montpelier (James Madison), as are numerous wineries and other historical sites. The local food movement is gaining momentum with an increasing number of farm-to-table restaurants in the city.
There are many reasons to visit Charlottesville, but chief among them (in my opinion) is the LOOK3 Festival of the Photograph in June! The Festival, scheduled for June 13 – 19, takes place along Charlottesville's 6-block pedestrian corridor known as the Historic Downtown Mall.
All venues, including art galleries, the Paramount Theater, the Pavilion, and the IX Art Park are located on, or within walking distance, of the Mall. Festival-goers only have to park once and then can walk to all LOOK3 events and exhibitions and enjoy the boutiques, shops, restaurants, and outdoor cafes along the Mall.
The Artist Talks all take place in the historic Paramount Theater, a restored 1930's movie palace which seats about 1000. We offer participants the rare opportunity to see renowned photographers talk about their life and work – while their images are projected onto a giant screen. This format and special venue, combined with the unique setting of the Downtown Mall, gives the whole Festival experience an intimate feel. Many LOOK3 attendees return year after year and tell us it "feels like home."
How has the festival grown over the years? What will make this year stand out?
Since it's inception in 2007, the LOOK3 Festival has grown in reputation and stature. We are able to attract artists of the highest caliber and are known as the pre-eminent gathering of photographers from around the country (and world). Our non-commercial, non-competitive atmosphere allows folks to relax, have fun, and meet new people.
This year we have the most diverse line-up of featured artists we've ever had – they're truly an international group and will bring global perspectives to our audience.
Photojournalist Yuri Kozyrev is Russian; National Geographic photographer Frans Lanting is from the Netherlands; Nick Brandt is British; Radcliffe "Ruddy" Roye is Jamaican; Binh Danh was born in Vietnam; and Graciela Iturbide calls Mexico home. For the first time, a featured artist will be speaking in a foreign language at the Paramount Theater: Graciela's on-stage presentation will be translated from Spanish into English.
Olivia Bee, at 22 years old, is the youngest photographer ever to be featured. We are especially proud to invite her to the stage, as Olivia was one of the young photographers who took part in our 2014 educational and mentoring program for emerging photographers called LOOKbetween.
In addition, this year's LOOK3 EDU program features expanded offerings on new technologies in the field and the new markets available to visual artists. Photographers at all levels of accomplishment will benefit from the presentations by industry professionals. 
And this year we are offering more events than ever before that are free and open to the community. These include: "Strategies for Emerging Photographers" presented by Photo District News on Tuesday, June 14th; the Evening Projections at the Pavilion curated by Time photo editors on Friday, June 17th, a new "Family Photo Day" featuring photo activities for children and free family portraits by Canon on Sunday, June 19th, Father's Day, and the "Syria Before the Storm" talk and screening by National Geographic photographer Ed Kashi, writer Don Belt, and filmmaker Julie Winokur. 
(See the LOOK3 website for more information about the entire Festival Week program)

What is your background, both in the arts and in management? 
I came to LOOK3 as a volunteer during the first Festival in 2007. A few months later, I was asked to join the staff, which consisted of the Operations Manager and me. As they say, I had to wear many hats!

My professional background is in television production. Before moving to Charlottesville, I was the Producer in the Washington, DC bureau of TF1-French Television, the leading national network in France. We produced news stories about events in the United States and sent them by satellite for use on TF1's evening broadcasts. It was a fast-paced environment that required resourcefulness, organization, and attention to detail – all skills I use in my current position as Festival Manager.
When my children were young, I volunteered at their schools and in the community. For a number of years I was on the Board of Community Children's Theater, first as Programming Chair and then as President. We were dedicated to bringing professional theater, dance, and music for children to Charlottesville.
I have always valued the arts as a vital part of a fulfilling life. I feel that the earlier children are exposed to the visual and performing arts, the more enriched their world will be. My own two daughters started playing the violin when they were 4 and 5 years old. They also enjoyed ballet dancing, acting in community theater, and singing. They have been volunteering for LOOK3 since they were in middle school. (They're now in college!) I believe that they have a keen appreciation for photography and a wider view of the world. I think their lives are richer for having had all of these experiences in the arts.
As the Festival Manager, what are your obligations and what is your vision?
We have a year-round staff of two: Executive Director Mary Virginia Swanson, who came on board last September, and myself. In the winter and early spring we bring on several seasonal contractors to help us put the whole Festival together. An Exhibitions Producer, Communications Coordinator, Educations Coordinator, Production Assistant, Volunteer Coordinator, and several interns have recently joined the team. I oversee everyone and try to make sure we're all on track, though it is a bit like trying to stop a runaway train!
In addition to handling the business side of the organization, I also plan the travel and lodging for our featured artists. I want each of them to feel "taken care of" and welcomed in our community. I hope to convey that we, as a Board and Staff, are extremely grateful to each of them for joining us in Charlottesville to share their gifts with our attendees.
And of course, I try to make sure each attendee to feel welcome and has a wonderful experience. I hope they become part of our "family."
What does the festival's mission statement mean to you personally?
LOOK3's mission is three-fold: to celebrate the vision of extraordinary photographers, ignite conversations about critical issues, and foster the next generation of artists.
For me, this means that we are honoring the lives of people who have dedicated themselves to telling stories that help us understand our world. These artists are using the medium of photography to shine a light on issues of importance that may not affect me personally, but that affect all of us, collectively, who inhabit this planet.
Many of our featured artists make pictures in the hope that their work will spark a change, whether that's stopping war, saving endangered species, or encouraging compassion. By giving them a forum to show their work and talk about their passions, I feel we are a catalyst in this endeavor. I believe that the work of these artists can inspire all of us to be better people, to do good in the world.
I also think we have an obligation to mentor the young people who hope to continue this work. Today, everyone is a photographer, but not everyone is a photographer who can make a difference. The industry has changed dramatically in the past few years. The "staff photographer" no longer exists. We have to help emerging photographers find ways to get their work published and to make a living. We must pass on not only inspiration, but also practical assistance to the next generation. LOOK3 offers a place, a space, for both.
What exhibit or event are you most looking forward to?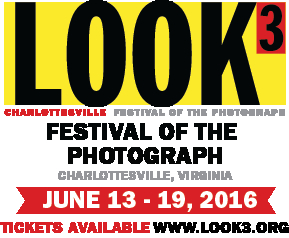 All of our featured artists are incredibly interesting, both personally and professionally. Frans Lanting's dramatic natural history photographs will hang from large-scale banners in the trees along the Downtown Mall and show us the importance of caring about the planet. Yuri Kozyrev's depiction of the global refugee crisis is sure to provoke discussion as pedestrians pass by his outdoor public exhibition across from the Freedom of Speech Monument. 
Graciela Iturbide's beautiful fine art depictions of the extraordinary in ordinary life will move us. Olivia Bee and Doug DuBois will give us insight into today's youth culture. Ruddy Roye's work covering the Black Lives Matter movement will force us to confront racial tension we may prefer not to see. Similarly, Mary F. Calvert's exposure of sexual assault in the U.S. Military will compel us to acknowledge an uncomfortable truth.
Binh Dahn's photographs of America's National Parks, using the historic daguerreotype process, will allow us to see ourselves in the reflection of the silver plate, tying each one of us to these national treasures. Sheila Pree Bright's images document the parallels between the civil rights protests of the 1960's and today's social justice protests.
But perhaps I'm most anxious to see Nick Brandt's latest project Inherit the Dust. To produce these large panoramas, he constructed and installed giant reproductions of his wildlife images in the industrial barren landscapes of present-day East Africa. His urgent message, imploring us to look at the devastation of the animals' habitat as well as the destruction of the land, is starkly portrayed in these haunting photographs. I can't wait to see these photos in real life at McGuffey Art Center and to hear Brandt's story about the process of creating these incredible works of art.