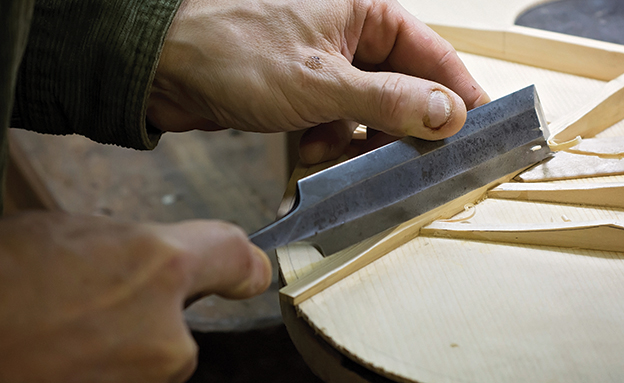 Fairbuilt Guitars sits at the end of a narrow, meandering lane cut through tall woods. The quaint, two-story shop shares a clearing with the home of the man behind the name, Marty Fair. Visitors to the shop may receive a friendly escort for the last hundred yards as Ethel and Roy, resident shop dogs, make sure they find the place okay. But Marty will greet you soon after.
It's cold, and smoke drifts upward from the chimney, lingering contently around the clearing. Inside, the wood stove crackles and the smell of sawdust and smoke tinges the air. The walls of the shop are covered in a delightful, organized clutter of instruments, parts, pieces, tools, and cabinets. In between, every cubbyhole and void is filled with all varieties of wood. The place feels much bigger than it looks from the outside, and there isn't an inch of wasted space.
Fair is working on a guitar top clamped to a stand. On the back side of guitar tops, a series of braces, mostly made of spruce, is glued. The braces add necessary strength, but their shape and configuration also determine the tone of the instrument. He pushes a chisel that looks as old as it does sharp along the edge of a brace, shaving perfect, flat curls of spruce with each pass.
"I really enjoy carving spruce braces on guitar tops," he says. He had been up late the previous night, carving braces, lost in the peacefulness of the task until all hours. "The wood has to be figured out as you work it down to its finished shape," he adds. "And sometimes the grain of the wood dictates the finished dimension and shape."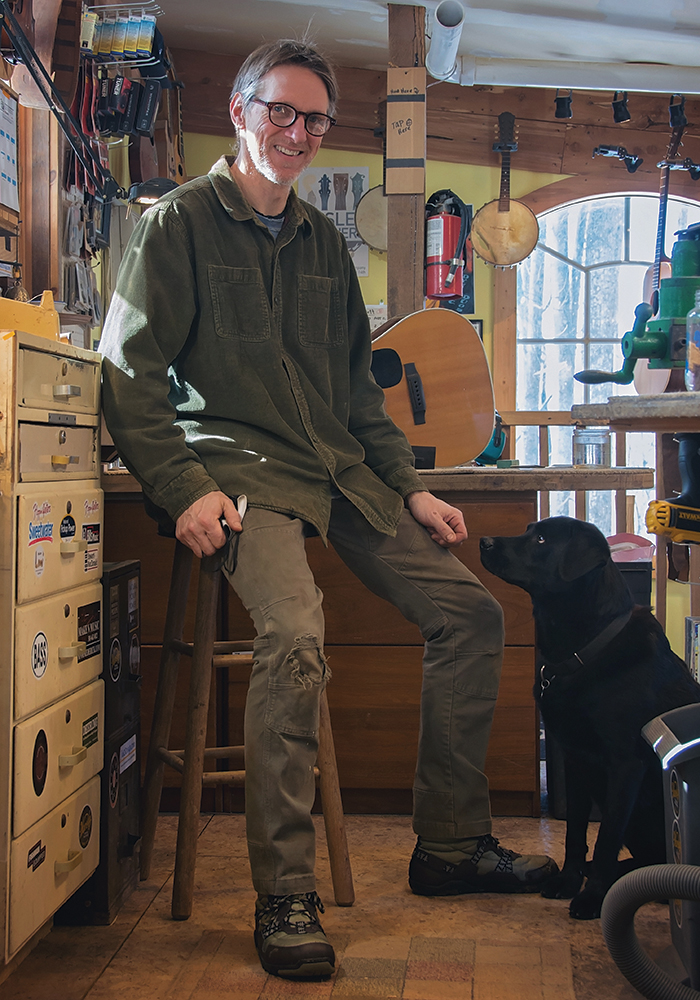 Fair has always enjoyed building things. As a teenager he worked as a carpenter's helper. In college, the only class he was really interested in was sculpture, where he got to make things out of wood, metal, and other materials. After a year, he decided not to go back, and spent a summer in Boulder, Colo., doing more carpentry work. Back in Virginia, he found himself doing some landscape work with a musician named Slinky Cobblestone, who had a variety of old banjos and guitars. Cobblestone was interested in building instruments, which got Fair thinking about it.
"I got a guitar kit in a box from Slinky and worked on it when I could," he says. He continued to work carpentry and woodworking jobs but kept returning to instruments. He attended Roberto-Venn School of Luthiery in Phoenix – four solid months of guitar building instruction – and spent a few years in New Mexico building and repairing guitars.
Back here in Virginia again, he was working full-time doing installations for American Woodcrafters, where he had previously worked and learned some woodworking skills. At the same time, he built the shop at his house, built and sold a couple of guitars, and started doing repair work. His full-time job became part-time as he got more guitar work, then he got set up to do warranty work for C.F. Martin, which brought in more repairs. He gave up the other work in 2005 and focused mainly on working with instruments.
It's extremely gratifying to make a guitar. But there is also great appeal in the repair work Fair does. He likes getting an old guitar scarred from years of neglect or abuse and bringing it back to a playable state. "I realize that guitars are not alive, but they can outlive their current owners," he says. "I feel like I owe it to the instrument to do the best I can to keep it strong and making music."
Over the past 20 years, he has seen many guitars pass from one owner to another. "Sometimes as a gift, sometimes a sale, and sometimes people die and their guitars come back in different hands for repairs," he says. With the amount of time he spends with these instruments it's not surprising he feels a connection to them. Fair, a musician himself, likes to sit and play a guitar for a while once it's set up nicely. "The music the guitars are capable of is what interests me the most."
People of the Piedmont
is an ongoing portrait series spotlighting compelling individuals of the Piedmont. Captured in genuine moments through the lens and words of Ed Felker, the subjects are portrayed immersed in the pursuits that get them up in the morning and drive them all day.