Story by Kaitlin Hill, Photos by Camden Littleton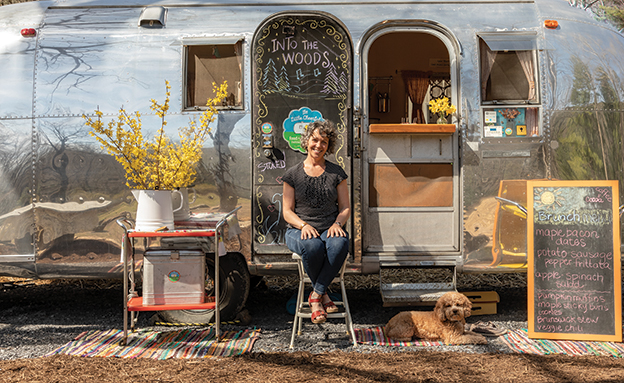 More than a state of being, "cheerful" is also defined as, "causing happiness by its nature or appearance." It is perhaps the "causing" part of the definition that Aimee Watkins was thinking of when dubbing her mobile kitchen The Little Cheerful. The adorable 1960s-era Airstream, complete with potted plants, a brightly colored awning, and doodle-decorated blackboard door, is the sure sign of a good time. But more than décor, patrons of TLC are treated to Watkins' delicious home cooking, her solid gold heart of hospitality, and memorable musical performances from local bands and festival headliners alike.  
"It was 2014, the kids were getting older and I needed to find something to do with my time," shares Watkins of Bath County. "So, I just put all my favorite things together. I love food. I love people. I love being a hostess. I love setting the scene for people to make amazing memories."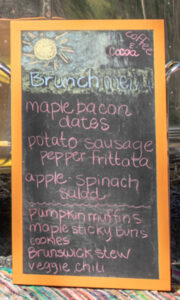 Her love of memorable gatherings inspired Watkins to create a "mobile kitchen" versus a typical food truck. "I thought about, when you have parties at your house, where do people hang out? They always hang out in the kitchen. So that's why I thought: let's do an Airstream." 
She found a 1966 Airstream Safari in Kentucky and bought it partially gutted. Watkins says, "I took everything out of it. I got a pressure washer in there, cleaned the whole thing out, and just repurposed it with love into this cute little vintage traveling kitchen."  
With the airstream almost ready to go, Watkins jumped right into the business of spreading cheer and good food. She laughs. "For my first gig, the kitchen in the Airstream wasn't even finished yet. There was no stove in it. It was countertops and a couple of refrigerators. I was winging it. I was totally winging it the whole time." 
In August 2014, The Little Cheerful took its maiden voyage. "It was a little music festival up in Monterey in Highland County. They needed someone to do artist hospitality for the bands. My [contact] there said, 'Just come cook for the bands.'" 
After her first service she was hooked, and her reputation spread. Watkins says, "I could see it in the musicians' eyes, they just thought it was fantastic. I was sold. This was my nice little niche." She adds, "That first festival led to another music festival, and another, all word-of-mouth." 
For Watkins, festival hospitality was a true calling that combined a love of music rooted in her childhood and a lifelong desire to be a cook. Of her connection to music she recalls, "I have always been a lover of music. I would get off the bus and I would hear music blaring from my house. I was six and my mom would be jamming out." She adds, "[My mom] wasn't very good at talking about emotions. Instead, she would say, 'Let me play a song for you. It's all about what you're going through right now.' And my dad, too. He would be out checking on the pastures and play me Willie Nelson. I saw how music affected them and I grew up with that."
She also saw the affect food had on people, a powerful motivator in her decision to become a cook. "I always wanted to be a cook. I always wanted to be from this Southern family who grew up with all these beautiful Southern food traditions." 
Her menus certainly express a Southern influence. Backstage, band members are treated to pulled pork over mac 'n' cheese, chili with cornbread, Brunswick stew, maple glazed bacon-wrapped dates, and deviled eggs. She has dessert sorted too, with berry cobbler, cookies in all flavors, chocolate pecan brownies and, she adds proudly, "My specialty is banana pudding."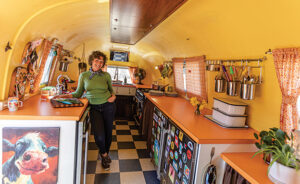 But more than her decadent offerings, she embodies that Southern spirit of hospitality. She says, "I love the authentic giving nature of it and seeing how food makes people feel. I would prime the musicians with sustenance, homemade treats, comfort food. It's all they wanted after eating on the road. Maybe they want some elderberry or a shot of moonshine to make them feel better. It just makes them feel good, and when they feel good, they play amazing. It's a win-win for everyone. I am a lover of music and food and I've seen that when the two combine that's when the magic happens." 
That magical combination had Watkins averaging about five festivals a year at her peak, many in the Piedmont, a lot of work for a largely one-woman show. "At the beginning I wanted more and more festivals, and one year I was up to five festivals. And I tell you, preparing for a festival is nuts because you don't know how many people you'll have back there. You might have 50 bands, which means 500 people throughout the weekend. And then you think about their entourage and you don't want to leave anyone hungry." To give additional perspective, when vending for artists at The Maple Festival in Monterey, Watkins prepared 30 gallons of Brunswick stew and 20 gallons of chili, all homemade in 10-gallon stockpots. 
She laughs, "I was standing up on my stepladder so I could stir, and I thought 'What the hell am I going to stir this thing with?' So, my husband had to make me a big dowel." 
When not feeding the masses backstage, Watkins would park her portable kitchen alongside the road by the courthouse in Warm Springs. "People had never seen anything like this in Bath County. They were like, 'What the heck is this little thing?'" Patrons asked more pointed questions too, Watkins notes. "Then I had the people that said, 'Wait a minute, is this legal? What's the coding?'" 
Not the type to back down from a challenge and always looking to have fun along the way, Watkins set out to make The Little Cheerful's service legal by creating a new set of regulations and showing up in force at the courthouse. "We talked and we came up with a nice set of guidelines you have to follow in order to vend food off the side of the road."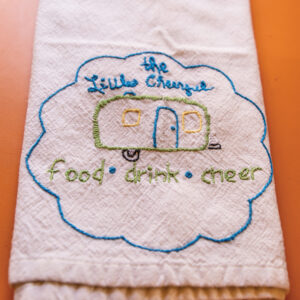 Beaming with pride she adds, "I had that courthouse packed on the night that the law went through. I had little buttons made and people were hooting and hollering. It was beautiful." She concludes with a chuckle, "So not only am I a law breaker, I got to be a new lawmaker." 
With a new law and long list of festivals on her resume, more recently Watkins has been keeping The Little Cheerful closer to home, but still hosting as only she can. "I had a new vision for TLC. I started bringing live music to our property here in Bath County. We have 50 acres on the George Washington National Forest. We offer superb artist hospitality any time these bands want it. In return, they play a couple hours for a hundred of our live music club patrons. We call them field concerts because they are in our Turtle Field. We have a stage out there with a roof." 
As festivals in Virginia and across the country shuttered because of Covid-19, Watkins' shift to her backyard venue was timely and focused on safety. She tells, "People respect each other's space. We all have masks around our necks and if someone comes up and talks to us, we immediately pull our masks up. It's just respect." She adds, "Everyone feels safe, it's intimate. And it's intimate gatherings like this that are going to keep us going through Covid-19."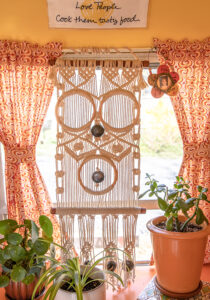 Part of that intimacy comes from the characters that make up the crowd, people she all considered friends. Of her guests she explains, "It's a carefully curated list I put together of all the people that will mesh well. It's families mostly; we are very family oriented out here." With a large property there is plenty for her family friends to explore. "We have rope swings, trails, and a creek that runs through our property. I mean, people come out three or four hours before food is even being served just to hang out, get their spot in Turtle Field." 
And having her property as the venue has the added benefit of working with her family. "I have my daughter, Molly, she is a big help. And my husband, Andrew, he's a general contractor and woodworker, so he outfitted the inside of Little Cheerful. They've been helpful. I didn't know how I would do it, but we all just worked together and here we are planning house concerts every month and having everyone come to us."
As for the entertainment at her field concerts, Watkins books festival headliners as well as highlights local talent. "This is my first time dealing with booking agents. I get in good with the booking agent and I let them know that I have a nice little oasis for the artists. If they are playing a gig close by and they want a little extra pocket money, they can come play for a hundred of my closest friends, I'll pump them back up with food and they'll be on their way." She adds, "I want to do local bands too. Because I want to spotlight them and they need just as much love, if not more, than the bigger ones." 
Always thinking of new opportunities for TLC, Watkins stresses, "Another aspect I love about The Little Cheerful is the mobile ambiance. I mean, I can set up a scene, a wine party, a book signing, an intimate wedding reception for 50 people." She laughs, "And for the food, I am not just a grilled cheese person, I am whatever you need." 
Whether on the road, many times in the Charlottesville area, or in her backyard, for Watkins the reward is the same and she plans to continue with events this spring and summer. She shares, "I love to just stand back, close my eyes, and listen to the chatter. Just listen to everyone having a good time. It's amazing to watch everyone smile. I just love it. The Little Cheerful is almost a little bit of a stage for me and I want people to come because I think we have something special out here." 
For information about upcoming field concerts or to inquire about private events, be sure to check out The Little Cheerful on Facebook and Instagram @thelittlecheerful.