A Short Drive to a World Away
The Charms of the Piedmont
The Piedmont area of Virginia, within a few hour's drive from the Washington, D.C., suburbs, is a short trip to a world away where you can get lost in the bucolic countryside, do some hiking, and enjoy nature. Sounds good after the stress of the past few months, doesn't it? Not only does the area feature some of the best outdoor experiences around, the Piedmont also offers an incredible selection of restaurants (casual to gourmet), wineries/breweries/distilleries, historical attractions, all the arts in profusion, quaint small towns for shopping, and an almost endless number of outdoor recreational activities. Imagine hiking in the National Forest to gorgeous views of the mountains, fishing, or observing the wildlife. Of course, in the warm weather, tubing or kayaking on the rivers is not to be missed. There's something for everyone here! And what better way to experience it than from your own cozy campsite and campfire?
It's Safe
Since the COVID pandemic started, camping has seen a huge rise in popularity as people embrace it as a safe, socially distanced way to have fun, spend time with family, and get out in nature. This year, veteran campers and campground staff are seeing a marked increase in the number of people and families camping, and sales of campers and camping equipment have skyrocketed. Warren Keely, owner of Road Trip Camping in Orange, says, "Our sales have doubled this year. We're seeing a wide demographic, all the way from young adults to retirees. But probably the biggest increase in sales is by young families. Any family with kids is feeling pinned in because of the lack of social interface for children. So, many parents are feeling the need to get their kids out of the house and doing something active."
Planning your adventure
This issue will introduce you to camping in the Piedmont with insights, reflections, and photos from local veteran campers. Our food editor Kaitlin Hill shares some delicious recipes to be prepared at your campfire, and our dog columnist Ed Felker reflects on the logistics of bringing your four-legged best friend along. We are also providing a catalog to guide you in planning your adventure which includes information on area campgrounds with nearby dining/drinking/recreation recommendations.
The Piedmont awaits!
The Piedmont Awaits! Start your journey here....
Planning your adventure
Campgrounds, dining, drinking, history, and recreation
What's for dinner?
It doesn't have to be just hot dogs
Camping with dogs
Finally, your best friend can come along
Autumn Hikes in the Piedmont
Get acquainted with what the Piedmont has to offer
Things to consider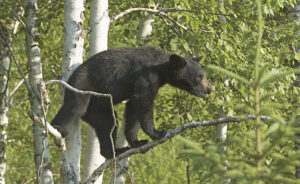 COVID Policies: This article includes features of the campgrounds that are available normally; be sure to check websites carefully before visiting to check their COVID policies. 
Firewood: Due to the parasite emerald ash borer, which threatens ash trees, many sites do not allow you to bring your own firewood but will have some on site for purchase.
Bears: Be sure to research bear safety procedures for storing food and trash, and for general safety information. 
Comfort Level Expectations: Camping sites and campgrounds can vary wildly, from extremely rustic to glamping, so research your destination carefully. For instance, some campgrounds have only outhouses or bathhouses with older plumbing that will disappoint if you're looking for a facility that looks like a Kohler commercial. Another thing to consider is privacy — how close the sites are to each other. A good place to start research is on a community camping facebook group where you can ask questions and will find opinions from those who have been there.
Consideration: Be sure to be considerate of other campers, wildlife, and the natural environment. Take nothing but photos, and leave nothing but footsteps.