Offering holistic education on the banks of the Rappahannock
St. Margaret's School is pleased to announce its "Return to the River" program that brings its boarding and day school students to the banks and waters of the Rappahannock River for academic, athletic, and character-building programming designed for the 21st century. As the school celebrates its Centennial, "Return to the River" pledges a holistic education for girls in grades 8-12 and at the postgraduate level. This fall, girls can take part in a revitalized crew program, sailing, oyster farming, environmental studies, and STEAM learning.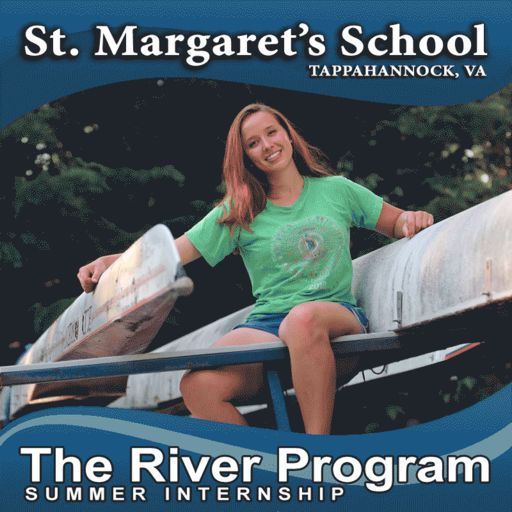 Ahead of the new school year, St. Margaret's welcomed Gabby Foley to begin an eight-week internship centered around "Return to the River." Gabby is a rising junior at Sewanee, The University of the South, majoring in Environment and Sustainability. She has been a lifelong resident of the Chesapeake Bay. The primary goals of the River Program are to clean and restore the school's seven crew shells, design plans for a boathouse closer to the waterfront and establish a crew club for students interested in learning the sport. Long-term goals involve St. Margaret's becoming competitive in the Tidewater area.
Along with reintroducing a crew club, four sunfish sailboats will be brought back to the waterfront, and staff will reincorporate sailing instruction into school life. Academic opportunities within the River Program will revolve around the water. Field trips, outdoor labs, and other opportunities are being formulated for the fall semester.
"We want our girls to experience the river in several ways," said Colley Bell, St. Margaret's new Head of School. "The girls can expect to be doing a lot of different things on the water in a demonstration of the old Episcopal maxim, the 'Gospel of Doing.' At St. Margaret's we have an impressive natural resource right in our own backyard."
For information on becoming a St. Margaret's School student this fall, email admit@sms.org or visit www.sms.org. Follow @scottiepride on Instagram for updates on the River Program and more.
---
Situated on the beautiful Rappahannock River, St. Margaret's School is an Episcopal all-girls boarding and day school for grades 8-12, and postgraduate. Located in Tappahannock, Virginia, St. Margaret's has offered a college preparatory education for over 100 years.