Really, what could be more refreshing in the hot summer than a popsicle with an adult twist?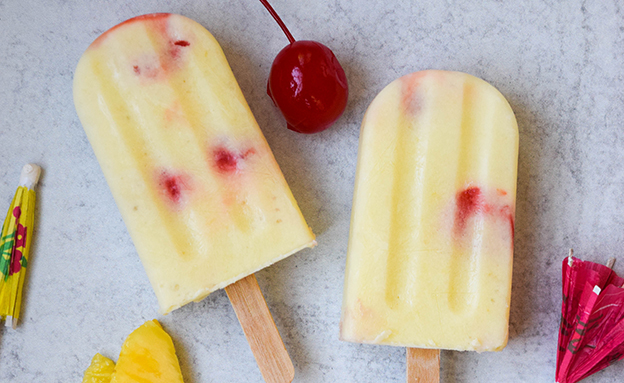 By Kaitlin Hill
Makes 6 Popsicles
Ingredients:
8 ounces of fresh pineapple, chopped
8 ounces of full fat coconut milk, shaken
2 tablespoons of granulated sugar
1 – 2 tablespoons of coconut rum
2 teaspoons of fresh lime juice
6 – 8 maraschino cherries, stems removed and cut in half
Pinch of salt
Directions:
Place the pineapple, coconut milk, granulated sugar, rum and lime juice in a blender and blend until smooth.
Divide the mixture between six popsicle molds and add a few cherry halves to each mold. I use a toothpick to poke some of the cherries to the bottom and leave some floating.
Add popsicle sticks, cover, and place in the freezer to set overnight.
To get stubborn popsicles out of their molds, quickly dip the molds in hot water. This will help popsicles release.
Popsicles will keep for up to a month in the freezer.