"Come for the views, stay for the wine"
By Mark Luna, Photos by Doug Graham
Wine is an experience.  It is places, people, and time, both spent and invested, in all aspects.  And if there was ever a state in the union filled with beautiful wineries to visit, marvelous people to meet, and time to take it all in, it's Virginia.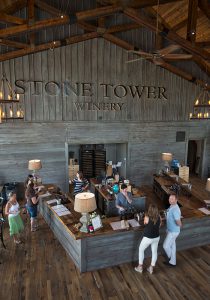 For me, I have every hope and intention of visiting as many Virginia wineries as I can this year, as last year I wrote about the great wine heritage of our Commonwealth, and how 2019 is the year we celebrate its 400th anniversary of winemaking history. Well, there's no time like the present and no wine like the one in my glass.
Very recently, I had the wonderful fortune to visit one of the most beautiful wineries I've seen, Stone Tower Winery, in Leesburg.  My host was Jeremy Zimmerman, director of hospitality and sales, and he afforded me the opportunity not only to absorb the incredible landscapes, but also to taste through an array of their outstanding wines. 
If you haven't been, you need to go.
Stone Tower Winery is a stunning 300-acre property located on Hogback Mountain in Loudoun County.  The locals named the mountain Hogback after its silhouetted resemblance to the spiny ridge of a wild boar.  The winery itself derives its name from two turrets situated on an ancient fortress in Belgium, where the father of co-owner Mike Huber (with wife Kristi) worked at a furniture factory a young man. 
To this day, the Huber family is still in the furniture business, as they own the renowned Virginia and D.C. operation, Belfort Furniture, whose name was also inspired by the Belgian fort.  As for the Stone Tower land, Mike and Kristi purchased the 300 acres in the early 2000s, from an original 1,100 acres owned by Mike's parents. What it would become was beyond their wildest dreams.
As Zimmerman says, "There was a strong desire and effort from Mike and Kristi to preserve the agricultural integrity of the land, and the idea of grapevines seemed to be to the perfect way to do that."  Turns out, they were right. 
To get things started, they brought in legendary Virginia ampelographer Lucy Morton, whose consulting credits included Black Ankle Vineyards, Sugarloaf Mountain Vineyard in Maryland, and Boxwood Winery in Northern Virginia, as well as numerous other consulting credits across the state.  After an extended period of both property and soil analysis, Morton declared the land suitable for growing wine grapes, and even designated various vineyard sites for certain varietals. In 2009, the Huber's planted an initial 22 acres of vines, and Stone Tower Winery was born.
Over the next few years, and to aid in the growth of Stone Tower, additional wine experts would be consulted, including Jim Law, of Linden Winery fame, and Luca Paschina, of Barboursville Vineyards.  Early plantings of viognier and chardonnay would be followed by the Bordeaux red varietals of cabernet sauvignon and franc, merlot and petit verdot, each given their own sites. These plantings would prove to be the shining stars of Stone Tower. 
Their first release was in 2013 under the label Wild Boar.  That label still exists, but has transcended into a group of wines whose fruit is now sourced from Loudoun County and beyond, including the West Coast.  What has become the true signature of the Stone Tower wine line-up is their Estate collection, wines that are solely grown, produced and bottled on the property.     
The winemaking team is headed by Benoit Pineau, whose impressive resume includes head winemaker stints at Pollack Vineyards, in Greenwood, Va., and First Colony Winery, in Madison, as well as Sugarloaf Mountain Vineyards.  Having studied enology and viticulture in Bordeaux, Pineau brings international experience to the wine table; and with Bordeaux being the inspiration for so many of the Stone Tower red wines, this influence runs deep. 


Other team members on the Stone Tower grounds include enologist Preston Thomas and vineyard manager Daniel Mumbauer, whose skills and dedication are immeasurably important to the quality of the wines and their success.  To that point, recent visits from international wine luminaries, such as author and educator Steve Spurrier and Master Sommelier Fred Dame, have only confirmed that the wines being produced are indeed exceptional and signatory.
And then there are the views.  It's hard to truly describe just how beautiful the Stone Tower property is, without selling it short in some way.  Sitting on a hilltop, there are two tasting "rooms," although neither hardly qualifies as just a room. The Harvest Barn, the property's original tasting room, is now a more casual, pet- and family-friendly building that is inviting for picnics and outings.  The primary tasting room is a whole other complex and experience. An "over 21" facility, it has a grand wine-tasting bar, numerous gathering rooms on multiple floors, offering all sorts of spaces and function. The main grand room itself opens up to two large patios, overlooking one beautiful vineyard after another.
As Zimmerman asks emphatically, "How can you not want to see this every day?"
In addition to the fabulous spaces, there are also two wine clubs for guests to join, allowing various perks and a more intimate connection to both the wines and winery.
By the numbers, Stone Tower now has 85 acres under vine, with the goal of eventually reaching 100 acres planted.  All the main Bordeaux varietals are represented, as well as a Rhone grape site or two, and there's even a small plot of Nebbiolo already in the ground.  Total production caps out at approximately 15,000 cases, with roughly a 50/50 split of the Estate labeled wines and the Wild Boar label.
At its heart and soul, though, Stone Tower is a family-owned and operated winery, and its continual purpose is twofold: to provide impeccable hospitality and world class Virginia wines; and it's my view that both ambitions are well met.
So, the wines…
As mentioned, Stone Tower's wine emulation, at least with the red wine grapes, is Bordeaux, one of France's (and the world's) most recognized red-wine appellations; but, Bordeaux is also equally revered for its white wine grape, sauvignon blanc.  And with the pursuit of that tradition in the forefront, the Stone Tower Estate Sauvignon Blanc 2017 is a work of art.  Considered by many on the Stone Tower team to be the most exciting site and wine on the property, the Estate Sauvignon Blanc 2017 is a vibrant, electrifying wine.  Light gold in color, it is aromatic of citrus fruit, flowers and wet stone; on the palate, it both cuts and soothes.  Technically speaking, and unlike many sauvignon blancs, this particular wine is fermented and aged for seven months in both new and neutral French oak barrels (70%), as well as concrete vats (30%).  It also has a splash of semillon. And, it's worth noting that in Bordeaux, sauvignon blanc is almost always blended with semillon (and occasionally muscadelle) to overcome the aroma of pyrazine, an important component of many fruits and vegetables whose characteristics include heavy hints of fresh bell pepper, asparagus, peas, and beetroot. These profiles, in one combination or another, can be found in various sauvignon blanc wines from around the glob, just usually not in Bordeaux and certainly not at Stone Tower.  And as with all their estate wines, this sauvignon blanc is grown, produced, and bottled on the property.


Next up is the Estate Chardonnay Library 2016, from a special collection of limited quantity, "past vintages" wines.  This is an excellent wine, produced in the spirit of the great central Burgundy (blanc) region, Cote Chalonnaise.  Grown on a tiny 3.3 acre block, it's also barrel fermented and French oak aged. There's no malolactic fermentation used here, meaning the acidity remains well intact, as with all great chardonnays (in my opinion), but there is definitely a roundness and textural integrity to the wine that gives it a beautiful mouthfeel of melon and honey tones.  The Estate Chardonnay Library 2016 is elegant and expressive, and will pair beautifully with lobster risotto.  
Rounding out the triumvirate of estate white wines is the Estate Viognier 2017.  Now, it's well known that viognier has enjoyed an elevated stature in Virginia, as it is successfully bottled by many different producers throughout the state.  And while the grape has earned numerous, well-deserved accolades statewide, it's also a little ubiquitous, and can suffer from varietal inconsistencies. For my tastes, I've always enjoyed viognier that lends itself to the Rhone inspirations of stone fruit aromas, honeysuckle and gingerbread.  These wines are round, rich, fresh and flavorful, with good acidity to boot. Unfortunately, warm weather viognier can be tricky, and susceptible to the late-ripening shortcomings of being oily, flabby, and basically uninteresting. All that said, I think Stone Tower Estate Viognier 2017 gets it right.  Like the previous wine mentioned, this viognier is also barrel fermented, sees no malolactic fermentation and is aged in French oak barrels for 10 months.  Aromas of jasmine and white flowers are explosive and the mouthfeel is equally memorable. There's great acidity, as wished for, and the small percentage presence of roussanne, another Rhone white wine grape, contributes richness and a little color.  This is an excellent wine and a great complement to its white wine siblings.   
And now to the big boy red wines we go, where Stone Tower really makes its wine presence known…
Across the stunning 300-acre estate, Stone Tower is very fortunate to have all the key elements necessary to producing exceptional Bordeaux varietal red wines; elevation, sun and wind exposure,  and high clay content, which allows the vines to struggle their way to great concentration. There's a beautiful ridge line on the property running east/northwest to west/southwest that sets up the plantings of cabernet franc and sauvignon, merlot, and petit verdot, all grown mostly on south-facing slopes.  Added to the vine concentration aspects is the fact that Stone Tower does not irrigate its vines with any mechanized systems. On the younger vines, in occasional extreme warm condition, hand – watering is sometimes used, but minimally so. It's with this backdrop that I was fortunate to taste two of their outstanding red wines.
Paying respects to the Bordeaux's right bank is the Estate Wind Swept Hill 2016 Red.  A resplendent wine, this cabernet franc driven bottling is full of ripe red fruits, cedar, and dried blueberry aromatics, as well as hints of red currant, lilac, and forest floor. This full-bodied red has a wonderful herbaceous quality to it, and the supporting merlot rounds it out with a lovely mid-palate softness.  There is structure as well, thanks to small, yet worthy amounts of cabernet sauvignon and petit verdot.  The wine is aged for 20 months in French oak barrels, 50% of them new, making for silky tannins and a well sustained finish. Its age-worthiness is a tribute to an earlier time in the land's history, as the Wind Swept Hill was the name of the original family farm.
Not to be outdone is the fabulous bottle Hogback Mountain 2016, Stone Tower's signature wine.  An absolute showcase for the property's cabernet sauvignon, 69% in fact, this left-bank inspired wine is powerful, majestic, and refined.  It's complemented with merlot, cabernet franc, and petit verdot, giving it silk, grace, and depth. Hogback Mountain's inaugural vintage was the 2013 bottling and it earned a rightful place in the governor's case for that year's Governor's Cup, Virginia's pre-eminent wine competition.  Like the Wind Swept Hill bottle, Hogback Mountain 2016 is aged 20 months in barrels and can be rested for a solid decade, if you choose to wait that long to enjoy it, you might want to think about that.
So yes, wine is truly an experience; and as the slogan suggests, the wines and views at Stone Tower Winery both lead and follow each other, offering a memorable encounter that every wine lover and scenery enthusiast will want to enjoy time and again. Until next time, Happy Vino'ing!