My wife, Susan, and I would often drive out from Fairfax the 40 minutes into the beautiful Shenandoah Valley and dream about living in the Virginia countryside.
One autumn Saturday in 1988, Susan gave me a real estate ad to call on.  I did, I thought, but when we were almost to the appointment I said, "I didn't know you liked log cabins."  That is when I learned I had called on the wrong ad.  Susan laughed off my mistake and we told the realtor we were sorry, but we had no interest in seeing the log cabin.  He asked us what we did for a living.  When we said, "Writers," he said, "I have a house you have to see.  It overlooks the town of Front Royal, and it might be perfect for you."  Since we had come all that way, we thought, "Why not?"
---
---
The realtor said, "The house was built in 1910 on a site where the Union army watched as Lee's troops retreated after the battle of Gettysburg.  General Lee and his men signed the timbers in the house across the street."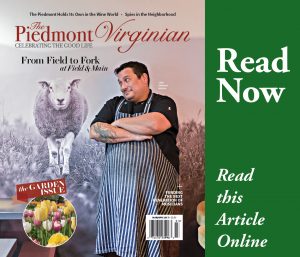 Happy Creek crossed the front of the house. That seemed like a good omen.  The house did not have a street address.  It was named "Tanglewood."  It was walking distance from downtown and a short drive to the Shenandoah National Park and the Skyline Drive.  The town is just off of I-66, so Washington, D.C., seemed accessible.  The driveway led up a hill to a large Italianate colonial home with four big white columns over a huge front entrance. There was a two-stall barn in the backyard.
As we walked into the foyer and saw the light streaming into the house from the two-story stained glass window on the elegant old stairwell, my wife and I looked at each other knowing full well we were going to buy this house.
Story by Joe Trento, photography by Struxture Photography