Slimy creepy crawlies lurk furtively under the moist leaf litter and rotting logs in the dense, hilly woods of Prince William Forest Park on the eastern edge of the Piedmont. Some of these critters have red backs; some have yellow spots; some have marbled patterns. They are masters at avoiding detection. They are salamanders.
There was a time, day and night, when thousands of men crept surreptitiously through these woods, then called Chopawamsic Recreational Demonstration Area (RDA), treading carefully to dodge hidden booby traps and avoid detection. From 1942 to 1945, these top-secret spies-in-training were preparing for the World War II operations of the Office of Strategic Services (OSS), the predecessor of today's Central Intelligence Agency (CIA). The work was so hush-hush that some said OSS stood for "Oh, So Secret." And most of OSS's operations were top secret until declassified in the 1990s. As the country mobilized for war, President Franklin Roosevelt recognized the pressing need to bolster strategic intelligence, and after Japan's 1942 attack on Hawaii's Pearl Harbor, he established the OSS, installing General William J. Donovan as its leader to build up American intelligence operations. Historians are still trying to pin down a specific number, but worldwide there were 15,000 to 33,000 OSSers. They established intelligence networks, trained resistance organizations throughout Europe and Asia and carried out "mercy missions" to save thousands of Allied Powers' prisoners of war. Notable OSSers included Julia Child, Arthur Schlesinger, Jr., actor Sterling Hayden, and future CIA heads William Colby and William Casey.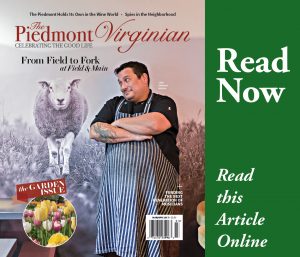 Prince William County in the 1940s was a perfect rural setting for training spies. The park had both dense woods and farm fields spread across 15,000 secluded acres. One trainee, Lawrence L. Hollander from Chicago, recalled the natural beauty. "It is, and was, a beautiful area with its many shade-tolerant oak, hickory, and pine trees. It also had its share of snakes and small animals." Read more in our March/April 2017 issue.
By Glenda C. Booth
---
Information
Prince William Forest Park
Rangers periodically lead public walks y appointment.
nps.gov/prwi
The Office of Strategic Services
Check the featured story archive at cia.gov
The National OSS Museum
Efforts are underway to raise $70 million to build a museum in the Dulles Town Center.
osssociety.org