"Drink in the moment!" says co-owner Dave Fulton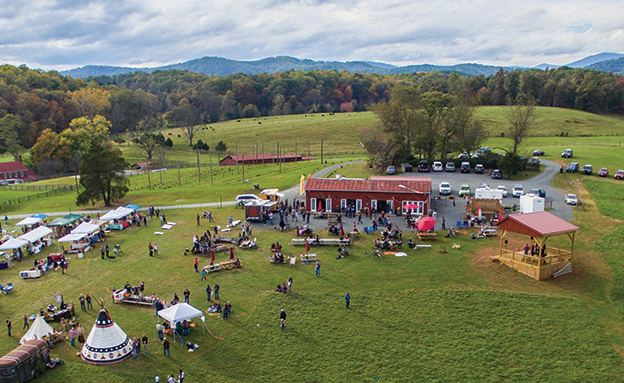 By Ed Felker
There's no telling how many ideas have been hatched while visiting some of rural Virginia's wineries. Beautiful views and great wine, after all, can lead to fruitful conversation. This is how it started for Dave Fulton and Julie Haines.
"Julie and I used to live in northern Virginia, and as our kids started leaving home, we found ourselves spending an increasingly greater time visiting wineries on weekend day trips," Dave says. "Which led to this crazy idea of finding a weekend home, possibly a historic one, in the foothills of the Blue Ridge."
They searched for months before finding Woodbourne Estate, a beautiful, historic home on 53 acres in the gorgeous, bucolic hills of Madison County. They decided that when their youngest daughter graduated from high school, they would relocate to Woodbourne, continue their professional jobs by teleworking, and, perhaps, look to becoming a contract grape grower or even open a tasting room featuring regional wines. But the grape growing and tasting room ideas would take years to implement, and the soil, it turns out, was not ideal for grapes.
When looking for someone to help maintain the farm as well as their award-winning luxury B&B, Walden Hall, many of Dave and Julie's new friends referred people to them. Among the referrals was Mike Nicholson, a hardworking German-American who showed up for his interview with four large bottles of home-brewed beer. "Needless to say, the interview went great," Dave says. Julie adds, "Dave, a passionate home brewer himself, and Mike could create something special." And the idea to move toward a craft farm brewery was born.
They set Mike up brewing in a garage at their B&B where he refined his craft and Dave rekindled his interest in brewing. Guests and friends became big fans of their home brews, and Bald Top Brewing Company, named for nearby Bald Top Mountain, began to feel like a reality. When they opened the doors of their one-barrel system, 1,800-square-foot tap barn on Dec. 30, 2016, Bald Top became Virginia's first historic farm brewery.
Demand was unexpectedly enthusiastic, to say the least, and the brewery's first patrons loved the beer. In less than two days they sold out of every one of their offerings. It took them three weeks to recover, reopening for good on Jan. 20, 2017. Bald Top currently produces an astounding volume of a wide assortment of beers on a very small system. They maintain about 12 beers on tap at the brewery, and also distribute locally to a handful of restaurants that purchase kegs from a locally-based distributor. All of this makes for a busy brewmaster to keep up with that demand.
"Mike is our artist," Dave says of his industrious brewmaster. "He's a natural at his craft and works extremely hard to produce quality beers that appeal to our customers."
You can't come up the driveway to the hillside brewery without seeing a prominent feature affectionately called "Hop Henge," a series of 25-foot-tall telephone poles holding up more than a half acre – 500 plants – of homegrown hops. "While 500 hops plants may sound like a lot, it hardly meets our brewing needs," Dave says. Bald Top brews with more than 50 varieties of hops, including those they grow on site. Each has unique attributes that contribute to the aromas and flavors of the beer.
"We have brewed several beers not only with our hops but also with hops from three Madison-based hops growers who, like us, are exploring the economic viability of hops as a cash crop," Dave says. "These collaboration brews have been fun and exciting to brew and share with our customers."
Bald Top is, first and foremost, a family business. Dave and Julie, with some of their grown kids and their significant others, have worked hard to create a successful venture with a true community-based atmosphere. Mention Bald Top to Tracey Gardner, Madison County's Economic Development and Tourism Director, and her face lights up. "Bald Top has become a gathering place among residents," she says. "It is a place where you can go and relax, let your kids, grandkids, and dogs run, get a breath of fresh air, fly a kite when it's warm, or cozy up to a bonfire when it is cold."
Gardner loves the sense of community at Bald Top, but also appreciates what it means for those who live beyond Madison County. "It is quite simply an escape for visitors to the county," she says. "An escape from congestion and crowds and a way to reconnect with nature, but with an awesome beer in hand."
Douglas Dear, owner of nearby Rose River Farm, loves having a great spot nearby to enjoy good beer in a beautiful setting. But with his private trout stream and luxury yurt rentals that lure guests from across the region, Bald Top is an outstanding addition to the area for his guests. "It's great for those having a weekend getaway at the yurts to have such a unique farm brewery experience as part of their trip."


For those in the area, Bald Top's membership program has proven to be a way to support a great local business while reaping some fun benefits. The program was put into place almost three months before the brewery even opened in an effort to raise much needed funds for infrastructure needs. From just social media and word of mouth, 60 members signed up before they even opened. The list now tops 300, and members enjoy discounted purchases, shirts, hats, growlers and crowlers. "We put on four events each year for members only at which we provide early release tastings of three or four beers," Dave says. "Each event has celebrated holidays and seasonal changes (solstices, etc.), complete with food trucks, live music, bonfires, and general comradery." But they always remain open to the public during special events, vowing to never close for any type of private party during their four-day business week (Thursday through Sunday).
Music has been an important aspect of the Bald Top experience since day one. Before the brewery even opened, Dave and Julie lined up area musicians and bands to play on some weekend nights. That grew to be such a popular regular offering for weekends, they decided to build a covered open-air deck where musicians could play to customers sitting along the hillside. And when there is no live music, people can use the deck to sit and enjoy their food and beer out of the sun or rain.
"This region is flush with great musical talent and we love to showcase them," Dave says. "We have also hosted open mic nights and several of our 'regular' musicians started at an open mic offering." Musicians from all over central Virginia play at Bald Top, as well as groups that tour through the area from Charlottesville, Richmond, Nashville, Atlanta, and beyond.
Virginia native SaraJane McDonald, who appeared on American Idol earlier this year, loves the atmosphere at Bald Top. "There's a really welcoming feeling there, and I love how it overlooks farmland and was open for kids and pets," she says. "When my band and I played there we had a crazy fun night, we can't wait to come back."
That kid- and pet-friendliness is another aspect of the community atmosphere that Bald Top nurtures. "We are honored to host families and friends for an afternoon or evening visit, or all sorts of events from dog birthdays to human weddings and more," Julie says. "It's a place to make Memories."
The appeal of Bald Top is not just the beer, the music, the food trucks, or the view. It's the way all these things come together. Dave, Julie, their kids, brewmaster Mike, and the great, friendly staff have built something special on that hillside in the shadow of Bald Top Mountain. "After that memorable opening, and after so many memorable days of business hosting our wonderful customers, we've created an experience, meeting people's primal need to gather, relax, commune, and enjoy great beer in a beautiful part of rural Virginia," Dave says.
"It feels magical, as if time simply slows down here," he adds. "Thus our tagline of 'Drink in the Moment'."